Internet service providers (ISPs) have excellent visibility of their network performance, until they reach the internet access point inside the home, at the router. 50% of support calls relate to problems beyond this point, such as poor in-home Wi-Fi, which is outside an ISP's control. However, conventional web and app-based speed tests do little to improve the situation because they are unable to show the difference between the performance inside and outside the home. We have designed SamKnows Single Home, an enhancement of SamKnows One, to enrich your existing performance monitoring systems for your Tier 2 agents, and ensure a seamless customer experience. Single Home includes a wealth of tests and multiple SamKnows features in one user interface, providing detailed information into the network, Wi-Fi, and device performance of a single home, and the ability to quickly troubleshoot issues where necessary.

Calculate in-home Wi-Fi performance
Assures customers whether the problem is inside or outside the home, leveraging SamKnows RealSpeed technology.  
Discover device limitations
Provides product information, including smartphone models and browsers, allowing care agents to discover device-specific issues. 
Monitor end-to-end network performance
Measure key metrics, both scheduled and instant, from the internet access point (router) inside the home. 
Track activity over time
Shows a chronological list of speed tests run by both customers and care agents, resolved and ongoing network issues, and alerts for troubleshooting.
Inside the home
Single Home measures the speed available at your customers' device and provides helpful information for people looking to improve their internet experience.
Test Wi-Fi around the home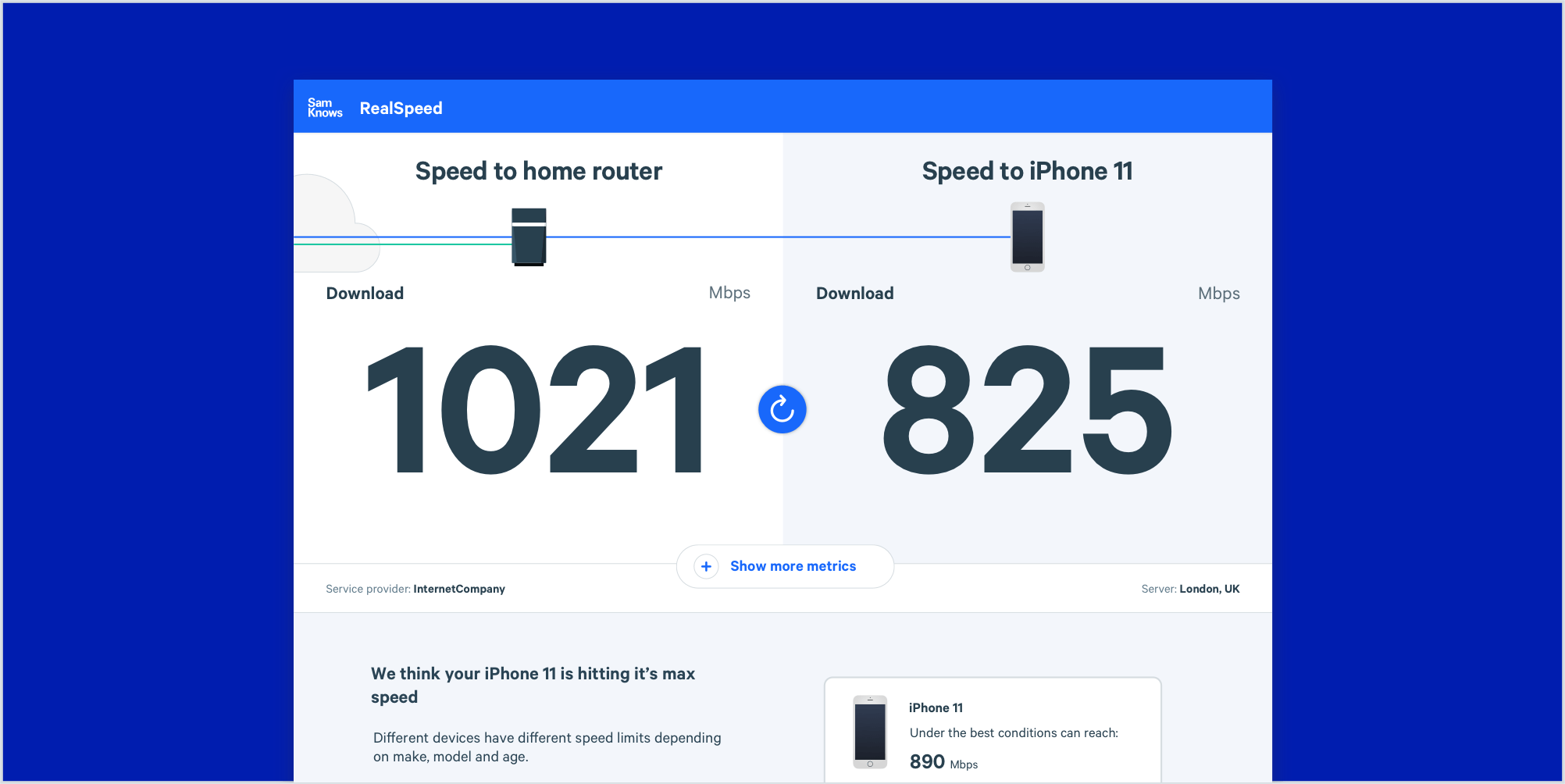 Unless your customers are using a device that is hard-wired to the internet access point inside their home, they are unlikely to see the actual speed available at their router when running a speed test. Wi-Fi is the most popular way for devices to connect to the internet, but it's prone to interference that most customers don't understand. SamKnows RealSpeed is an online speed test that your customers can run from any device with a browser. If the SamKnows Router Agent is integrated into your customer premise equipment (CPE), then SamKnows RealSpeed will run two concurrent tests: one from the router to measure the service provided to the home, and the other from the browser to calculate the available speed to the device. The difference between these two results indicates the performance of the customers' home Wi-Fi in that location. 
Your agents will see the test results appear in real time in Single Home, and if the speed at the device is lower than the speed at the router, demonstrate that the problem is not with the network but with their Wi-Fi. The transparency RealSpeed provides will help to build trust and leave customers satisfied. 
Understand device limitations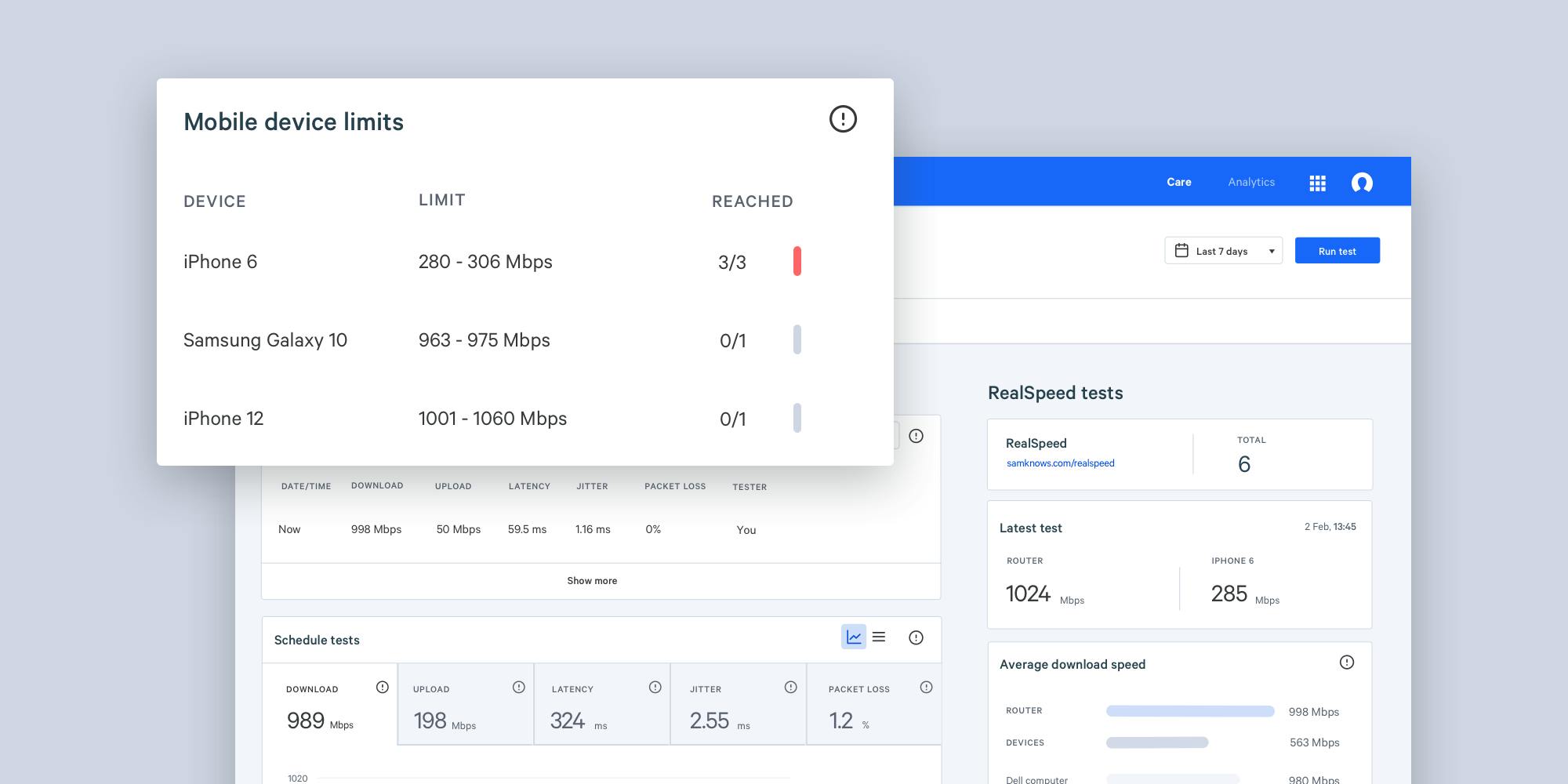 As broadband speeds increase, they are starting to hit device limitations. Testing a connection over Wi-Fi from a laptop can give a different result to testing the same network, in the same location, from a smartphone. Each device has a maximum data throughput, which is caused by network interfaces, hardware configuration, and software installed on the device. However, few customers know what these limitations are. We analyse every RealSpeed result to build a dynamic database of device limitations so that we can flag when a result is restricted by the device and not the available bandwidth. This advanced product information requires minimal training for your support agents and enhances customer understanding of their internet experience.
Outside the home
Single Home shows the exact speed available at the internet access point to the home, by running tests from the router itself.
Instant and accurate tests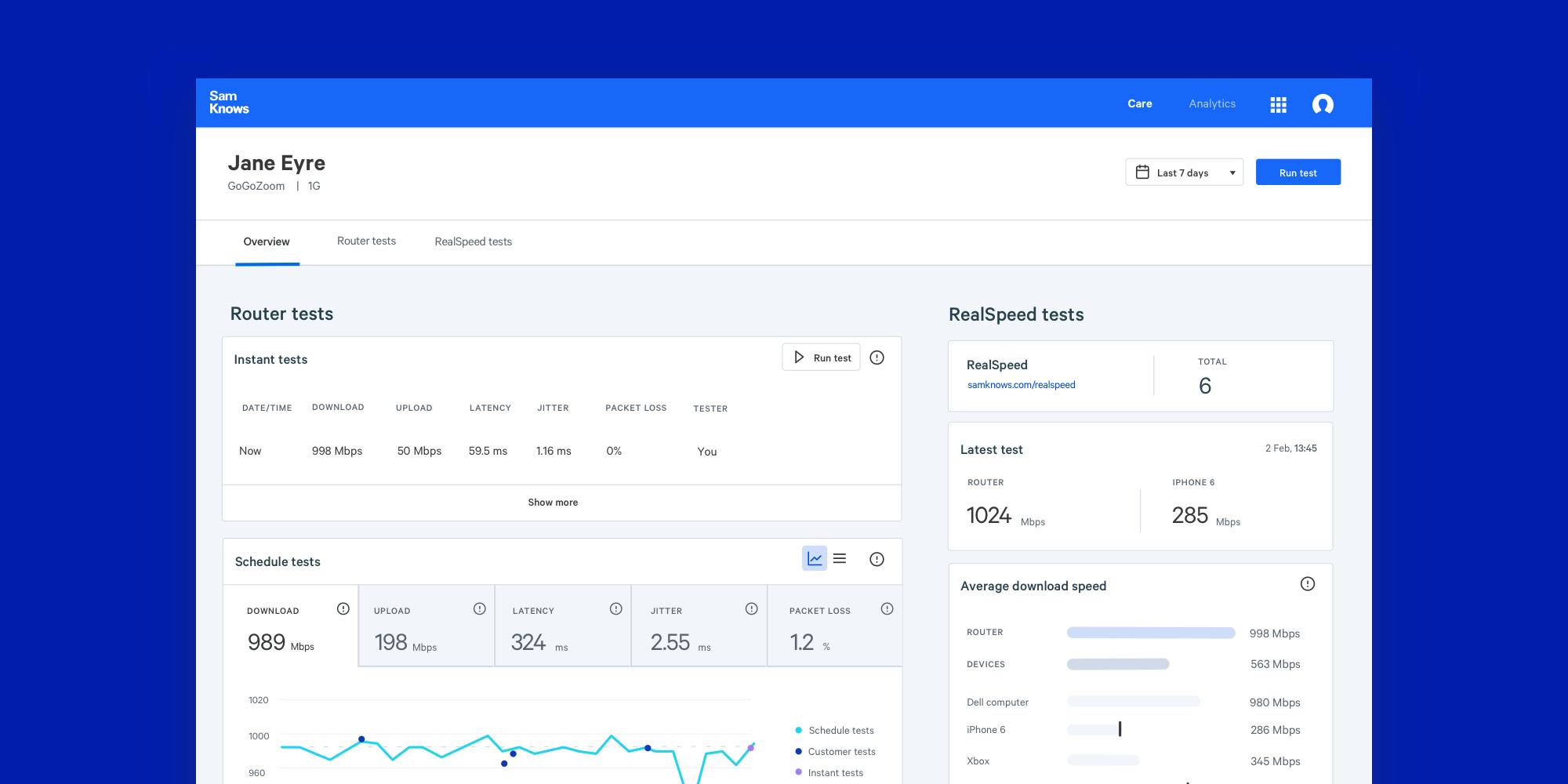 The first port of call for a care agent, when diagnosing a customer issue, is to run an instant speed test. If the result shows there is an issue, an engineer can then visit the property to investigate. However, unlike conventional smartphone and web-browser speed tests, SamKnows Instant Tests exclude all interfering in-home factors by measuring performance from the router, so you can be confident of the exact speed that you are delivering to an individual home. 
Monitor performance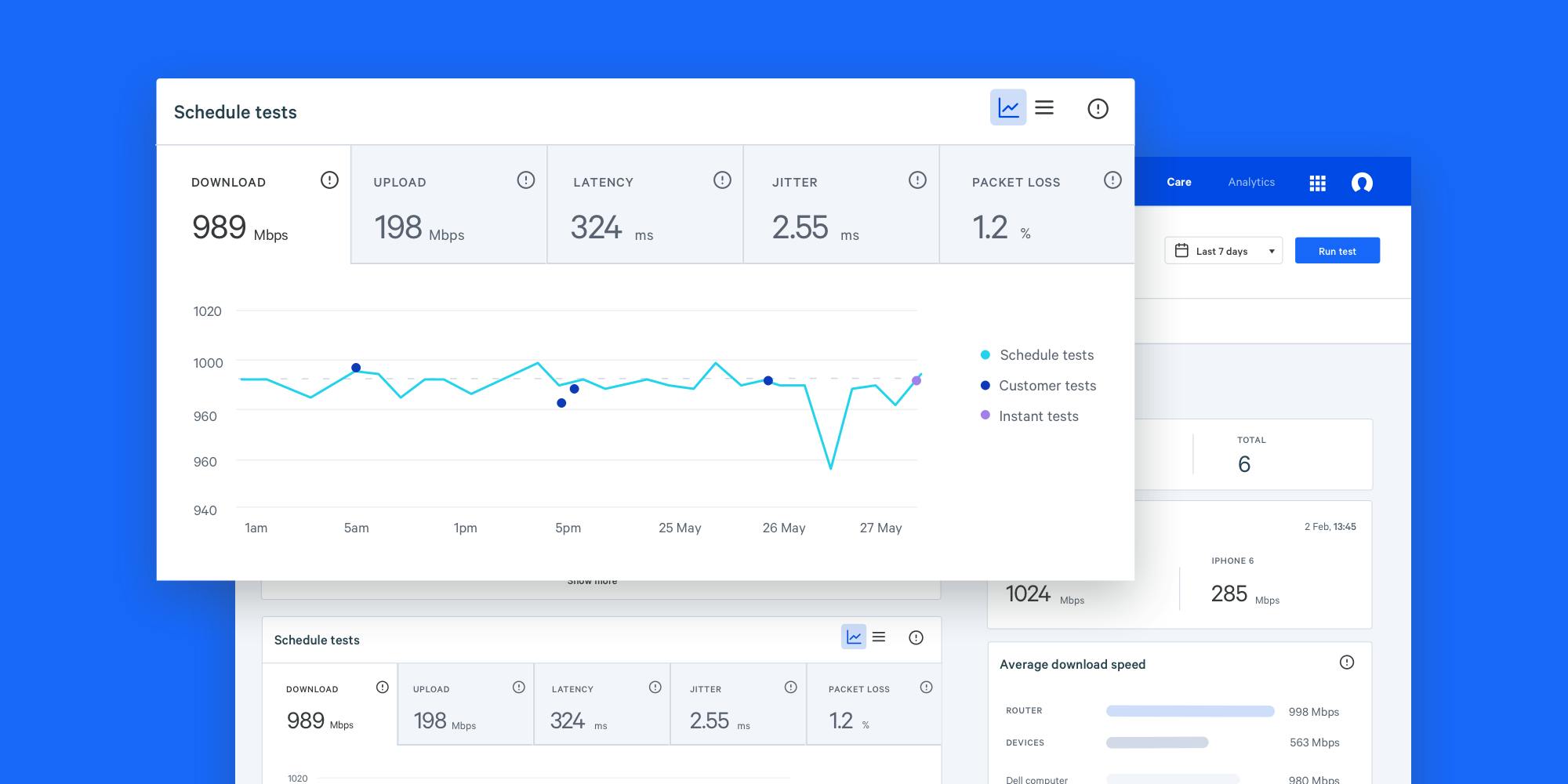 Peak time performance degradation and intermittent drop outs are extremely difficult to spot with one-off speed tests while the customer is on the phone. SamKnows Monitor allows care agents to automatically capture performance of key metrics every hour over a specified time period, and visualise the results on a series of charts, making it quick and easy for care agents to identify problems and decide the best course of action to resolve them.
Get in touch
Our ISP team works closely with some of the world's leading providers to solve their most complex challenges when it comes to performance monitoring. SamKnows Single Home has been designed with the help of Tier 2 agents to ensure that your teams can cut call times, reduce truck rolls, and enhance customer interactions.  For more information, please contact us and we will be in touch shortly.