As the internet speeds up, in-home performance is becoming more complex, harder to understand, and at times, less effective.
SamKnows RealSpeed 2.0 lets consumers measure their home broadband more precisely than a conventional speed test by providing a side-by-side comparison of the speed at your router (i.e. the speed your ISP is delivering to your home), and the available speed at your device anywhere inside your home.
Cookie, our Head of Creative, recently set up a new internet connection, and used RealSpeed to see if he could improve his in-home performance. This was a success - he boosted his speeds by a mega 76.5Mbps, without calling his internet provider (ISP)! 
Cookie also finished renovating his new house for the UK Channel 4 show George Clarke's Old House New Home. This seemed like the perfect opportunity to bring both projects together by putting RealSpeed to the test in his bright and colourful new home. 
We asked Cookie how he got on.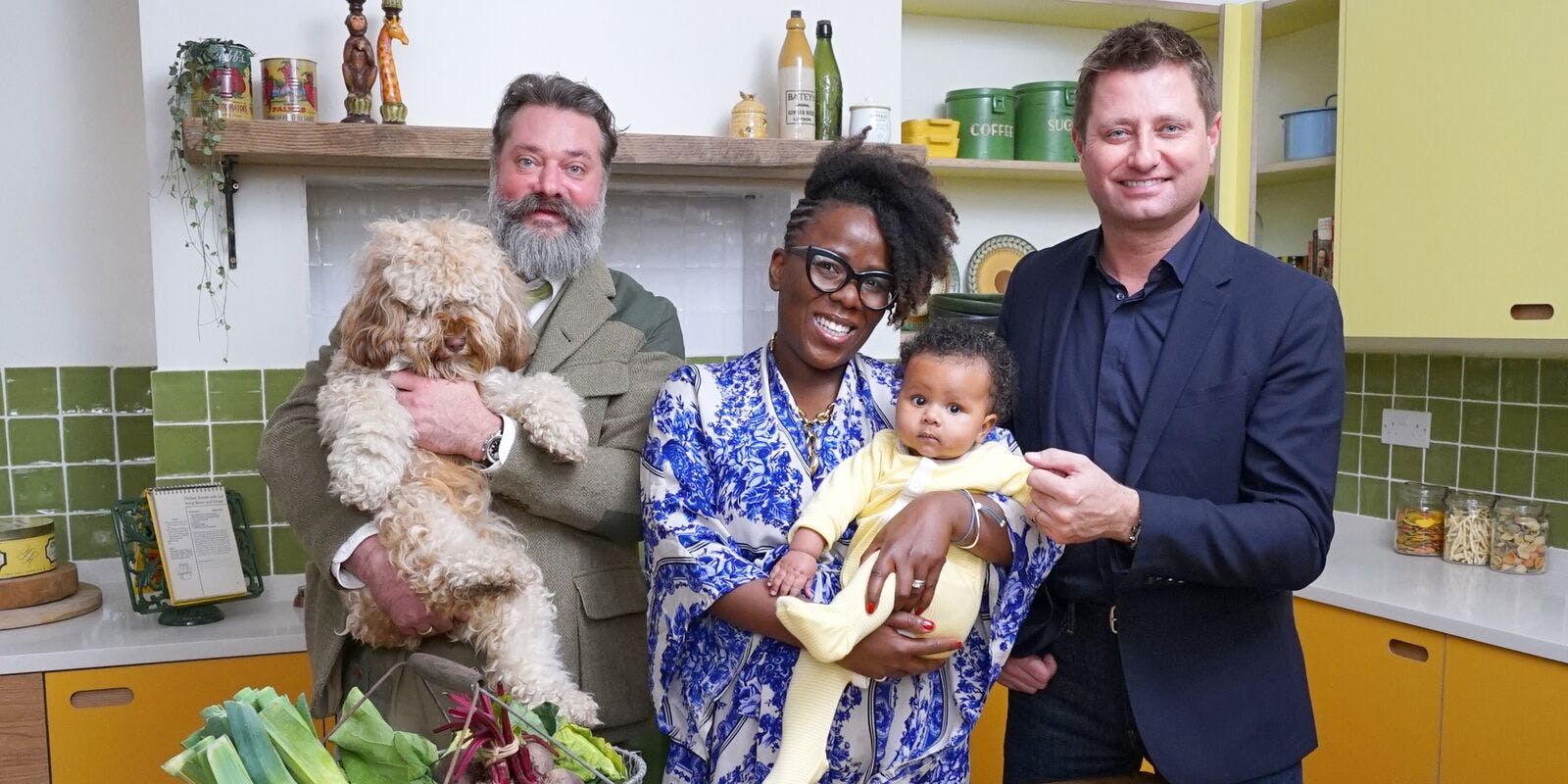 The family & George Clarke
Why did you use RealSpeed?
I recently moved into a terraced house in South London with my wife Sophia, our son Alfred, and our dog Sausage. It's made of solid brick, has four bedrooms and is split over three floors, with a long and narrow garden at the back.
I have a SamKnows Whitebox and I regularly use it to measure my internet speeds and I check my results in SamKnows One.  When I installed my new 350Mbps internet connection, I was very happy because my Whitebox results proved that I was receiving an average of 360Mbps! But I was interested to see how my internet performance varied around the house because it often felt much slower than the results I was seeing.
How do you use it?
RealSpeed runs on any browser on any internet-enabled device. I used RealSpeed on my iPhone 11. The way it works is that RealSpeed runs a test from the browser on my phone out to a server on the internet, and then immediately initiates another test from my Whitebox to that same test server. The results compare the speed my ISP is delivering to the available speed on my device.
Here is a picture of me in action. You can also see my bright orange hallway punching through the grey London sky!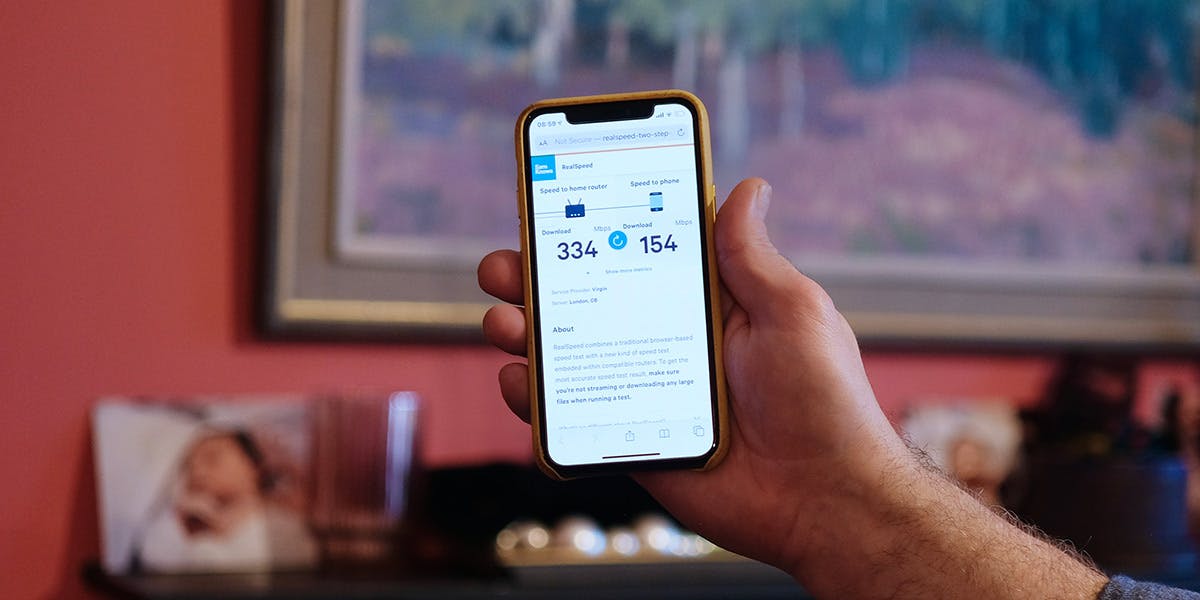 I still lost a lot of performance when standing right next to the router...
How did you get on?
Test 1: Standard router 2.4 Ghz Wi-Fi
Whole home average: 56.2 Mbps
Test 1 - Using the standard router supplied by my ISP, connected via Wi-Fi 2.4Ghz
My first test results were pretty disappointing. The ground floor was alright… but even when I stood next to the router in the hallway (which is the blue square at the bottom left of the house) I was losing over 50% of my broadband performance! 
I was also losing 95% of my performance on the second floor - in all rooms. But the loft faired slightly better. This is probably because we have a central staircase that goes all the way to the top of the house, so the Wi-Fi signal doesn't have to battle any physical obstacles along the way. I lost Wi-Fi signal as soon as I left the house and went into the back garden.
Test 2 - Standard router 5Ghz Wi-Fi
Whole home average: 94.1 Mbps
Test 2 - using the standard router supplied by ISP and connected via Wi-Fi 5Ghz
This time, my phone connected to a 5Ghz Wi-Fi band, rather than the previous 2.4Ghz. I didn't make the change myself so I assume that I lost signal and my phone automatically connected to 5Ghz. I instantly saw a dramatic improvement near the router, but I lost signal completely in the dining room (bottom right) and loft (top). I couldn't even run a test! This is because the 5Ghz band isn't as good at penetrating through solid walls as 2.4Ghz.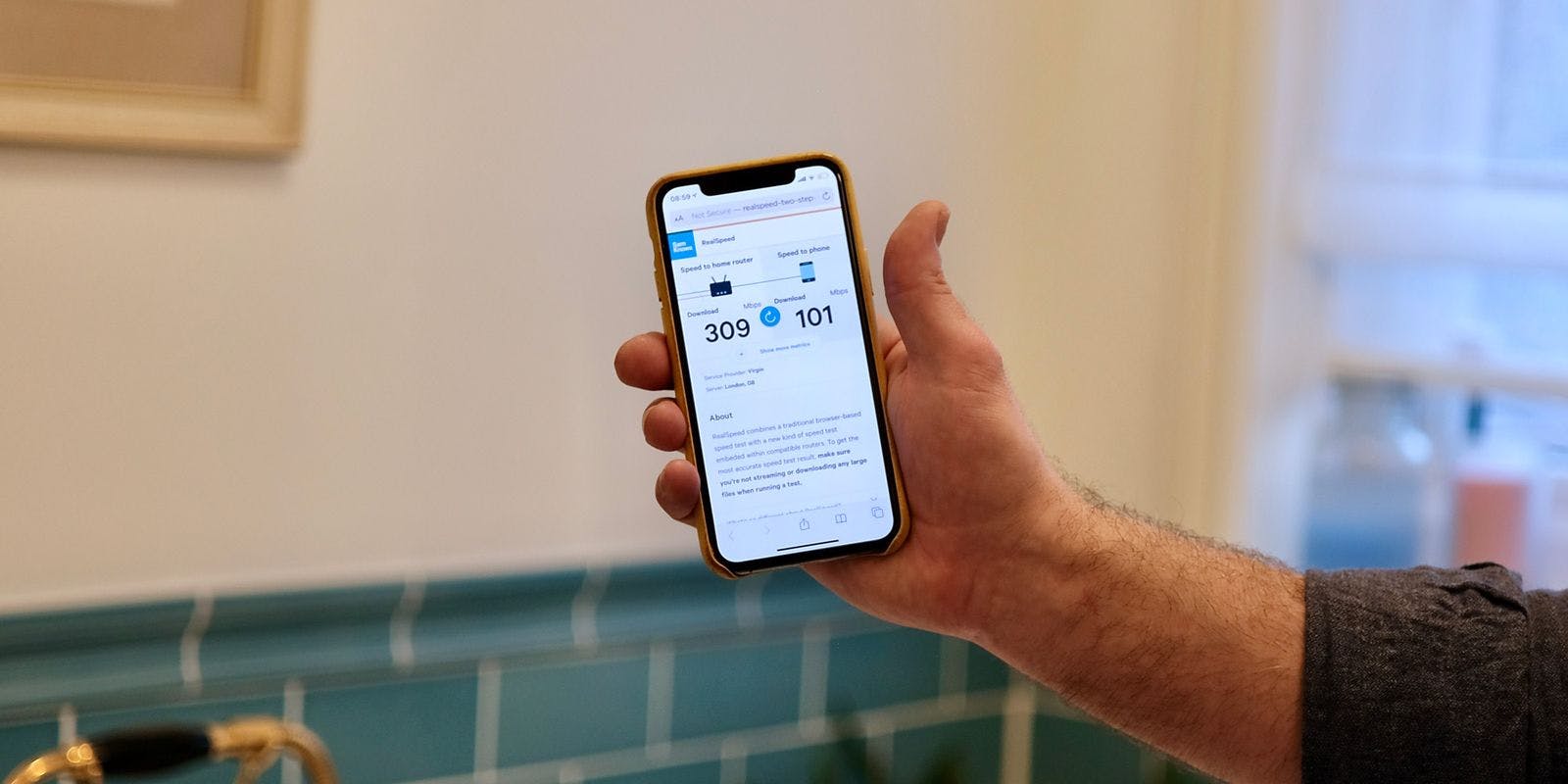 The toilet, typically a room with poor internet performance
There was only one thing for it - to fit a Wi-Fi mesh system to boost my Wi-Fi coverage. 
I chose a 3-pack Amazon eero mesh Wi-Fi system, which has the SamKnows software running inside it because eero use SamKnows for speed testing.
Test 3 - Wi-Fi boosted with Amazon eero
Whole home average: 132.7 Mbps  
I connected the Amazon eeros around my house: one in the hallway plugged into my router (bottom right), one in the dining room connected via Wi-Fi (bottom left), and the third in the loft connected to an ethernet backhaul (top).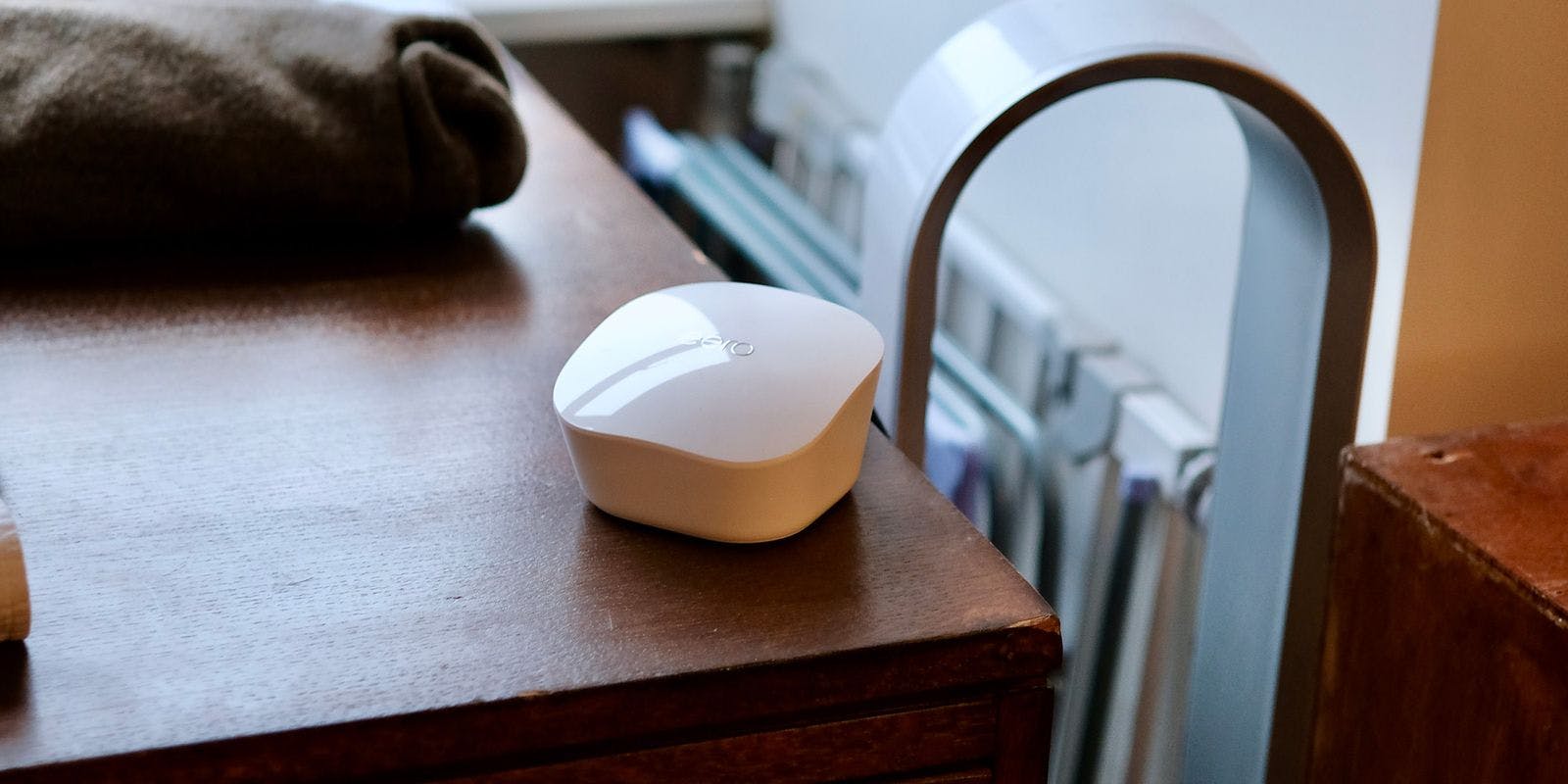 Amazon eero in the loft
I put my router into modem mode (bridge mode) to stop it broadcasting a Wi-Fi signal which could interfere with the Amazon eero network. 
How's your internet now?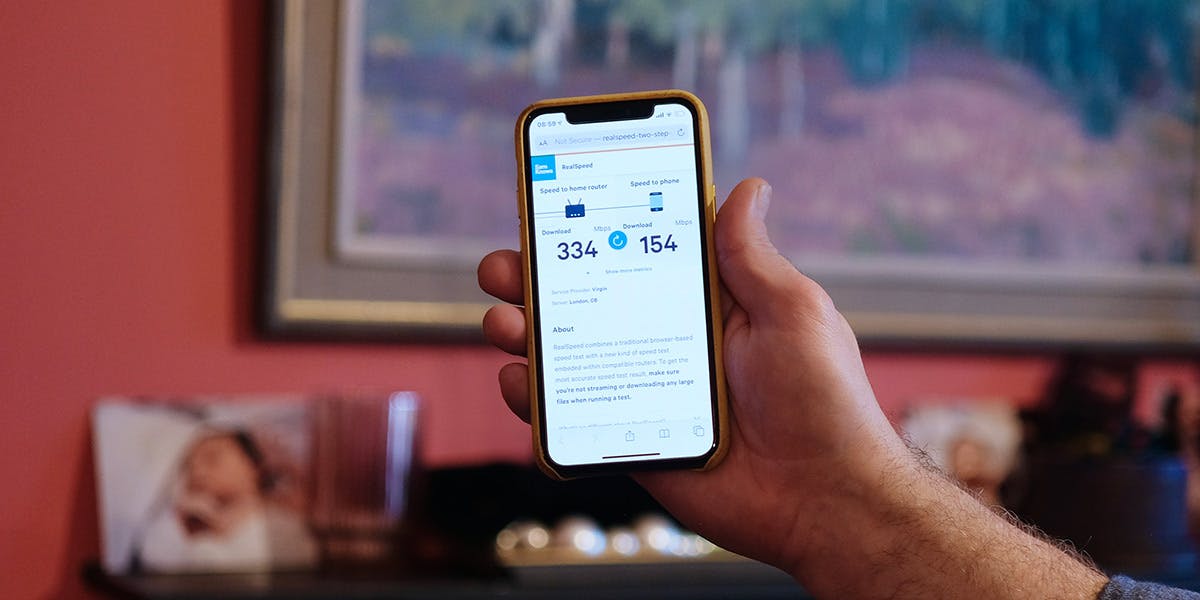 Fast enough to watch Call the Midwife in Ultra HD in the bedroom
Success!
These results were a lot more promising. I was getting at least 50% of the broadband performance at my router wherever I was in the house. The kitchen and dining room didn't see much improvement (this area is serviced by an Amazon eero, which isn't connected to an Ethernet backhaul). I could try hardwiring the dining room Amazon eero to my modem, but I don't feel the expense is worth it. The coverage down the garden is fine and the speed around my house is more than enough for our family.
Cookie's conclusion
5Ghz Wi-Fi provided much better performance than 2.4Ghz, but at the cost of coverage. This reflects what is fast becoming a much bigger issue… as internet speeds increase, in-home performance is becoming much more complicated. We have a whole team dedicated to creating more specific ways of measuring Wi-Fi and broadband performance and provide meaningful data that people can use to improve their home networks.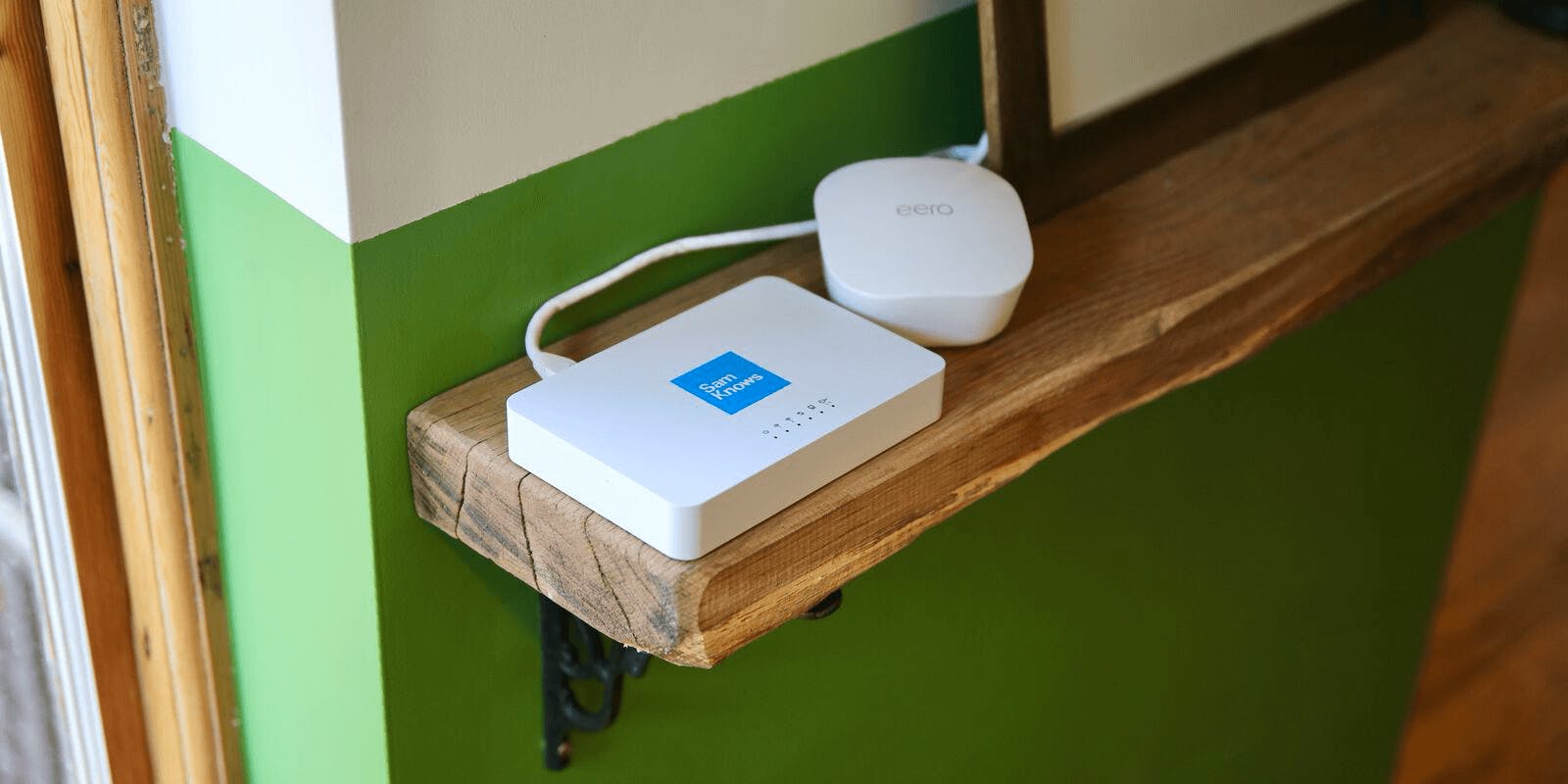 If you would like to see my house now that it's been renovated, you can watch the episode on catch up TV and have a read of my blog post to find out about all the paints and colours I chose. 
To speak to a member of the SamKnows team about RealSpeed, please contact us here. And if you have a Whitebox, you can use RealSpeed here.