Measuring Broadband Trans-Tasman
In 2017, the ACCC (Australian Competition and Consumer Commission) appointed SamKnows to measure the performance of NBN (National Broadband Network) fixed-line internet, and not long after in 2018 the NZCC (New Zealand Commerce Commission) appointed SamKnows to measure New Zealand's internet performance as part of a programme called Measuring Broadband New Zealand.
Measuring Broadband Trans-Tasman is the the first joint report between two nations that SamKnows has ever done, and probably the first of its kind in the world. The report aims to monitor the performance of comparable broadband services offered in both Australia and New Zealand, providing insights on where better performance is experienced and why. The findings in this report are from data collected between 1st September and 30th September 2021, view the full report here.
-----
Key observations from the joint study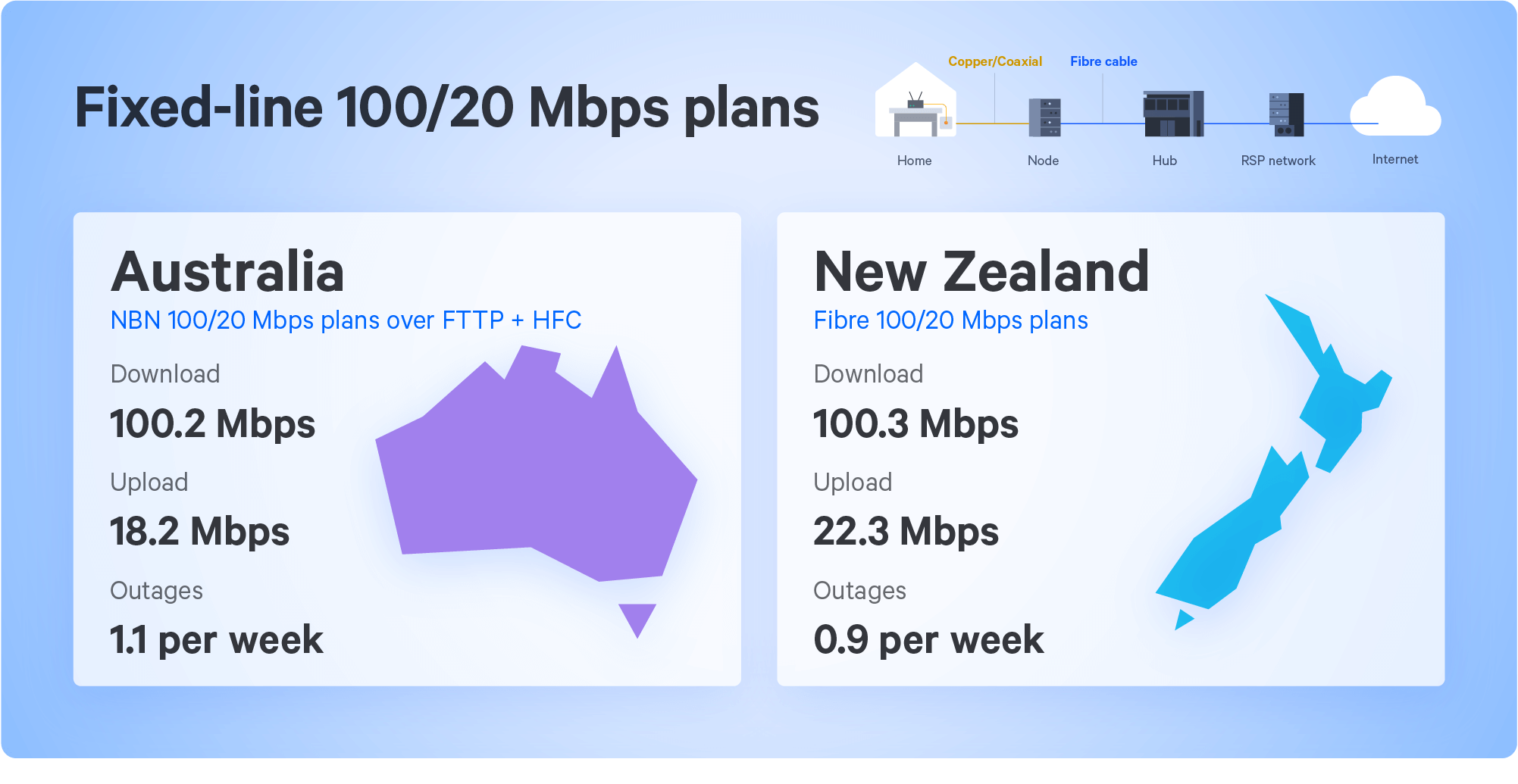 Fixed-line 100/20 Mbps plans
Comparing Australia's NBN 100/20 Mbps plans supplied over FTTP and HFC to New Zealand's Fibre 100 plan, average download speeds are very similar.
Compared to Australia, RSP's in New Zealand overprovision on the uplink, therefore almost all households on NZ's Fibre 100 attain average upload speeds that exceed 20 Mbps. Australia's measured average upload speeds remain under 20 Mbps. However, in both countries, there is a very low rate of outages.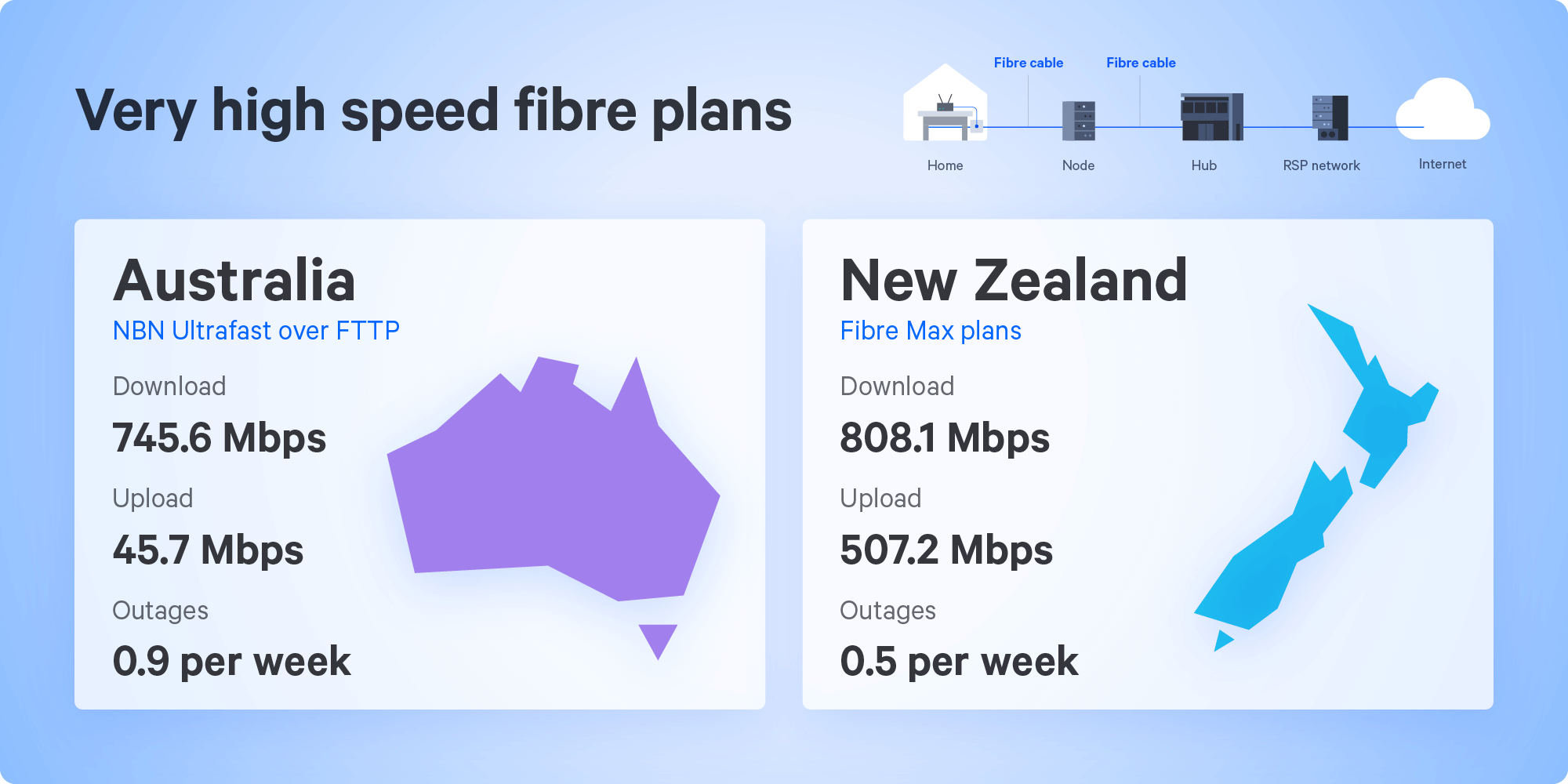 Very high speed fibre plans
The proportion of services attaining an average download speed over 900 Mbps is greater for Fibre Max in New Zealand, particularly during busy hours.
The average upload speeds measured are very different in the two countries, with around 50 Mbps being offered in Australia and 400-500 Mbps in New Zealand. The results are largely in line with the plan speeds.
The rate of outages lasting longer than 30 seconds was found to be low in both countries. At an average rate of about one outage per week, therefore unlikely to have an impact on user experience.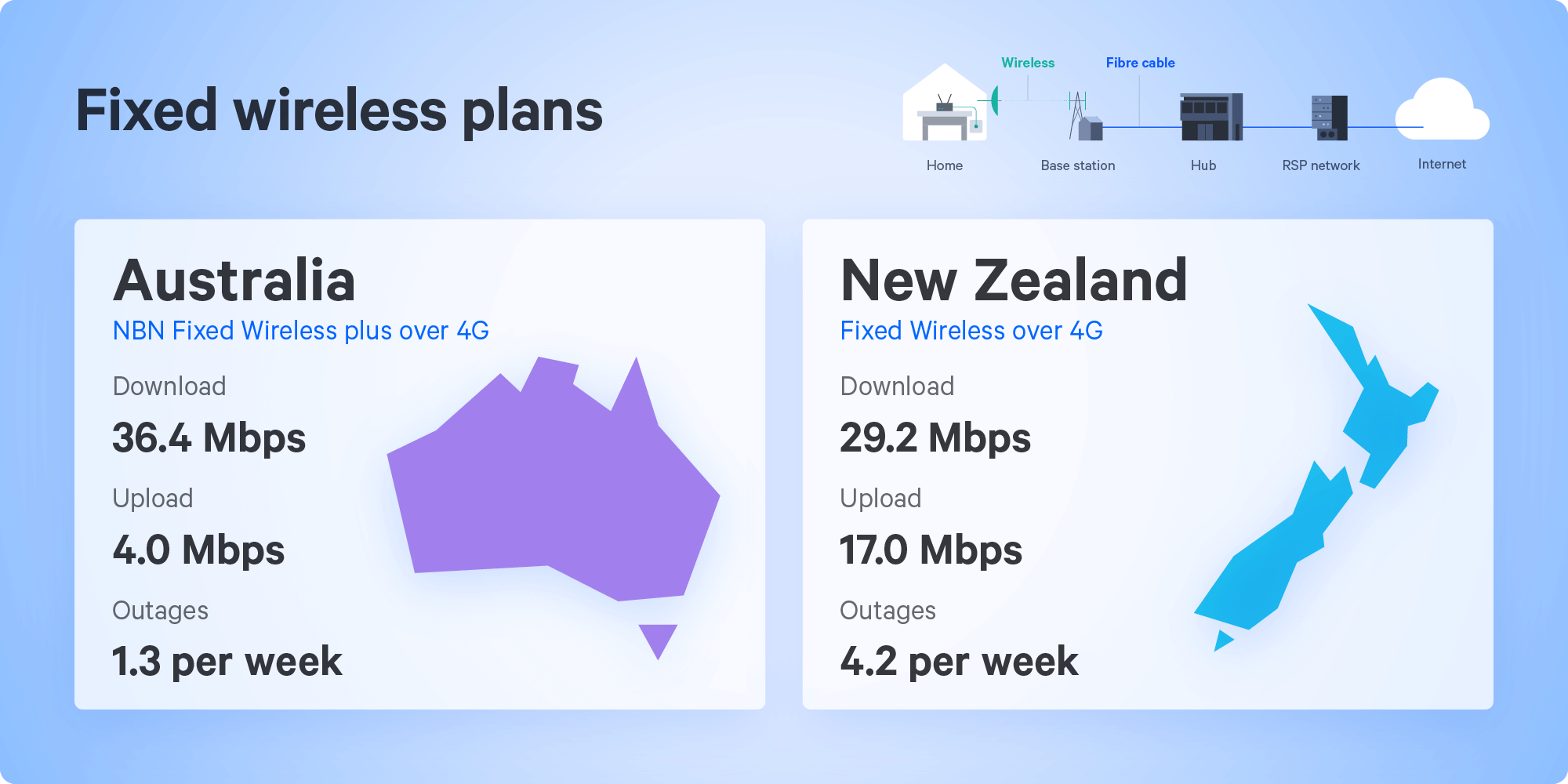 Fixed wireless plans
Average download speeds over fixed wireless are higher in Australia both during busy hours and outside of busy hours.
The majority of New Zealand's fixed wireless services achieve a higher upload speed than Australia's NBN fixed wireless services.
The overall rate of outages over fixed wireless connections was found to be higher in both countries than over fixed-line connections. However, even the comparatively high rate of 4-5 outages per week in New Zealand (less than one a day) is low enough to not have a detrimental effect on user experience.
The outcome
The main difference between the nations' comparable packages is the upload speed, Australia's upload speeds are slower. But there is a valid reason for this. New Zealand over-provisions for both download and upload speeds, whereas Australia only over-provisions the download speed.
-----
The future
The ACCC will use this comparative report as part of the process in reviewing regulations for the NBN. This will improve competition amongst service providers and deliver better services for Australian citizens. Review their full plans.
-----
Can neighbourly rivalry encourage competition and drive improvements?
SamKnows has helped ISPs around the globe benchmark their performance against their peers to encourage healthy competition and create a thriving marketplace that gives consumers better internet.
For government regulators, comparing national performance between different countries can help highlight strengths and weaknesses in your citizen's online experience. For example, online gaming performance could vary if gaming servers were located closer to one country than the other.
These insights that SamKnows can help you uncover may spark a conversation between wholesalers, ISPs, and the wider industry. The whole industry working together is what drives the mission forward, to help improve infrastructure and improve internet performance for everyone.