Looking after the individual needs
The team at SamKnows really do care. I experienced this first hand, from my first conversation with Alex the CEO, who picked up on the fact I have little people and introduced the idea of working in a way that allowed me to balance family life. 
The onboarding team really took the time to understand my wants and needs to implement this for me and as a result set up a new part time policy. 
Alex, the CEO confirms "We've always worked around the individual needs and as we grow, and it's important we work hard to make sure that doesn't change."
But it's not all just about part-time working. The SamKnows team wants to make sure your needs are met whatever they might be. Sausage the dog was allowed to come to the office for an extended period of time when his owner, my colleague, was renovating his house. Another colleague requires a few afternoons a week to look after her elderly parent. Someone else requires an earlier start and finish time to help with school drop off and pick up. 
Always improving
There is a real desire to evolve and accommodate as new needs arise. Currently the HR team are reviewing a new and improved maternity policy, and the senior team are learning about ways to support women going through the menopause, something which hasn't had much focus on across businesses to date.
Why does SamKnows care so much?
First and foremost it is the right thing to do. Secondly, having a modern approach to ways of working attracts top talent and makes for happy, stimulated and satisfied employees. Which is the culture very much enjoyed here. And, in return our satisfied employees are hard workers, flexible too and love working here.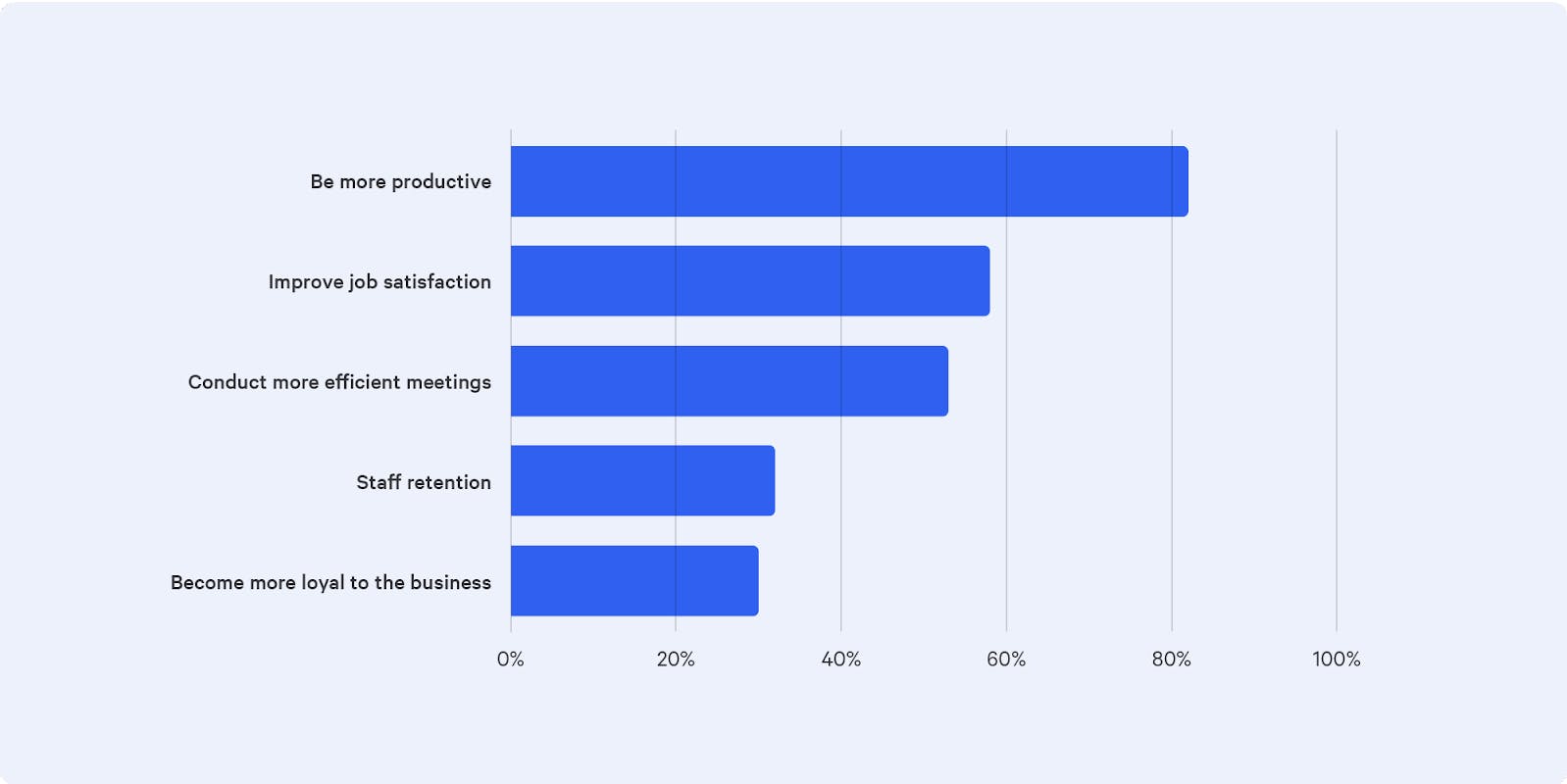 Source: International Workplace Group - insights on flexible working from 18,000 professionals in 96 countries
Small touches that make a great onboarding experience
I'm now in my third week here at SamKnows so I can confirm the onboarding experience is super slick. I've felt welcomed and looked after, what more could you want?
The day I joined I was invited into the office to meet my new team, something that was really exciting, having not met anyone new in person since before Covid struck almost 2 years ago. I was introduced to everyone, handed my equipment which included a new laptop, a new notebook and the best bit, a pencil case filled with everything I could ever need. 
And the finer details didn't stop there. Over the next few days the attentive onboarding team filled my diary with inductions with all the teams. So instead of feeling a hindrance I was able to immerse myself in all things SamKnows without bothering my team to look after me.
Interested in SamKnows? Here's what attracted me
Previously I worked at a very large company, where my role was largely UK focussed. The work was exciting and interesting, but I often felt like a small, tiny cog working a massive machine.
Joining the diverse, tight-knit community here has been fantastic. I already feel part of the community, and am seeing my work making an impact. It's really exciting to be part of a company that is changing the world.
What are you waiting for, there are lots of opportunities at SamKnows, and we are willing to discuss any individual needs you may have.