Analytics.
Data analysis is at the core of what SamKnows One does. Our analytics products allow users to analyse all of the collected measurement data in near real-time.
Back to top
Whilst core analytics gives you insights into your data, advanced analytics takes this to the next level providing more statistical methods of analysing your data so you can delve into diagnosing issues, provide insight for analysts and probe SamKnows One to answer specific questions for your marketing teams.
In addition to being able to split data as normal, you can also add to an existing graph entire new data series or graphs to overlay complete with their own sets of filters, splits. This allows you to compare metrics (for example latency versus download), different more complex data sets, overlay different chart types, or even compare data from different sources (such as mobile latency on Wi-Fi versus web based test latency).
Contextual environmental information will show you some pieces of environment data collected at the time of the test running when hovering on points on raw charts (e.g. Raw Map or Scatter Plot) and in-depth environmental information when doing graph inspection.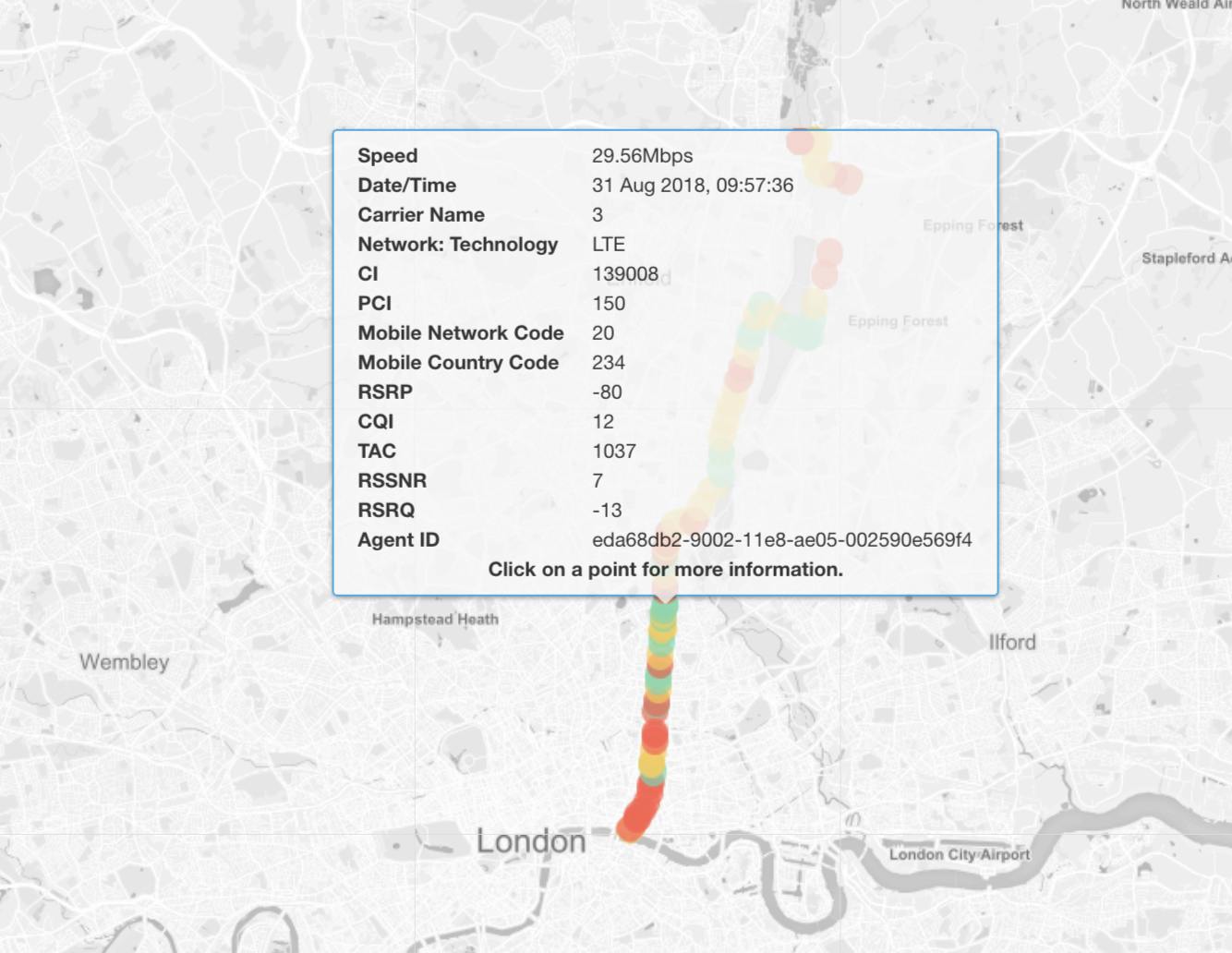 Line graphs can also be enabled to display zones for confidence intervals, and allow for inspection of specific points to view scatter plots of the test results contributing towards an aggregated point.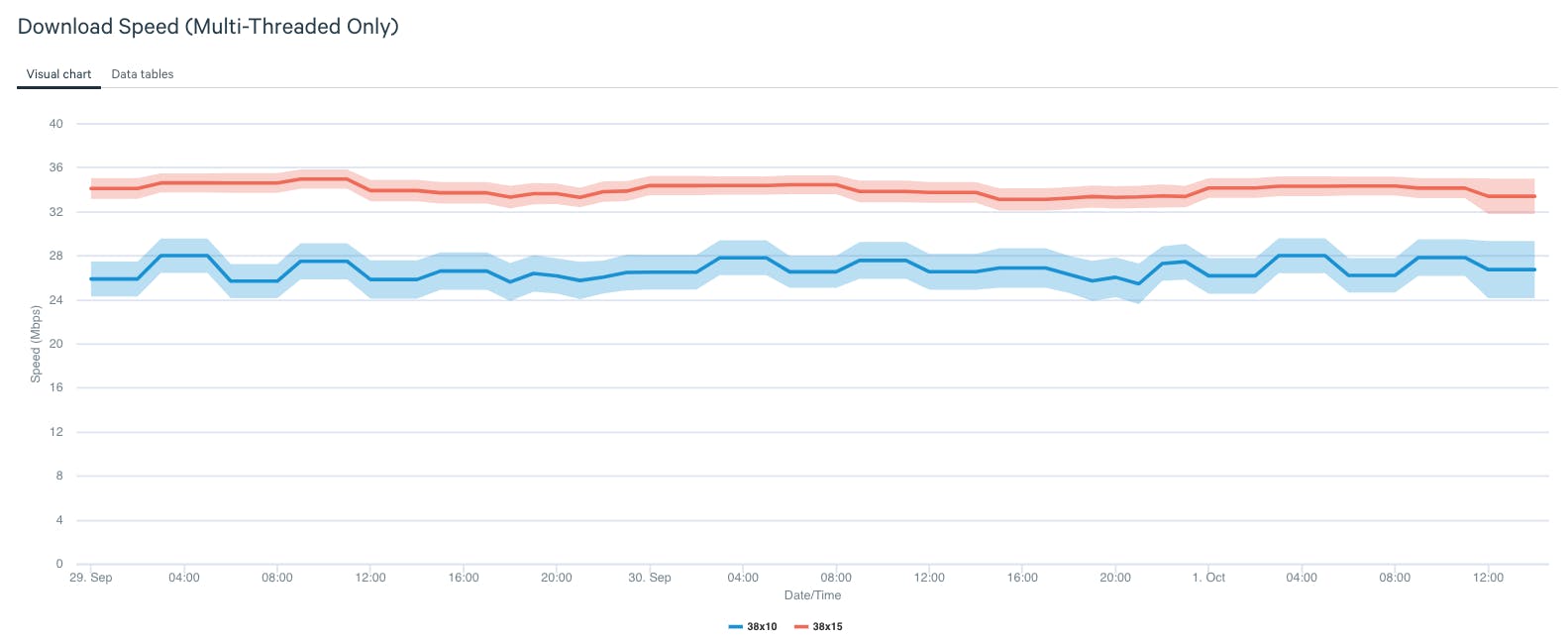 When aggregating by test (the default), it will perform a simple aggregation over all of the tests run in each bucket (e.g. hour) however when aggregating by agent, it will first, for each bucket, aggregate all of the results for each agent before then performing an aggregation over those agent results. This helps to prevent an agent that reports more or less often than others from skewing averages and is commonly required for using data in an official capacity such as regulation or marketing.
In addition to aggregating by the mean average value, you can also plot percentiles with Advanced Analytics.
You can plot the minimum and maximum values of a dataset with Advanced Analytics.
You can plot the population standard deviation of a dataset with Advanced Analytics.
You can also plot the magnitude of the interquartile range, demonstrating the spread of values that 25% versus 75% of measurement agents or tests achieved.
You can plot sample and agent counts, allowing you to monitor and visualise the number of reporting measurement agents or test results. This can be a great way to see faults and also add context to information to ensure you have an adequate number of sample/reporting measurement agents.
Graph inspection allows you to click on points in order to see more information. For aggregated points it will load a data table of the raw data behind it and a scatter plot. If it's a raw/unaggregated data point it will display more information such as a link to view the agent in agent administration, environmental information etc.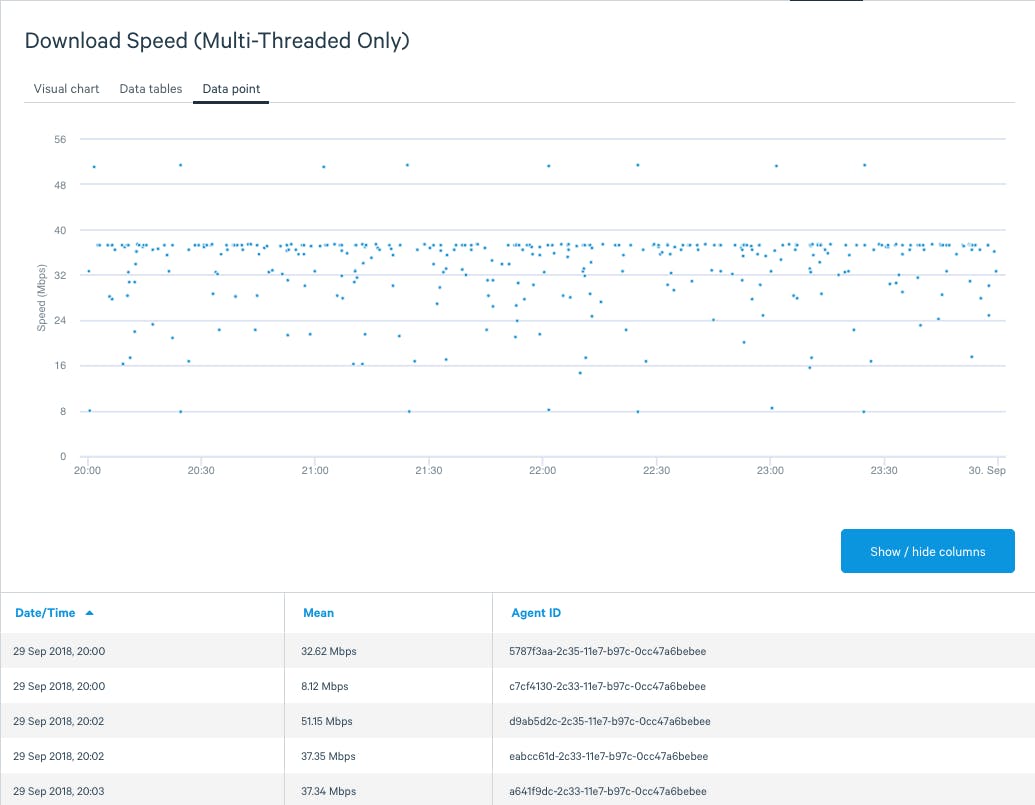 Range filters allow you to not just filter to specific quantitative data but also continuous data as well. This means you can filter by things such as the metric value itself (to exclude outliers for example) or filter down to only show aggregate data points that have a set minimum sample or agent count.
Box plots charts can be useful in order to see the range of results in which most of the test results lie between as they show the median, the upper and lower quartiles, and the minimum and maximum of each data series. Box plots are displayed vertically with multiple box plots being placed next to each other horizontally. The y-axis displays the metric being plotted and the x-axis displays the split of the data that each box plot represents (for example technology or ISP).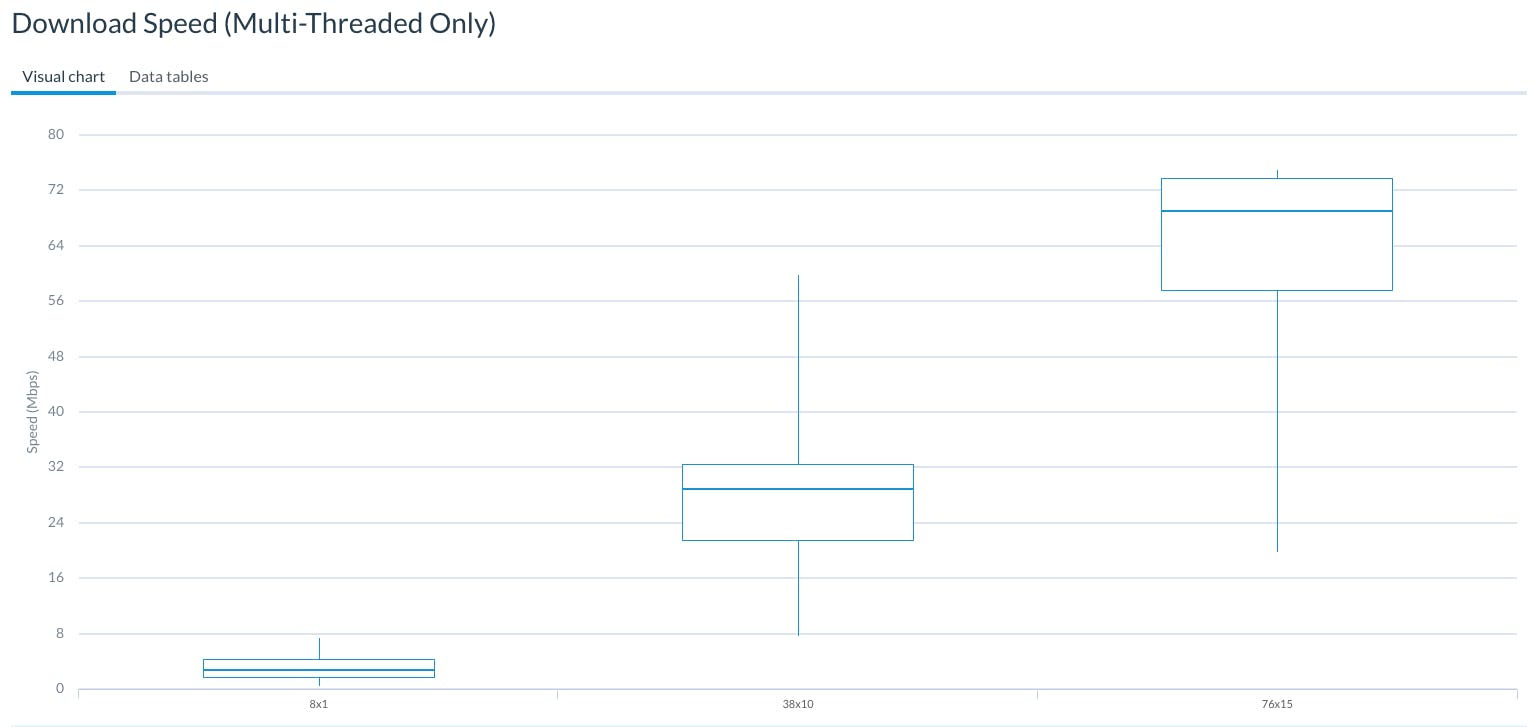 CDF (Cumulative Distribution Function) plots show the cumulative distribution of measurement results. The shape of this curve allows to engineers to identify patterns in the data (e.g. step changes indicate clustering of results around certain values) and also to immediately recognise whether performance is normally distributed amongst users or not.
Data series are represented as curved lines on the CDF plot. The value on the y-axis indicates what proportion of users achieved at the given value on the x-axis or greater. It is also possible to do a tail distribution where the y-axis indicates the proportion of users who achieved the given value on the x-axis or lower where this may be more appropriate (for example latency).