Connected Home
Monitoring in-home internet performance and internet experience
Troubleshoot home Wi-Fi with
RealSpeed
Wi-Fi is the most popular method of connecting internet enabled devices in the home. New Wi-Fi standards promise extra speed at the expense of less coverage and penetration through solid walls. It's not widely understood that the available speed at your router isn't the same as the available speed on your device. We have created this test to show the difference.
Poor home Wi-Fi is the cause of over 50% of all complaints to ISP care teams. RealSpeed can help you understand how your Wi-Fi performance varies around the home and troubleshoot common problems without having to contact your ISP. 
Test on any device
Tests can be initiated from any device connected to your home network. The app will flag any results that have been speed-limited by the device. For example, the speed limit of an iPad mini 2nd Gen is 150 Mbps.
Test room by room
See how Wi-Fi performance changes around your home. Perfect for setting up Wi-Fi in a new home, or optimising the positioning of your router and Wi-Fi boosters within the home for maximum coverage and performance.
Get helpful advice
The app will try to diagnose any common network problems from your results, and provide logical steps to rectify.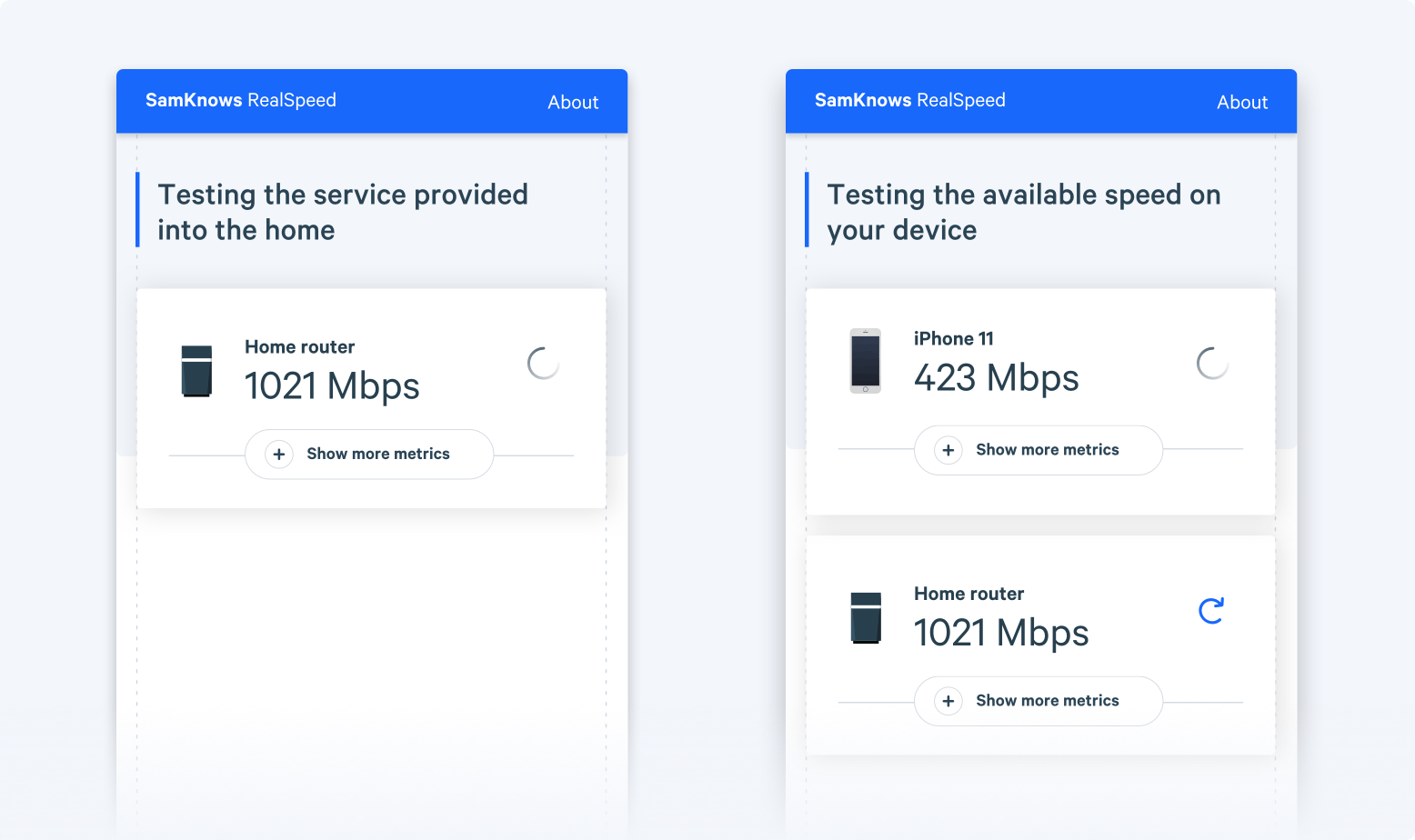 Monitor home broadband with
SingleView
SingleView is a feature of SamKnows One that's designed to monitor the broadband connection to a single home. It does this by frequently running scheduled tests between the router and the nearest test server, unlike Speedtests that only measure a point in time and often generate too little data for you to find ongoing problems.
Sometimes scheduled tests are skipped to avoid negatively impacting the users internet experience and impairing our measurement results. By only testing when the connection is idle we can eliminate any unknown factors such as background network activity to ensure the tests results are accurate and comparable.
Daily patterns
Discover how peak-time effects the connection.
Long-term trends
Compare current performance to past performance.
Pinpoint change
If something goes wrong, pinpoint exactly when change has occurred.
Disconnections & outages
If there's any disconnections we track when and how long on a chart.
Tests & metrics
Comprehensive selection of Quality of Service and Quality of Experience tests are available.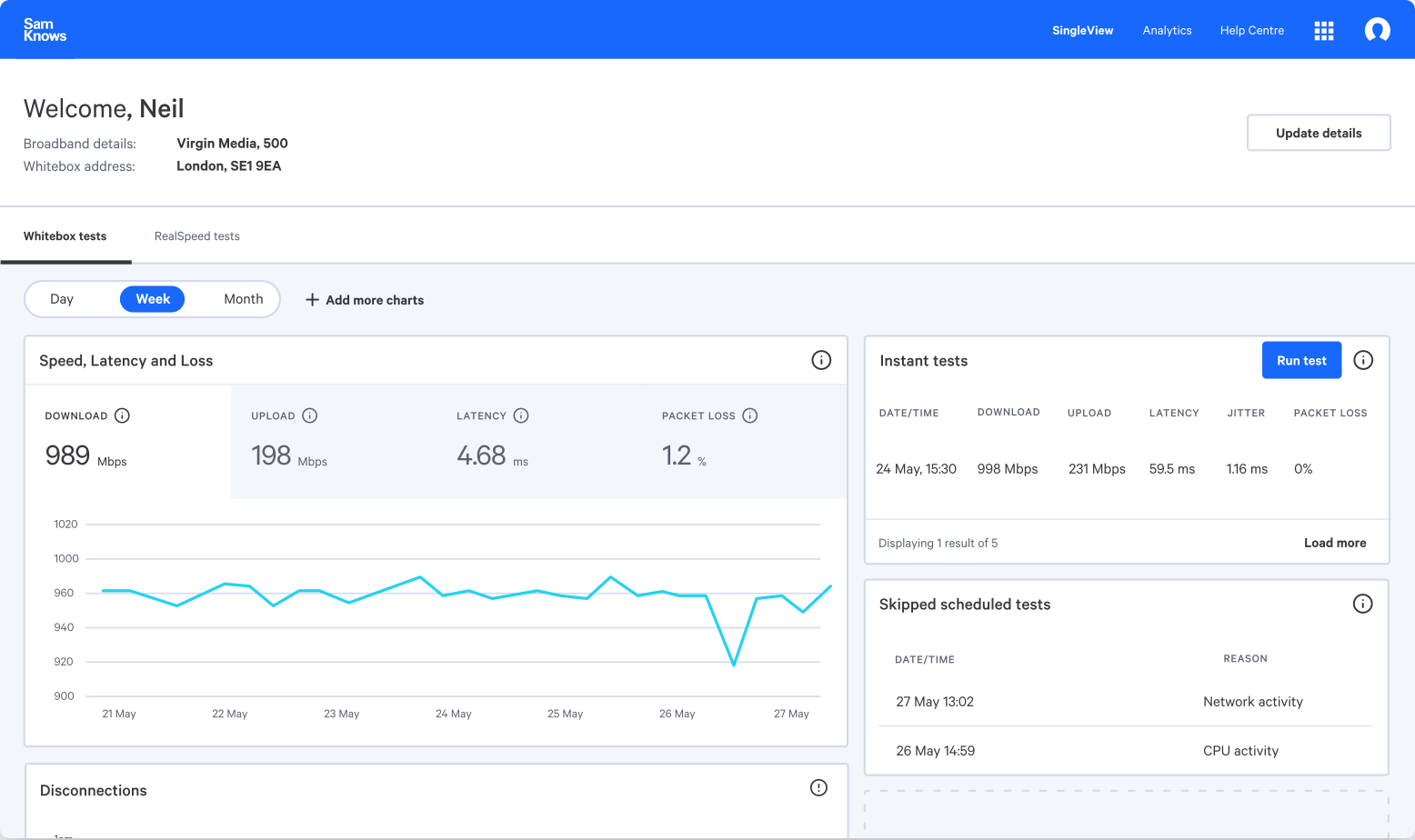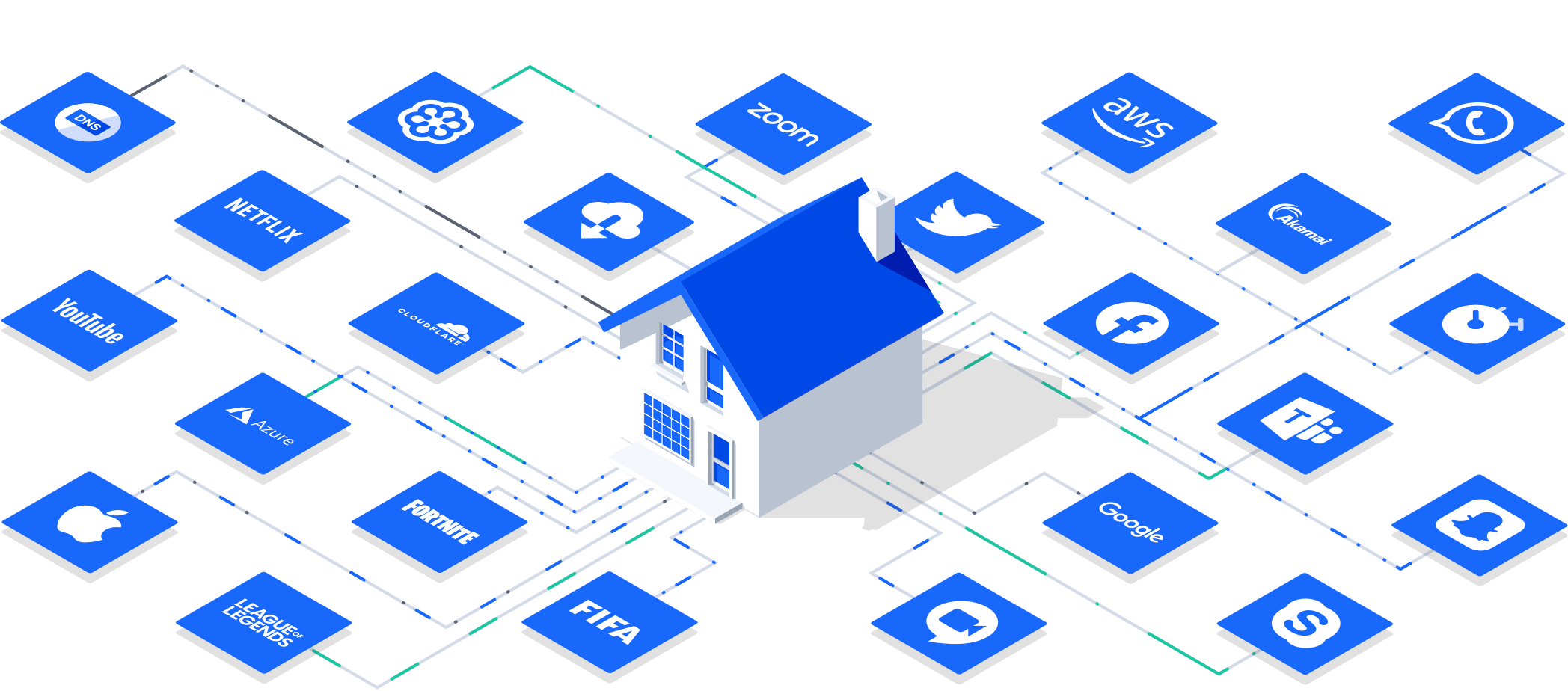 Test real applications, not centralised test servers
Everyone's connection to popular online applications is unique. Which is the best performing video streaming service to your home? Which gaming servers have the lowest latency, what's the best time of day to minimise packet loss during a video conference? By testing against real-world application servers all the way to your home, we can tell you.
Facebook App
Facebook Messenger
Instagram App
Instagram Messenger
WhatsApp
Snapchat
Twitter
Skype
Zoom
Teams
Meet
GoTo Meeting
Webex
Azure
Akamai
Apple
Cloudflare
Google
Amazon AWS
Fortnite
League of Legends
FIFA
DOTA 2
Apex Legends
Performance summary delivered to your inbox
Each month a concise visual summary of your home broadband performance is sent to you via email. You are able to see an overview of all your key metrics and an automatically generated list of monthly highlights which will pinpoint any fluctuations in performance that may merit further investigation.
Keeping you informed
No need to worry about manually testing. We'll alert you of anything that requires your attention 
Overview of key metrics
A handy summary of the health of your home network for peace of mind
Auto-generated insights
We monitor your connection across dozens of metrics, if anything looks out of place we'll let you know