For those of you who don't know, the Western States 100-Mile Endurance Run starts at the base of Squaw Valley, California, and ends 100 miles later in the town of Auburn, which is known for its Gold Rush history. It's the world's oldest 100-mile race, covering beautiful and varied scenery, as well as arduous terrain. Applicants must compete in qualifying races, and many people take years of applying before they're offered a place in this ultra-competitive ultramarathon. 
So when our CTO and Founder, Sam Crawford, went off on "holiday" to run it, we felt a mixture of two things: 1) immense pride, and 2) not an unequal measure of fear. Sam is very matter-of-fact about all this but while he's out of breath, we're holding ours. We love Sam, he's an amazing person, but we're also not looking to change our company name anytime soon...
In all seriousness though, we're inspired by Sam's straightforward approach to tackling challenges, whether they're internet-related or not. He's very matter-of-fact about all this. To learn more, we asked him all about his Western States experience and what to do if we ever attempt to run that far ourselves... (change your socks apparently).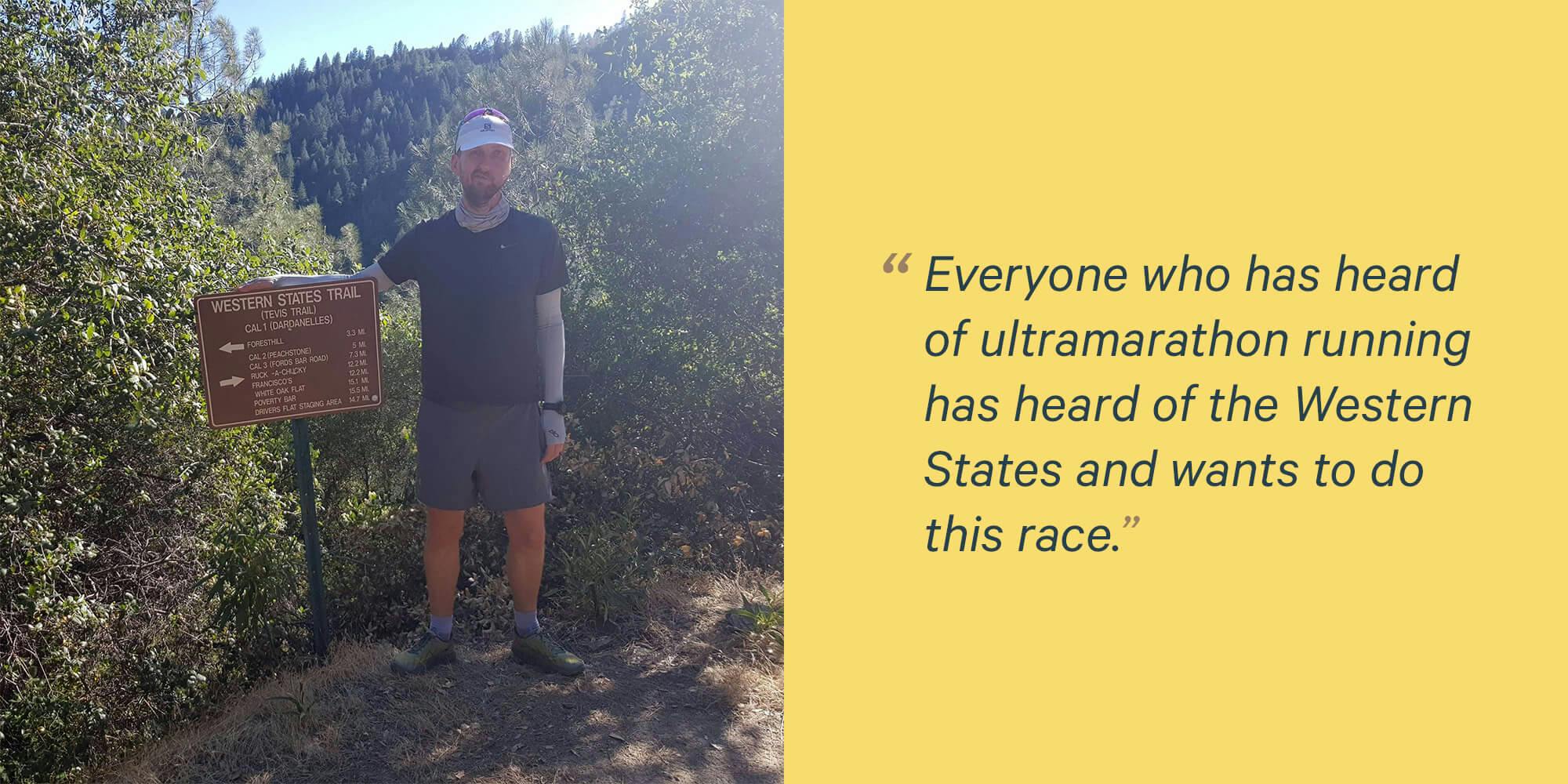 Q. You went off to the U.S. to enjoy a well-deserved holiday, and you chose to spend it running one of the world's toughest ultramarathons. Why?!
I don't know… I like getting out of the office, I like running. I imagine it's a response to spending all day sat in front of a computer screen. When I go home the last thing I want to do is sit down, unless I'm working on a fun idea. I enjoy being outside - and what better way to do that than to run?
It's also the world's original 100 mile ultramarathon. Anyone who has heard of ultramarathon running has heard of the Western States and wants to do this race. I've wanted to do it since I read about it a few years ago. Scott Jurek's book 'Eat & Run' was probably the first place I heard of it.
Q. 100 miles is a long way! 
Physically, it's demanding but it's not that demanding. If you're not sprinting it, you can just keep going. Also, you're not necessarily running the whole way. Once you get past about 50 miles it becomes more of a shuffle than a run - at least for me!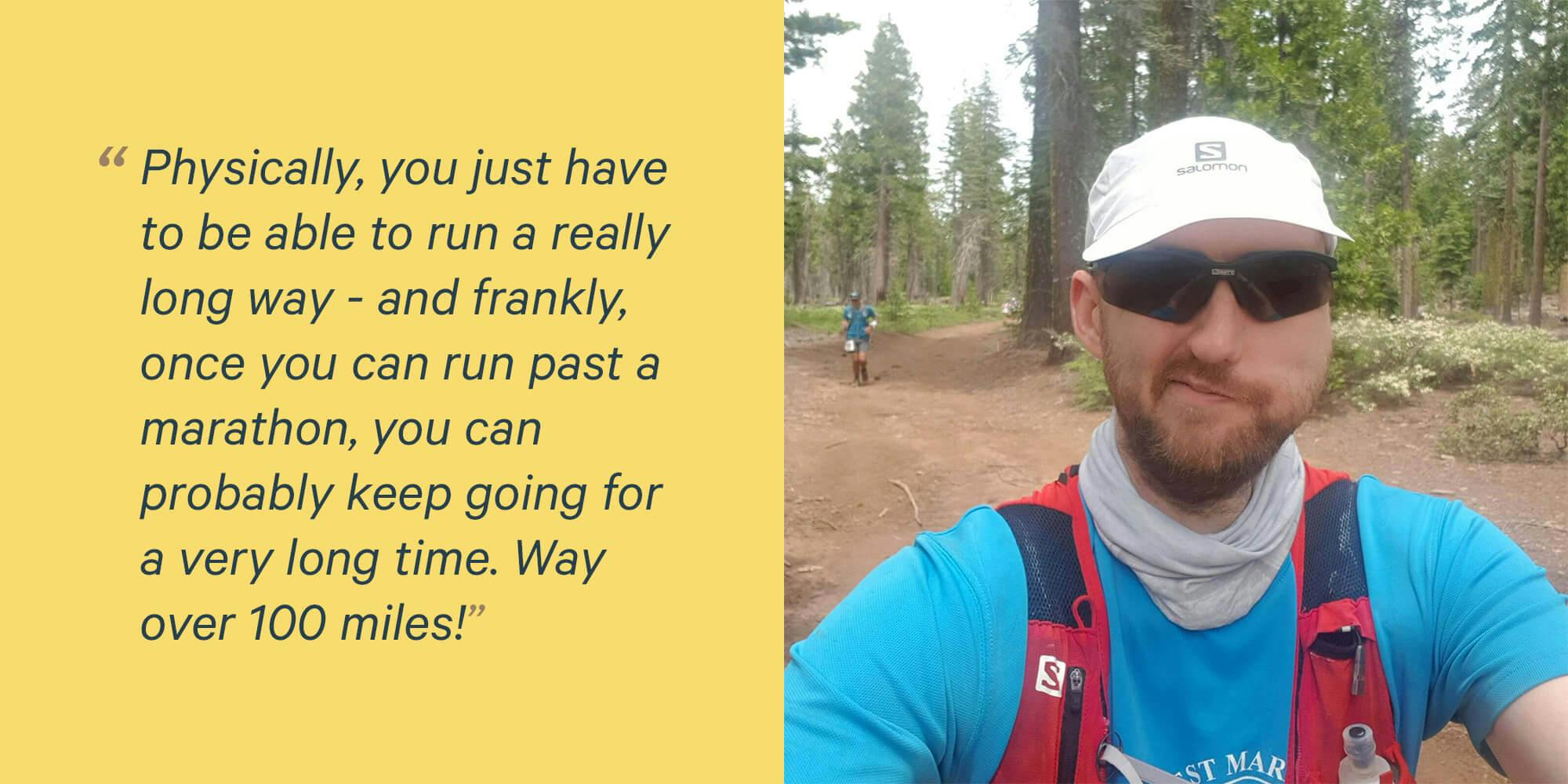 Q. How do you prepare for something like that?  
Well, there's both the physical and mental preparation. Physically, you just have to be able to run a really long way - and frankly, once you can run past a marathon, you can probably keep going for a very long time. Way over 100 miles! 
The other side of the preparation is tiredness, because it's simply about 'time on legs'. If you can do a marathon in three and a bit hours, great. But that doesn't actually prepare you for being awake for more than 24 hours and moving on tired legs. So, you have to get used to being really tired so that you don't trip over and can still carry everything you need. I normally sweep and pace at other races, focusing on the overnight sections. I've supported four overnight events in the last couple of months, which basically means I've skipped sleep for four weekends.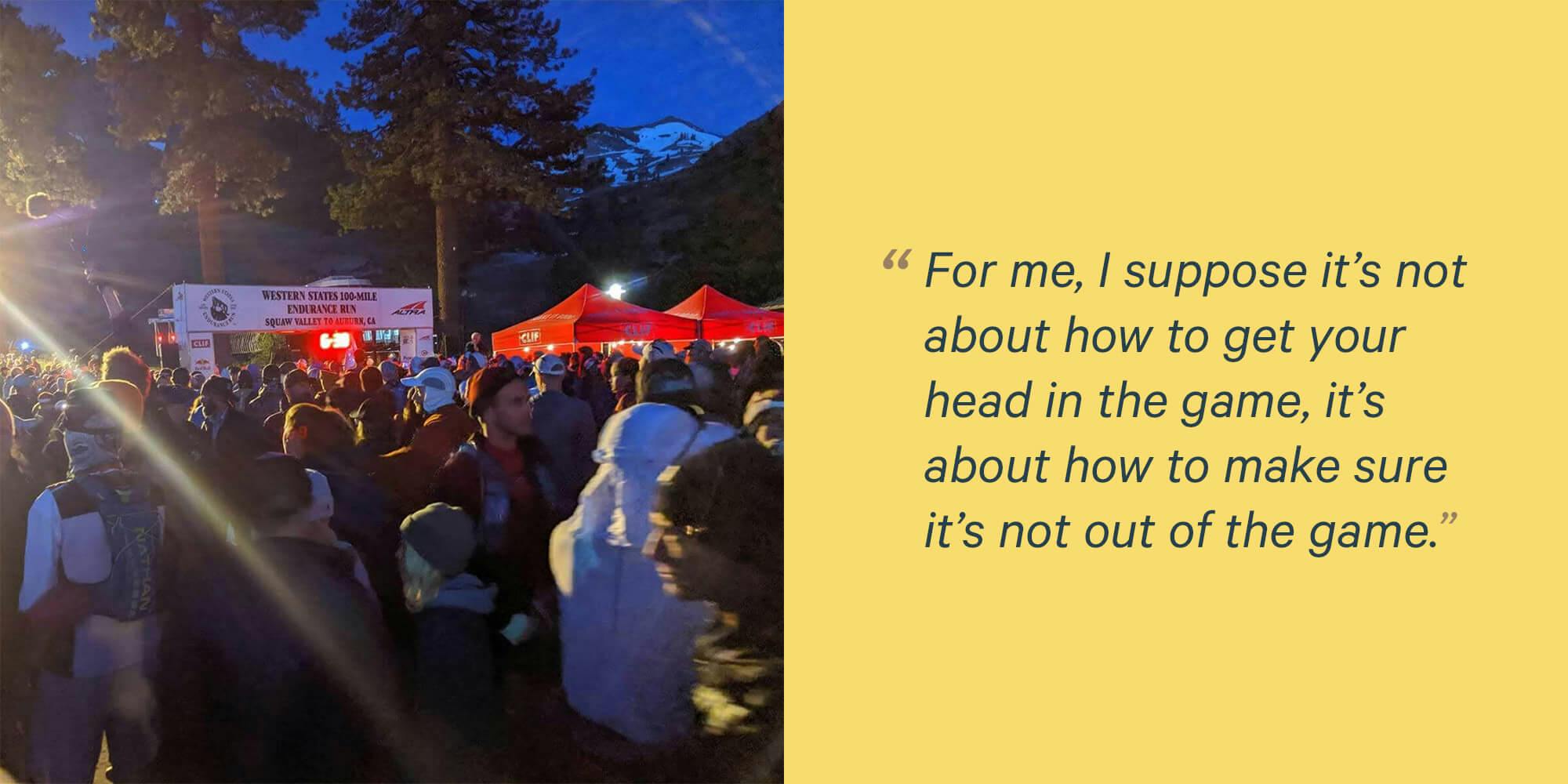 You're also nervous in the days leading up to it, and then you're nervous on the start line. For me, I suppose it's not about how to get your head in the game, it's about how to make sure it's not out of the game. Because it's very, very easy on a long race to end up in a dark place, mentally, and have bad thoughts. And bad thoughts lead to DNFs ("did not finish").
You could end up thinking, "I'm ten miles into this race, and I've got 90 miles to go. I'm tired, and I'm walking up this really long hill. I'm behind time already. It's hot and it's only going to get hotter because it's only 8 o'clock in the morning." 
It would be very easy to end up in that kind of place and constantly look at your watch thinking "I've got 89-and-a-half miles to go." You can't do that. 
What I found works for me is to never check how far you've gone or how far you have to go. Instead, I just think about how many miles I have until the next aid station and I wouldn't think about anything more than that.  
Q. Do you have any tips for people running the Western States for the first time? 
Yes, for the Western States in particular, you need to change your socks throughout the race, reapplying some Squirrels Nut Butter or Bodyglide to your feet each time. That's the advice I received from John Vonhof - a very famous foot doctor - who happened to be present the day before the race. He had run the race before, and he said that foot issues were the number two reason for failing to finish (heat being number one). You'll be running through a lot of water - it's unavoidable. So your feet are going to be wet, dry, wet, dry, all the way through the first third of the race at least. If you don't dry your feet properly and change your socks, your skin will literally fall off the bottom of your feet in a big sheet. And when it does it's very hard to fix during the race.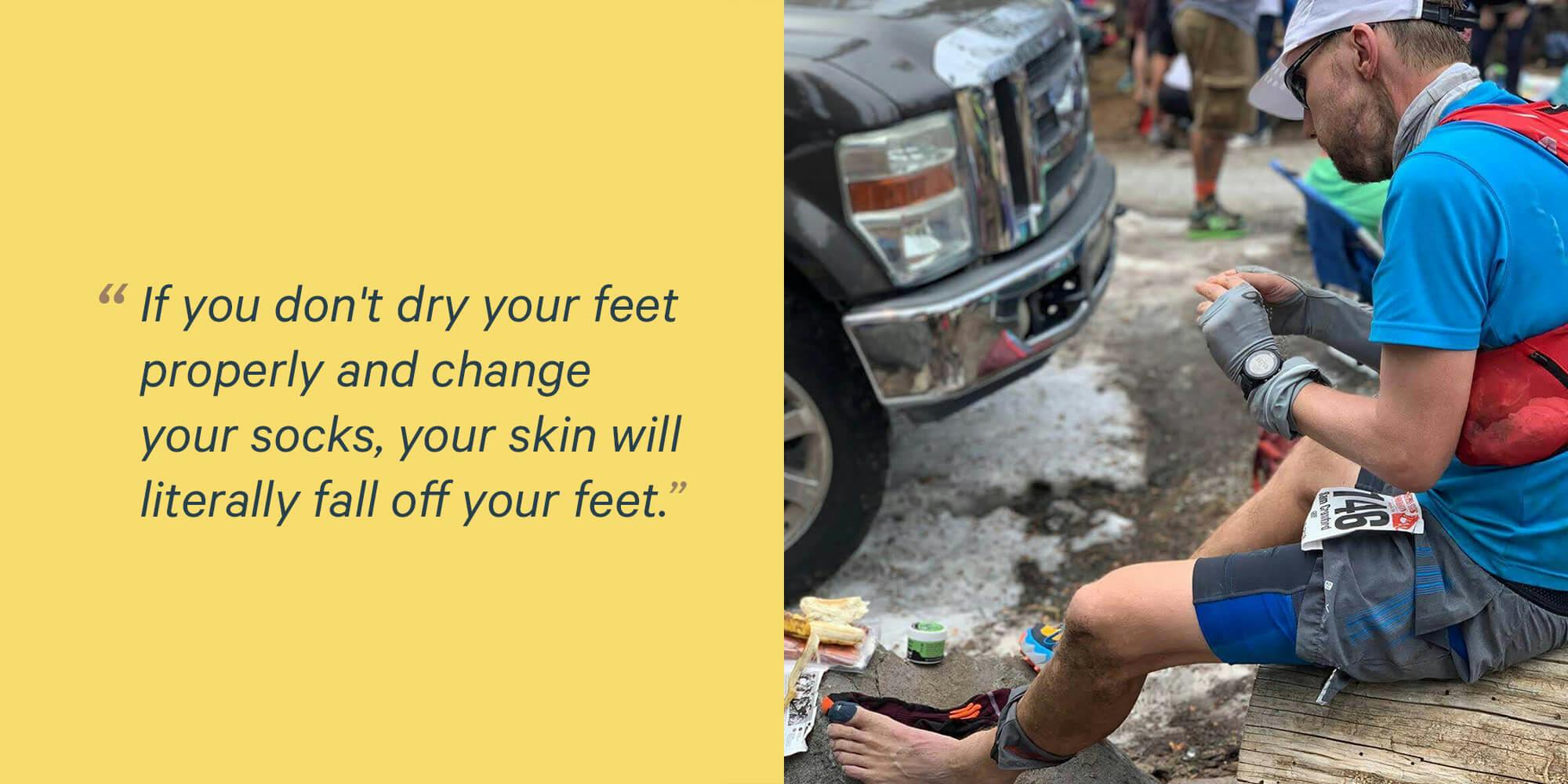 My one bit of advice to anyone doing the Western States in the future would be to change your socks during the race. Also, change your shoes at Robinson Flat (it's in the canyon section) because that's just after all the small streams are done so your feet will be soaking wet at this point.
Unfortunately, my trail shoes, in hindsight, were a bit too small in the toes. Hoka shoes are famed for having crazy sizing, so their size 11 is not really a size 11. I was fine on the uphills and on the flats but on the steep, technical downhills my toes were slamming into the front of the shoes, which has caused some toenail loss - which is fine and to be expected. 
Q. What were you looking forward to the most? 
Running in the Californian mountains! The fact that you start off in the snow, then go down to desert canyons, then wade through rivers - basically just the outdoors aspect.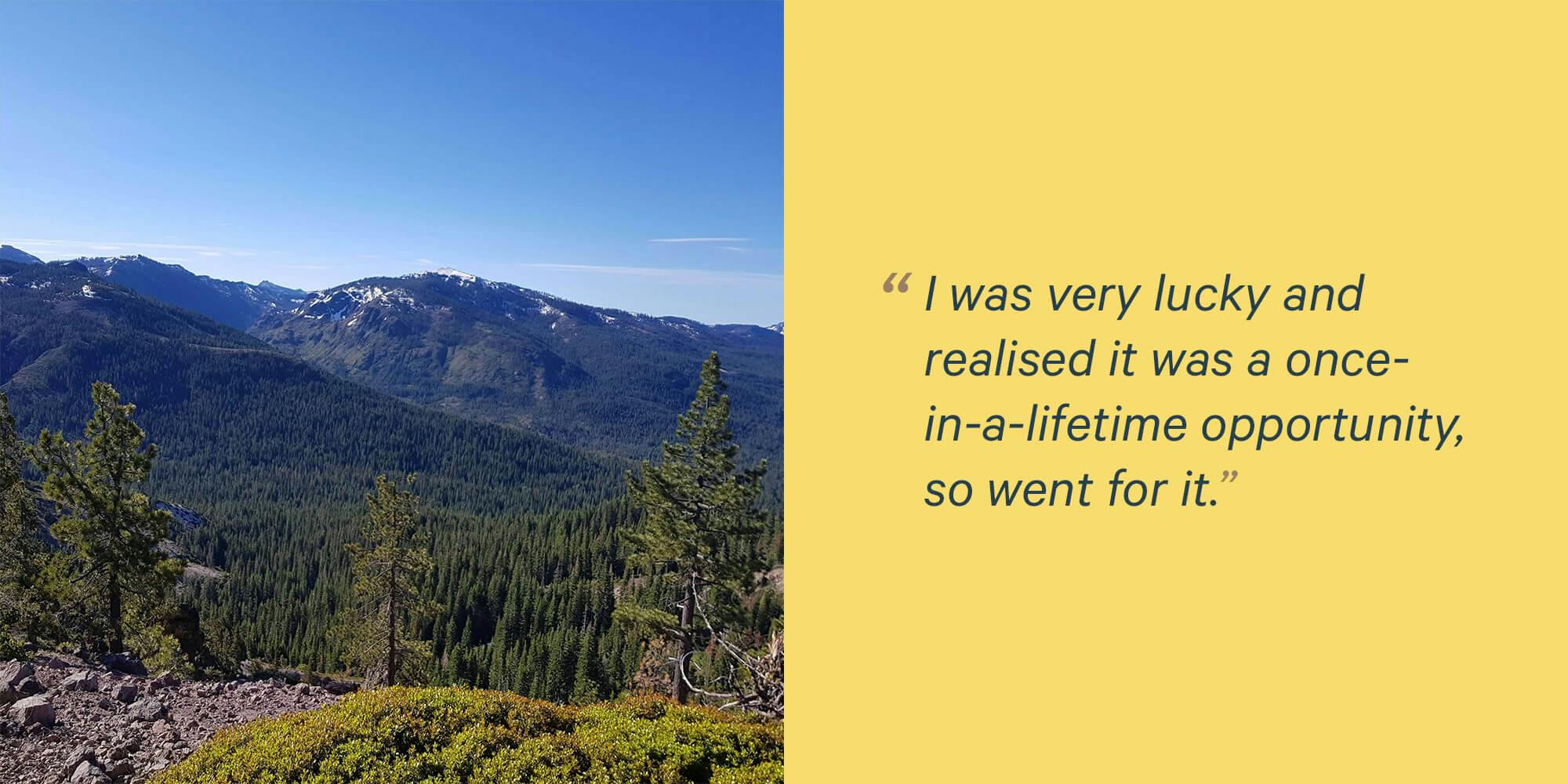 Q. What were the conditions like? 
Western States is known for being a very hot race. We actually got extremely lucky this year, particularly for me given that, being from England, I don't do particularly well in the heat. The temperatures were quite mild - it was only mid-20s or low-30s at the hottest. Sometimes the temperatures can get into the 40s.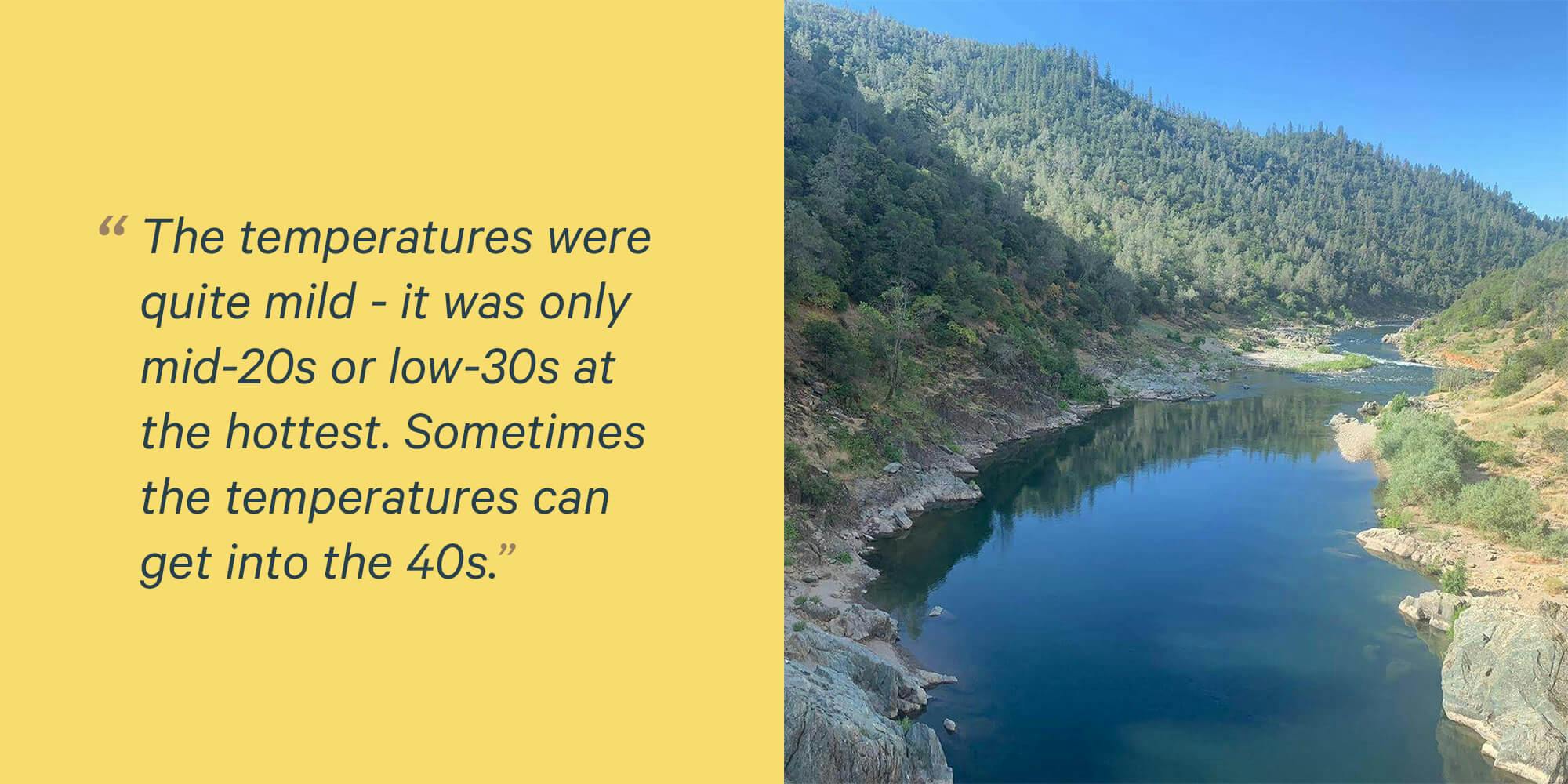 It wasn't that hot on the mountains but it was very hot in the canyons, and I was dipping into every stream as I went through. I soaked my hat, UV reflective sleeves, and the buff around my neck in all the streams, which were ice-water run off and so extremely cold. Then I put them back on. At every aid station, I would get the volunteers to fill up the sleeves and my pockets with ice. Literally stuff them with ice. There's photos of me with these huge bulges on me, and it's the ice packed into my clothes!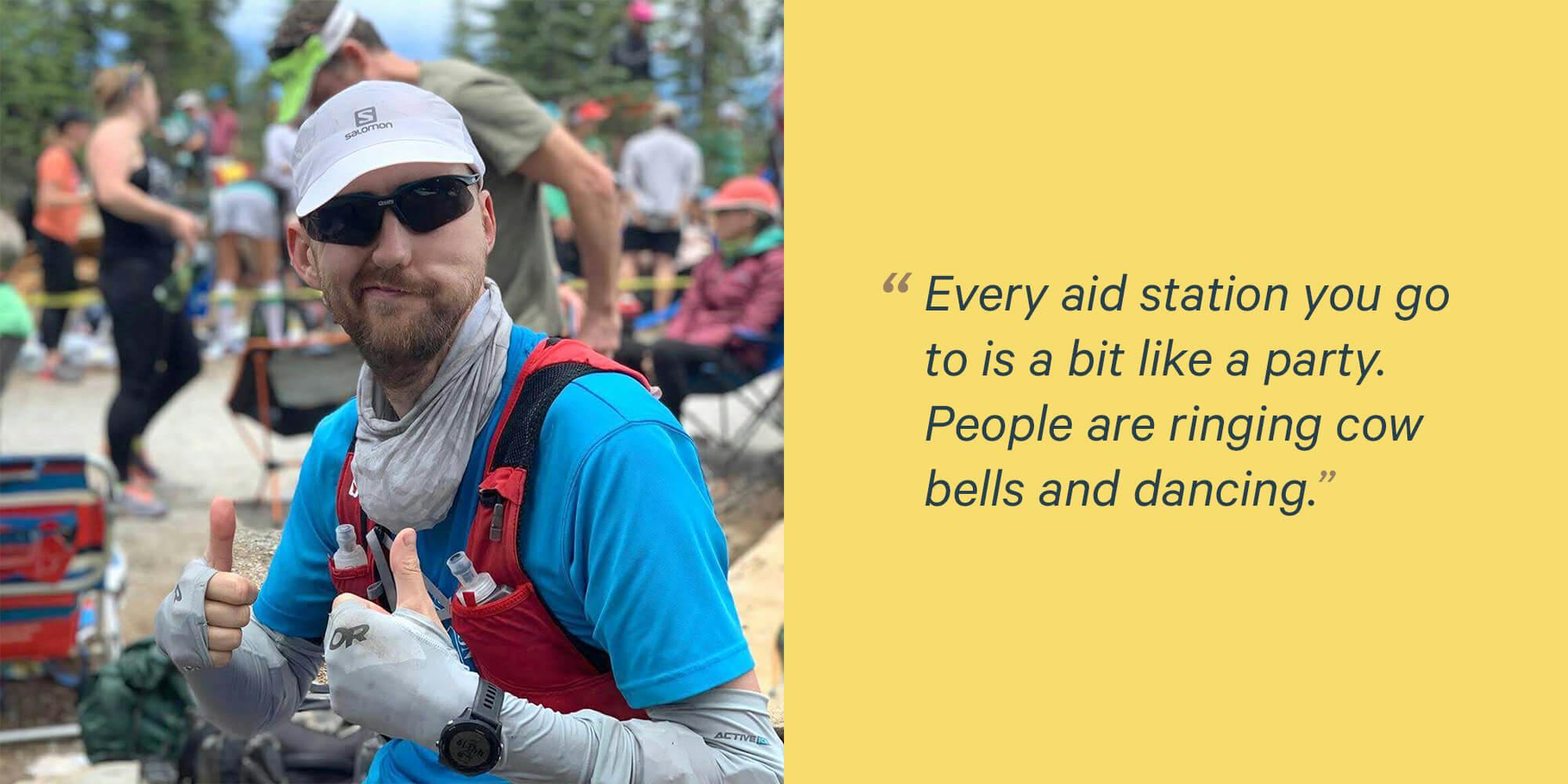 Q. What's the atmosphere like? 
Very good. It's so different to the ultramarathons I've done elsewhere. By way of contrast, the race briefings that I've been in the past tended to be 10 minutes before the race. Everyone stands in a semi-circle and the race organisers give you some details. They tell you "do go here", "don't go there", "this is dangerous", "this is safe", and off you go. For the Western States, the briefing was held the day before in a big sports hall. There's easily a thousand people there. There are speeches from former runners and the race director. You're introduced to the elites that are racing as well. There's a lot more hype. That's not necessarily a good thing - I went out of my way to avoid it at times.
Also, every aid station you go to is a bit like a party. People are ringing cow bells and dancing. All that kind of stuff. 
Q. What was the selection process like? 
You have to qualify for the race but qualifying isn't actually that difficult. You just have to have completed another 100 mile race or something of a similar level. The difficult part is actually getting into it. I got incredibly lucky. You enter a lottery to qualify and every year that you don't get in, your number of lottery tickets goes up so that you have an exponentially greater chance of getting in the next time. I, very luckily, got in on my first attempt. There's around a 1% chance of doing so! Some people I met hadn't got in after seven attempts, so I'm very aware of how lucky I was. Each year that you don't get in, you have to re-qualify for the following year, and some people had been running 100 mile races every year for seven years consecutively without getting in. I was very lucky and realised it was a once-in-a-lifetime opportunity, so went for it.
Q. What was the toughest part for you? 
A. Well, I was only sick once - but that's fairly normal for me. The toughest part? I'm not sure. I've kind of mentally blocked that out now. Probably the heat, particularly on Sunday it was very hot. And the terrain was quite technical and steep, even on the downhills. It meant that I couldn't run downhill as much as I wanted to because if I did, I would have tripped and destroyed my toes. Well, they were already destroyed. My big toenail fell off last night.
Q. Lovely! 
A. I'll get a photo for your blog post…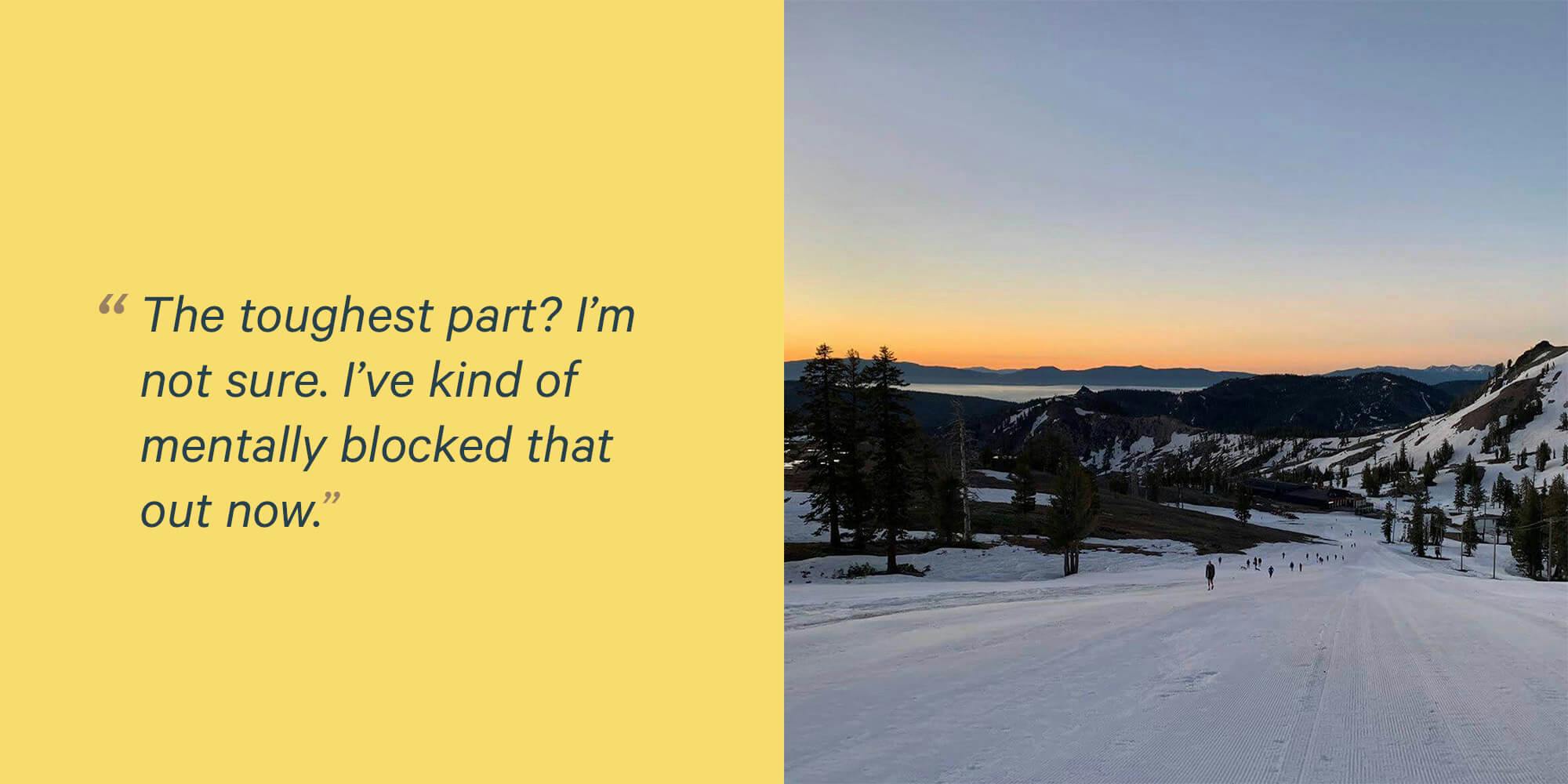 Q. How did you feel crossing the finish line?
Good! Relieved to get it over and done with. You finish in a big way - again, it's not like a lot of the other races that I've done in the past. When I finished a race in the UK, it was quite a muted affair. I finished under a banner (which was quite nice) but there were only 10 people there. And 5 of them were my team and supporters. When you finish the Western States, there are hundreds of people there. You run onto a high school running track and do a lap. Everyone's lined up around the track clapping, and there are people sat up in the stands cheering as you go through the arch. It's quite a good finish. They give you a medal and a t-shirt, and stuff like that. So, again, a bit more hype! 
Q. How do you pace yourself? I read one of the elites doesn't wear a watch?
The elites don't wear watches. They just go for it really. The number one male elite - Jim Walmsley - didn't carry anything on him. No water, nothing at all. He just runs between aid stations, picks up what he needs in an aid station and then runs on to the next one.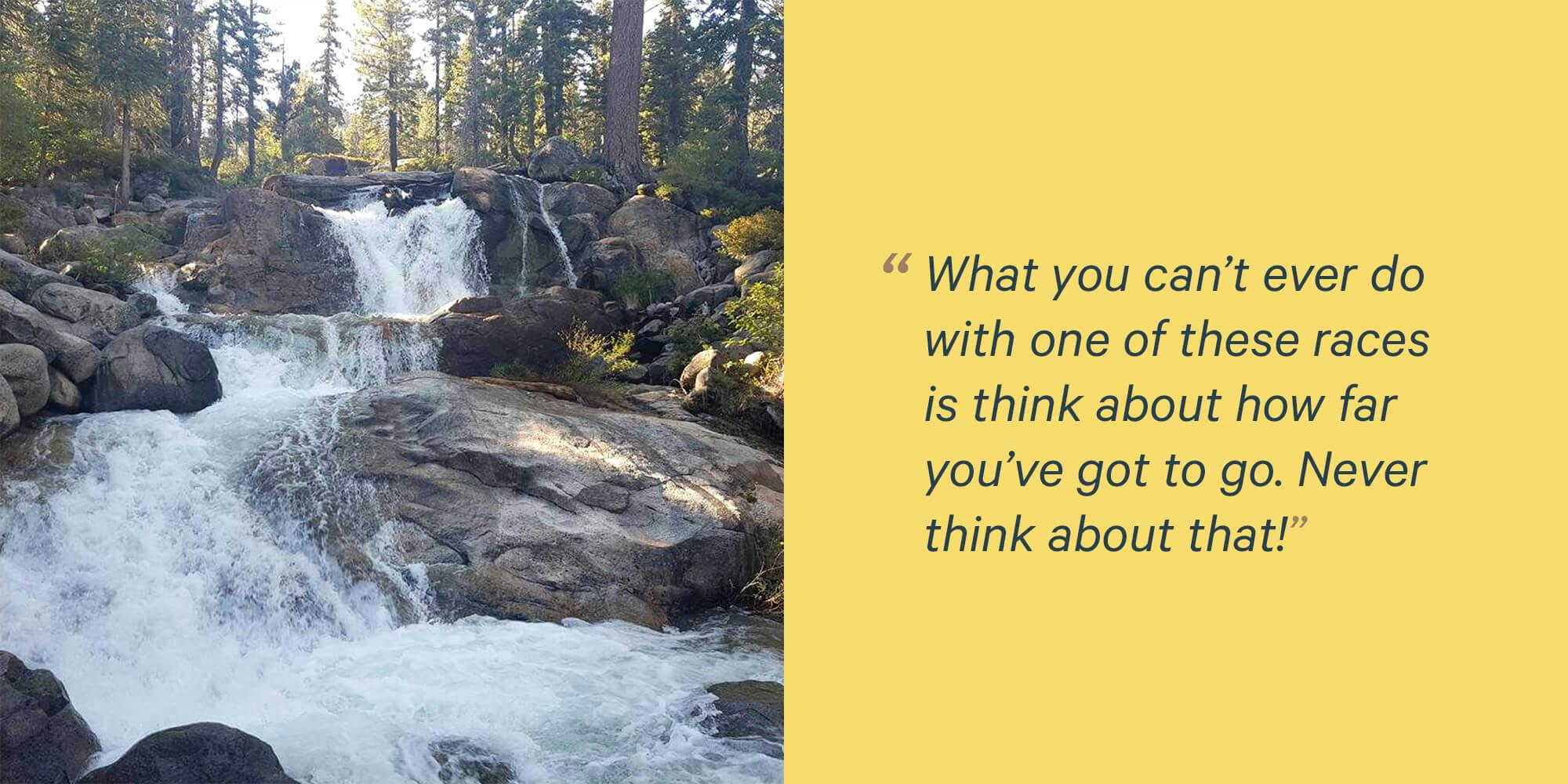 I always create a pace plan. I had a big spreadsheet for this race, and knew the distance, elevation gain and loss between all the aid stations. I saved that plan in Google Spreadsheets on my phone, which I referred to in offline mode if I needed to(there's no mobile reception the entire time around Western States - you're in the middle of nowhere). I also set myself a target time for each one. I didn't hit it on this race because of some feet issues. 
Q. Are the aid stations quite spaced out?   
Hmm… again, that's another difference I noticed. The aid stations for the Western States were more frequent, perhaps due to the heat. The longest distance was about 10 miles, and that was right at the beginning. They normally had about 5 miles between each aid station so it really wasn't far. And if you're going at a decent pace then you don't have to wait very long. The aid stations were incredibly well stocked though and the volunteers were fantastic - you get a dedicated volunteer to help you until you leave the aid station, I've never seen that before.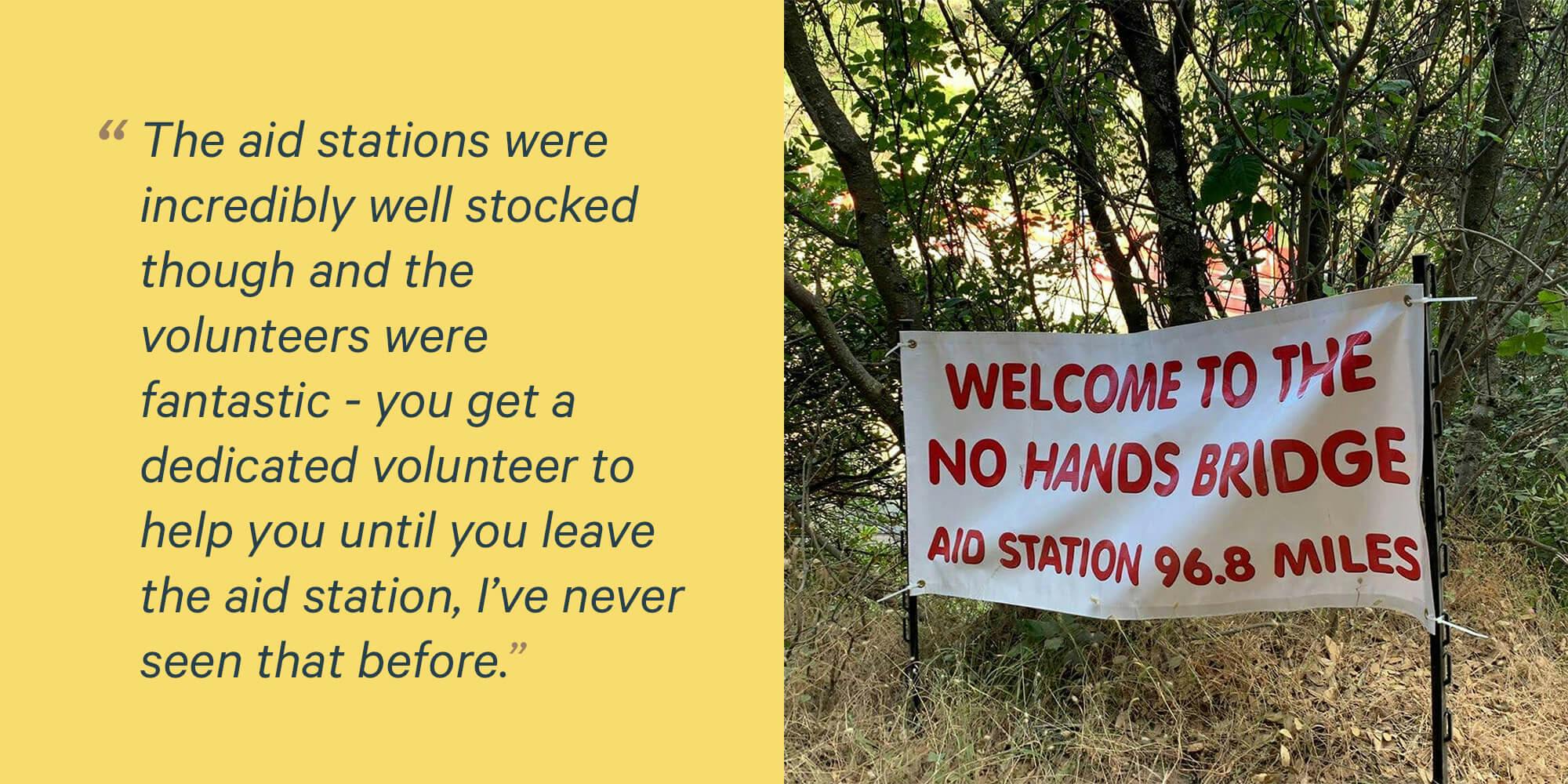 Q. We talked about your mindset before and after the race - but what about at mile 80? Are you shuffling by then? 
Pretty much! You're physically in a dark place because it's night time by mile 80. By that point, you've also picked up your pacer. I had a friend who flew out and paced me for the last 40-odd miles. So, at mile 80 your conversations with your pacer will have ended because you've caught up on everything that you had to to talk about in the first 20 or so miles with them. So yeah, you're probably comforted by the fact that you've only got another 20 miles to go.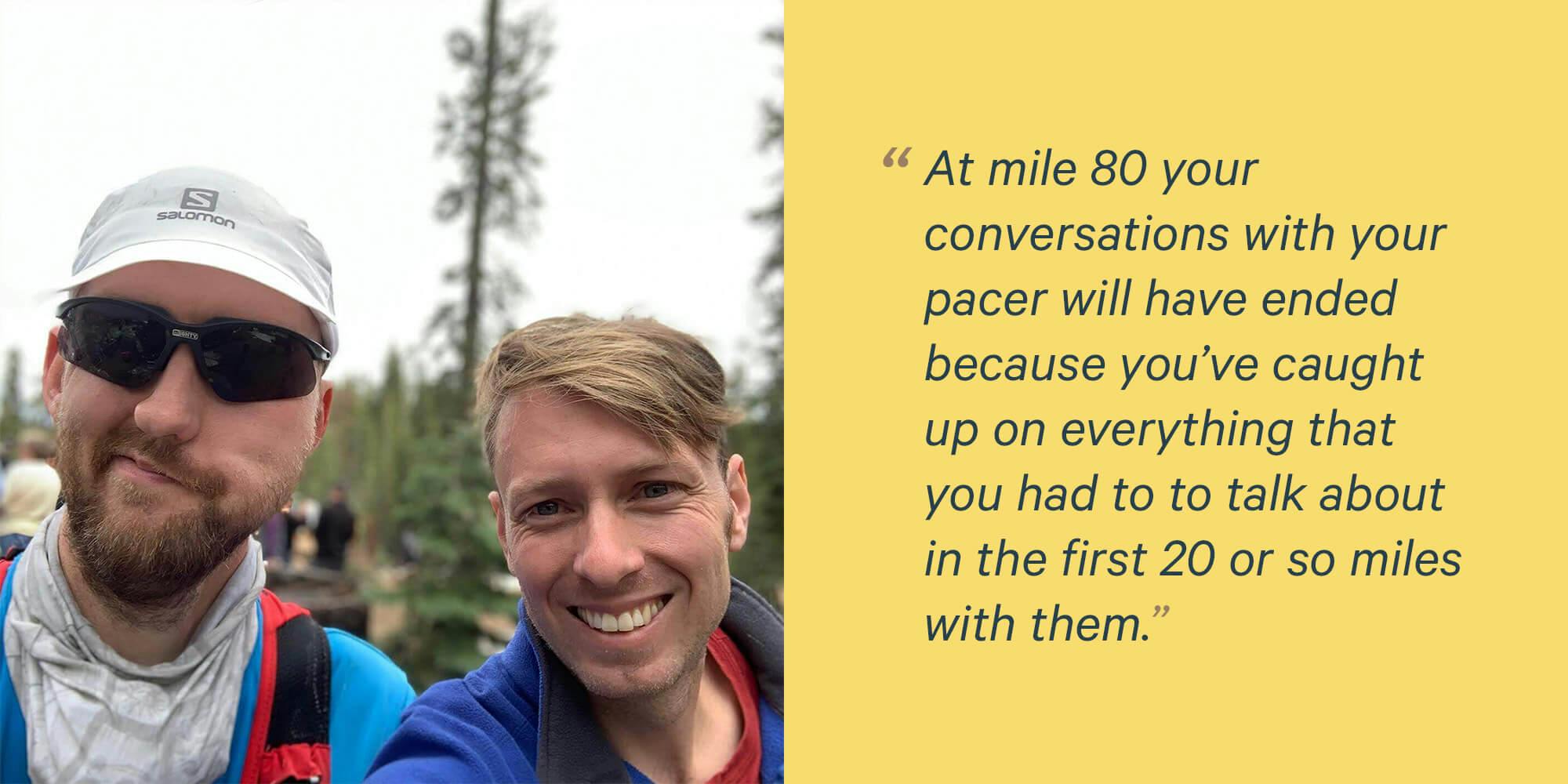 Q. You've got a number of ultramarathons under your belt now. What drives you to keep doing them?  Are you trying to beat your personal best? 
Just for fun! No, I'm not going for any particular time. It's a nice way to see new places, and the atmosphere is great. I've actually started to run into people I've met before. So this time, I randomly met someone at the Western States that I had met three months ago at another race on the Thames Path 100, which is a Centurion race held in the UK.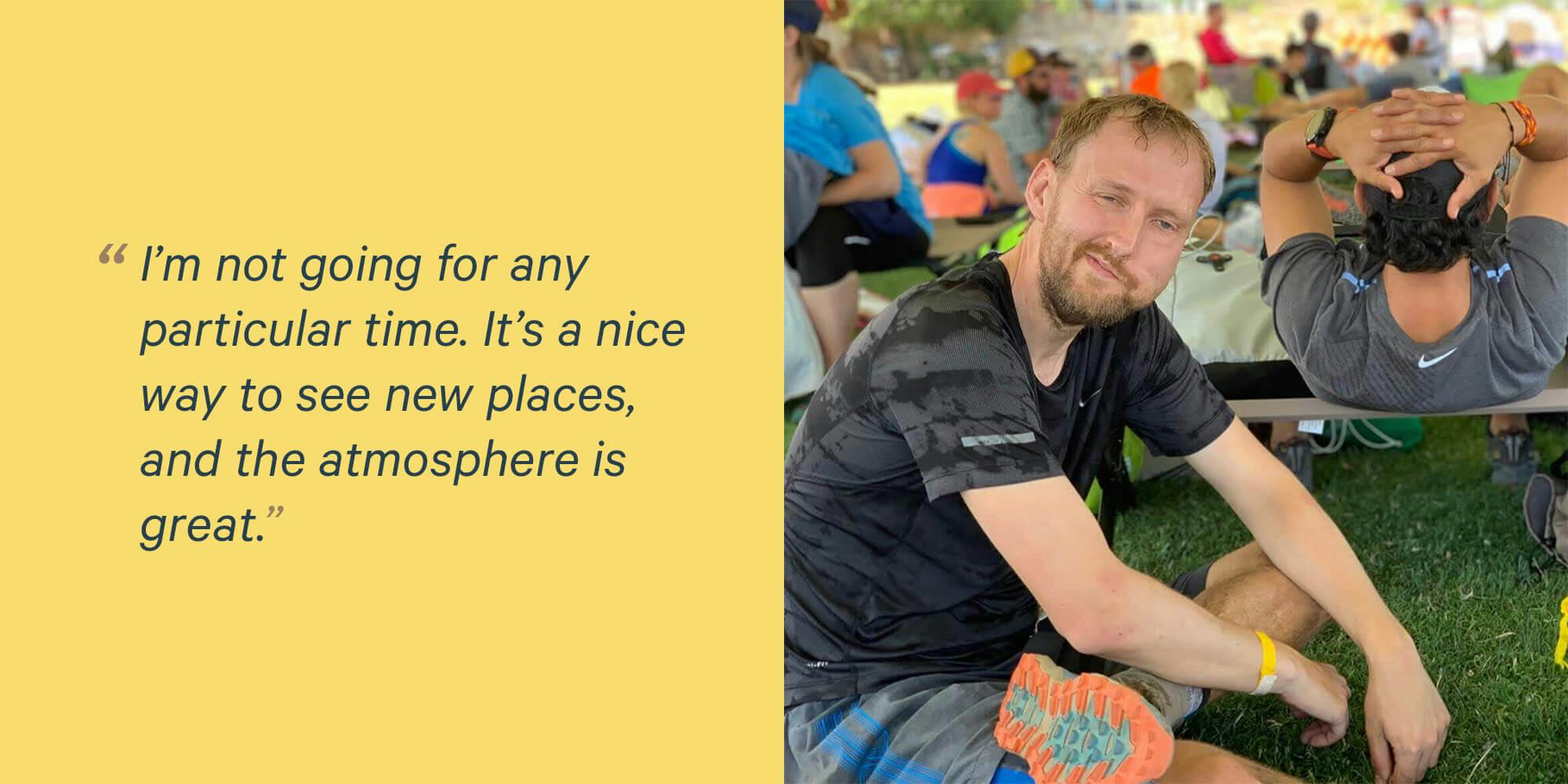 Q. What was your favourite event? You ran a marathon at Everest Base Camp in 2017, and a number of other ultramarathons.
I'd say the Western States was my favourite so far. It's the hardest race I've ever run. 
Q. And do you ever think, "That's it, I'm never running again?"
Not this time, no, but I've thought that in the past - because that's the most common thought that you have. I know that I'll get over that as the pain wears off. I just do it for enjoyment to be honest. There are people who can run much further and faster than me, including on tougher terrains and in harsher climates. There's one called the Yukon Ultra that goes over 600 miles, for example. 
Q. How did you celebrate finishing the Western States? 
I had a little lie down in a big tent and I had a sip of beer which my excellent crew - Ian and Felicia - brought along for the finish line in a cool box. And I had some food. I basically had a full English breakfast that they had cooking at the end.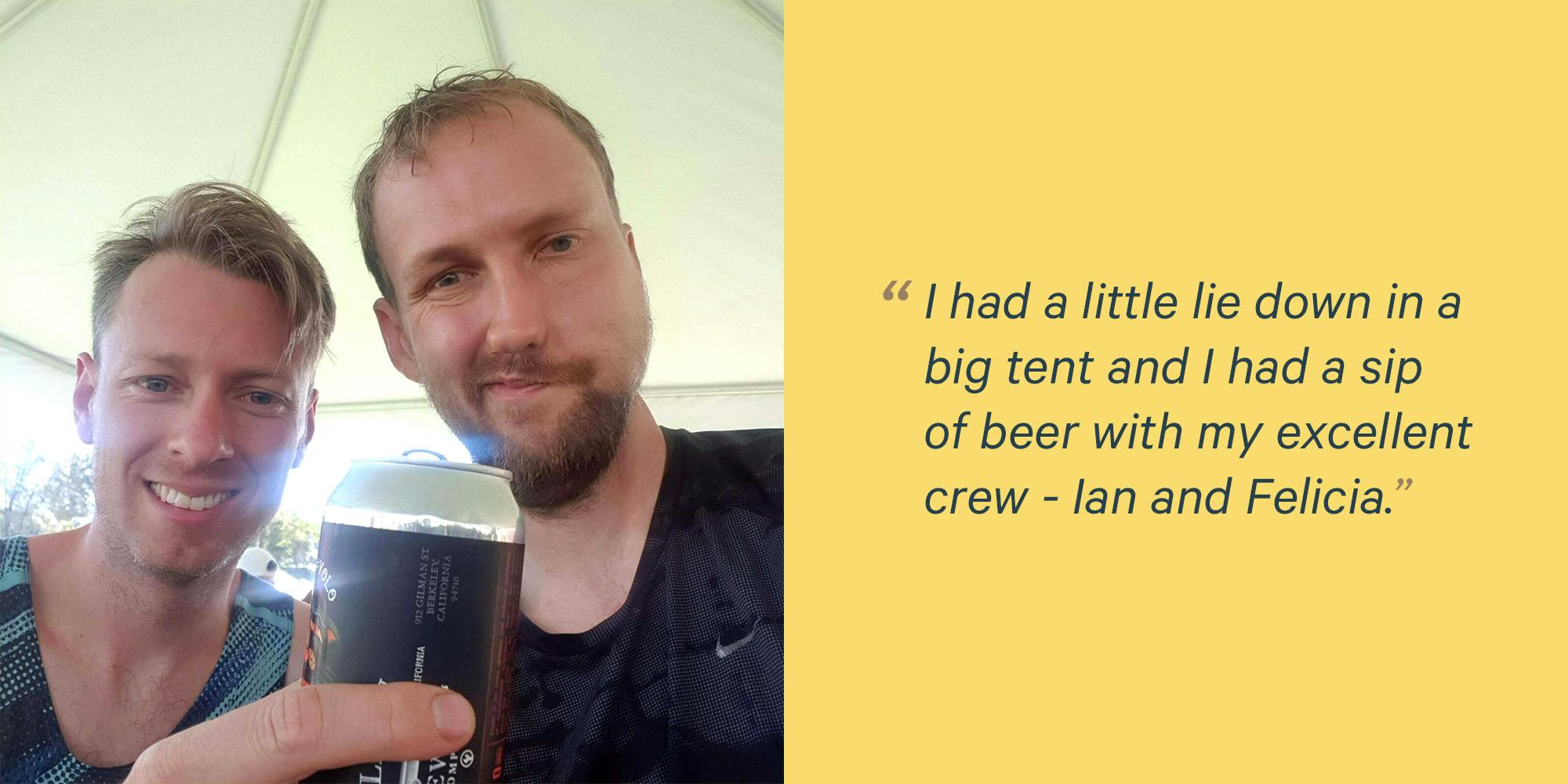 Q. What's next? 
I've got the Bear 100 in September which is a race in Utah, in the mountains. Again, it's another 100-miler. In hindsight I wouldn't have booked it had I known I was getting into the Western States. There are three of us doing this one so I can't not go!