Getting here 
Our new office is based on a quaint small mews just off the very trendy Bermondsey Street. You can get here in just a ten minute walk from London Bridge train station. It's a little longer from Borough station at fifteen minutes, and just a tad further from Bermondsey station at 20 minutes.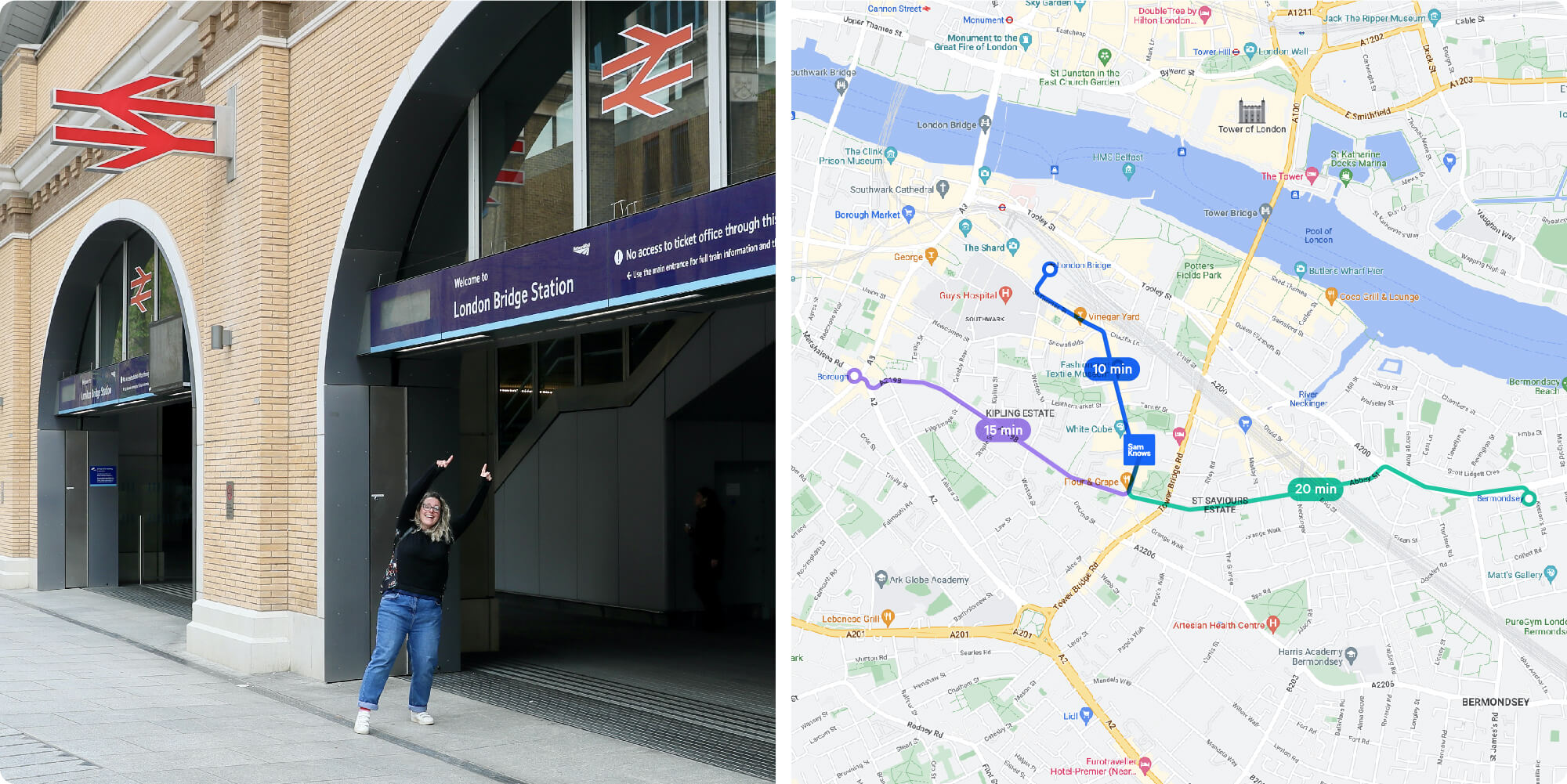 Morning Coffee to kick start the day
To set you up for the day ahead, there are several coffee shops on the way into the office. If you're coming from Bermondsey or Borough, then the WatchHouse is one that Alex (our CEO or Chief Espresso Officer) recommends. 
If like us, you come from London Bridge, then Chapter 72 is the perfect choice for grabbing a coffee en route. Or you can choose to sit on one of the fun and bright table and chairs and take in the goings-on of Bermondsey Street. You'll find the drinks have just the right coffee to milk ratio and the ambience is relaxed and cool. And, if you're a little peckish, the pastries are the perfect balance of crispiness and flakiness.
Lunch to take away or eat in 
Picnic in the park (or office) or wanting to be waited on? The choice is yours.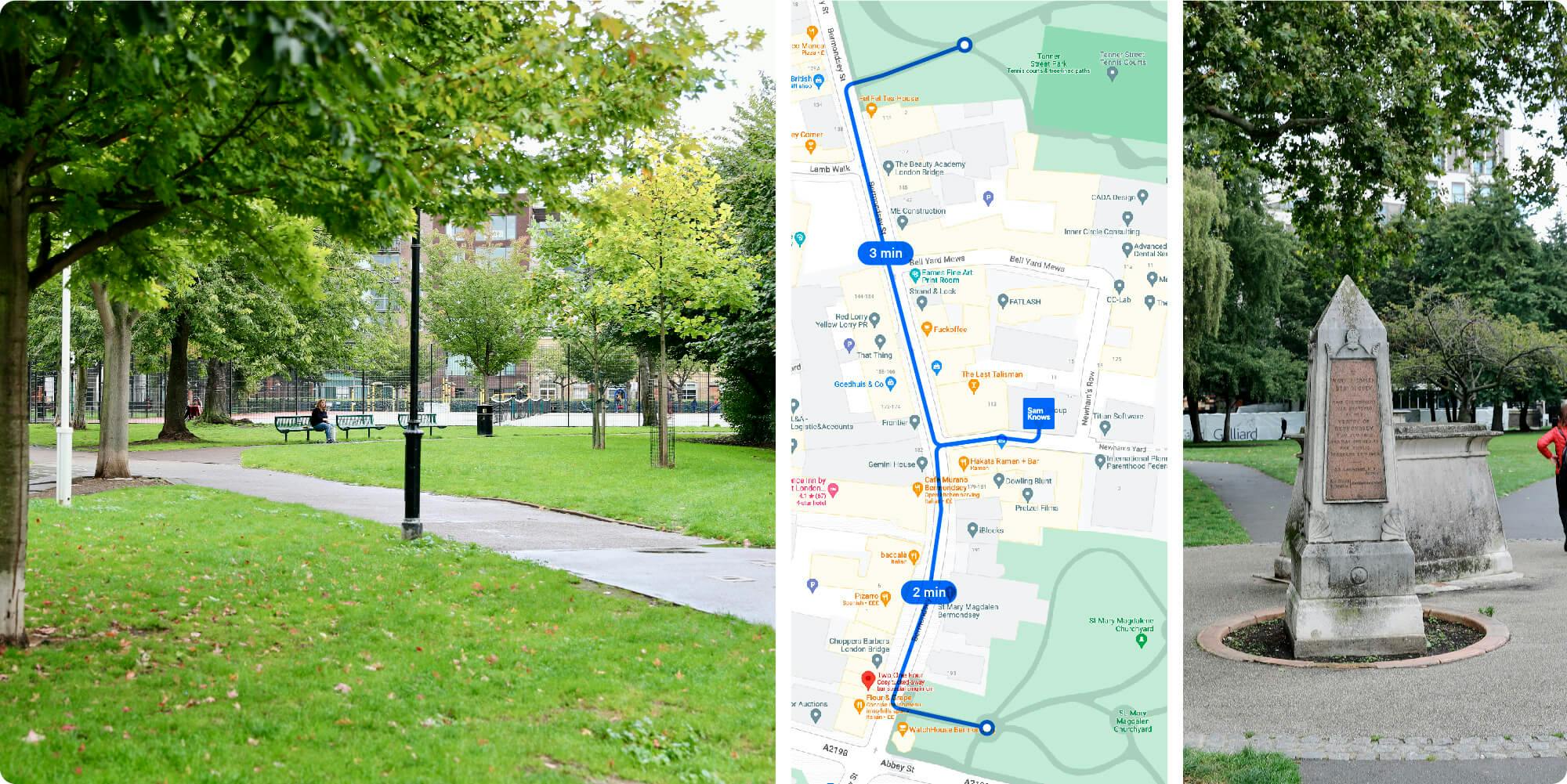 Interesting fact, St. Mary Magdalen churchyard contains the tomb of the Rolls family (of Rolls-Royce fame)
Choose between rustic style artisan coffee shop B Street Deli, or go wholesome with Planet Organic. Both are within a stone's throw from the office. And why not sit al fresco at one of the nearby parks.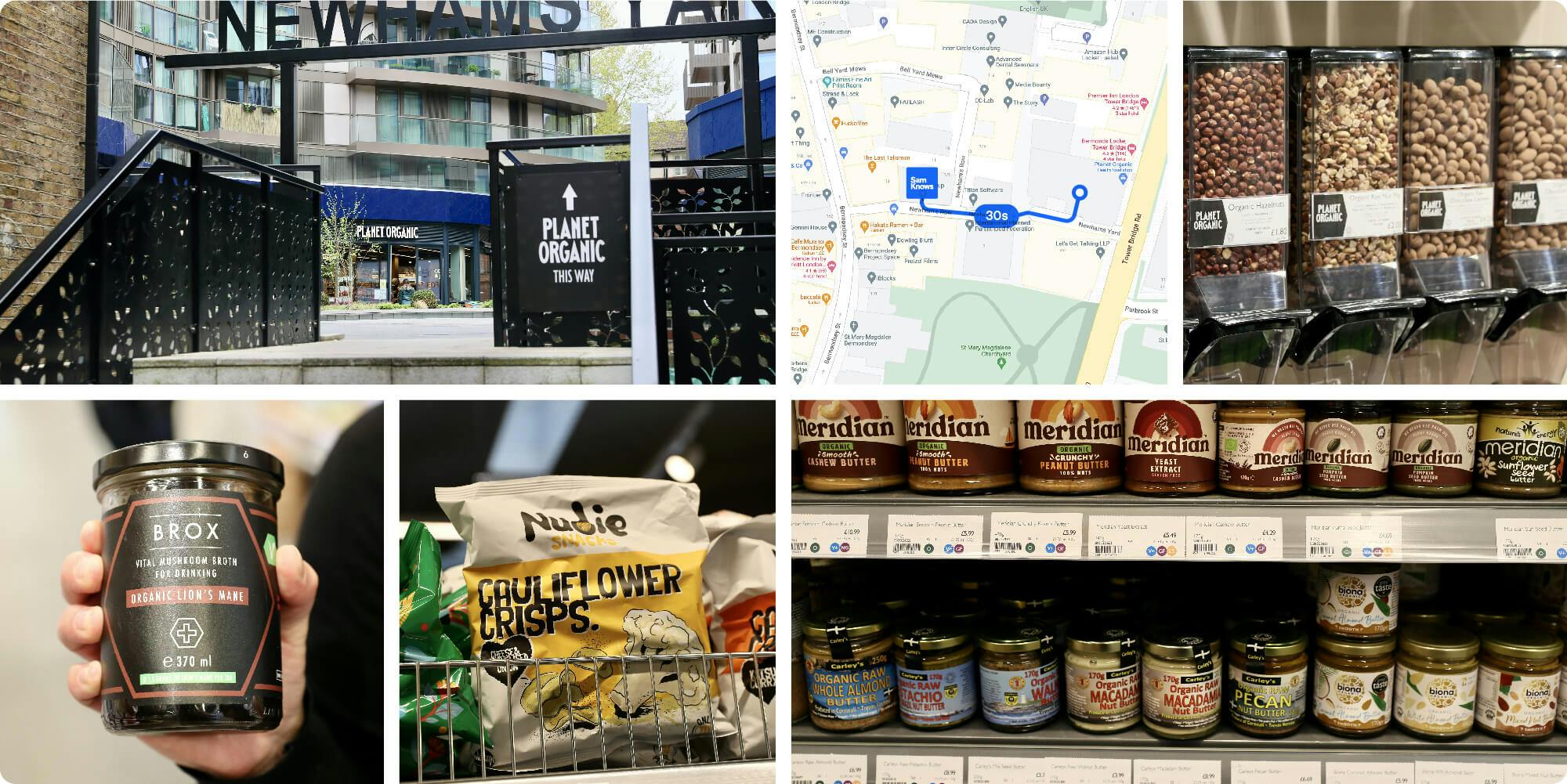 £5 for a healthy hot pot lunch at Planet Organic
Or, if you'd rather be waited on but don't want to break the bank, Flour & Grape will fit your bill. With homemade dishes being prepared to order, you can even watch the chef make the pasta. The leather upholstery and open brickwork make for a cool yet relaxed setting. And, if you happen to go later on in the day, then why not try a refreshing cocktail, the price is refreshing too.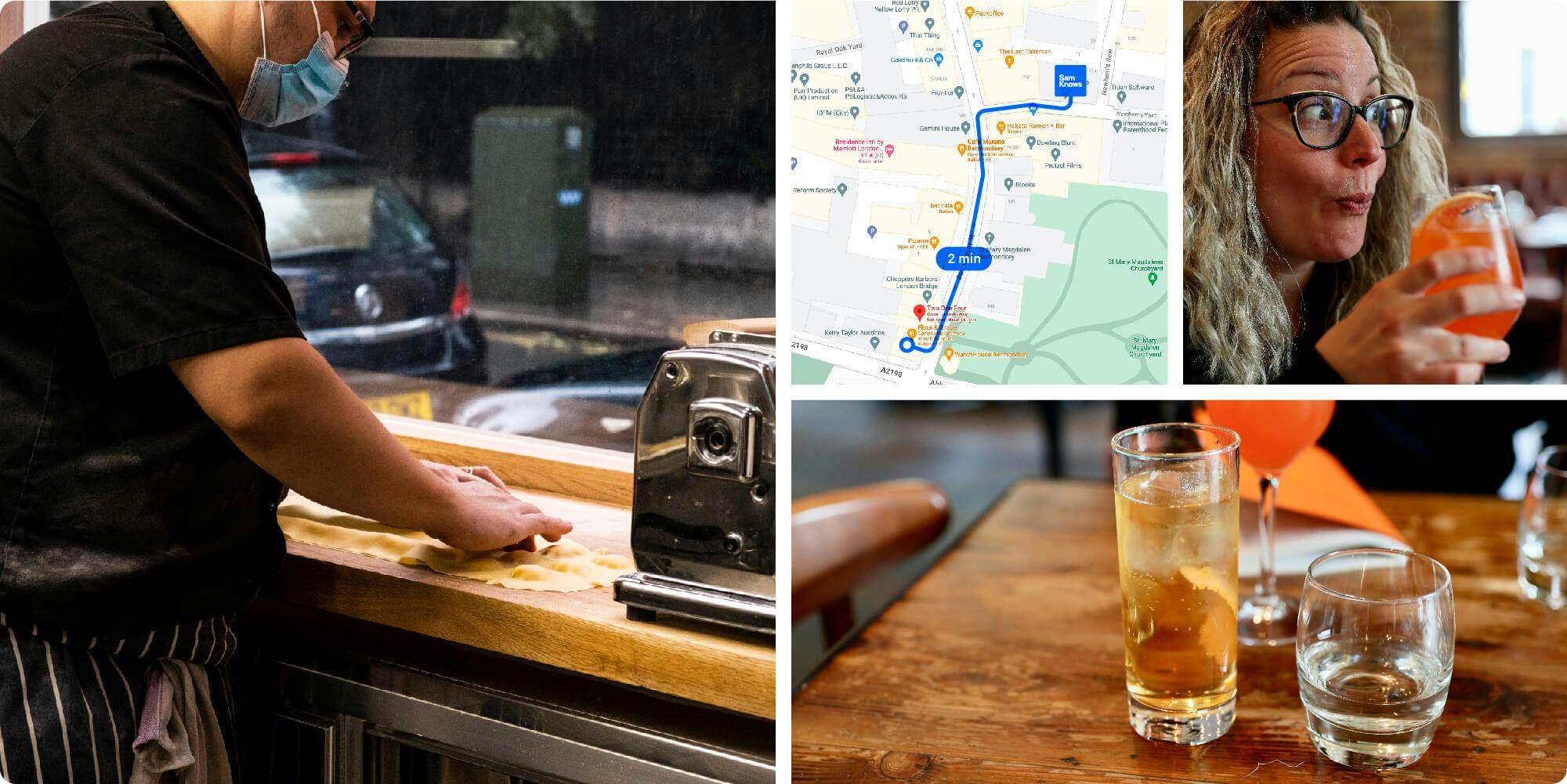 Roxanne Robinson says the pasta carbonara at Flour & Grape is the best she's ever had!
For a special occasion, try Casse-Croûte. An authentic French restaurant, with a menu that changes daily, quaint tables, chairs and tablecloths and French waiters, you won't be disappointed. We recommend reserving for special occasions as it's a bit pricey.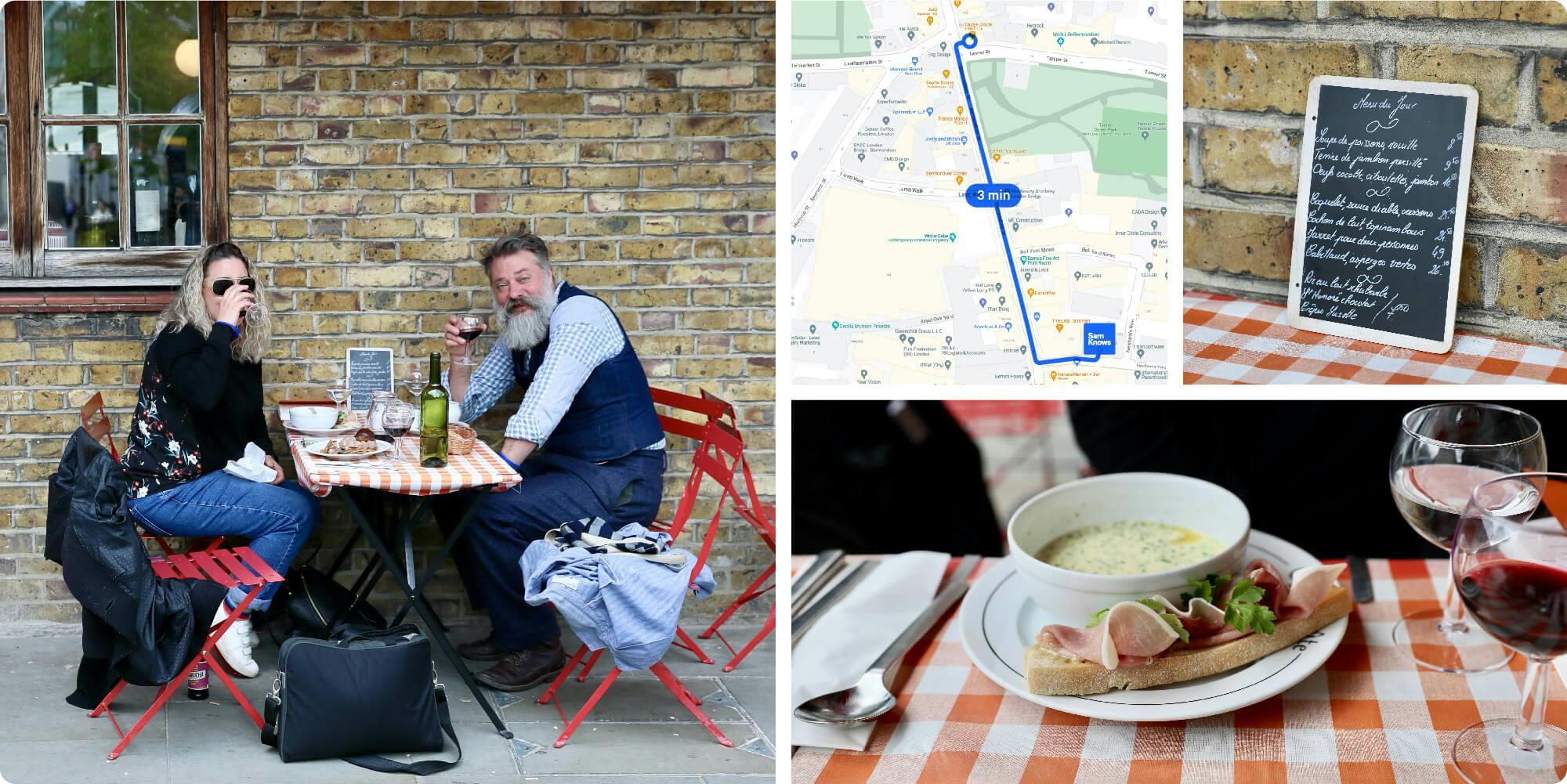 They have a larger sister restaurant a couple of mins walk away in Tanner Street Park
How to avoid the mid afternoon slump
We suggest a hit of caffeine. Entering Fuckoffee makes you feel like you're entering a Spanish cafe, with opinionated artwork, cool light fixtures and more focus on the furry guests than people. Don't let that fool you though, it's relaxed and a great place to set up work if you need time away from the desk. The Wi-Fi is free and able to cater for the ten or so people we saw working. More importantly, the coffee is strong and will definitely lift you from any afternoon sluggishness.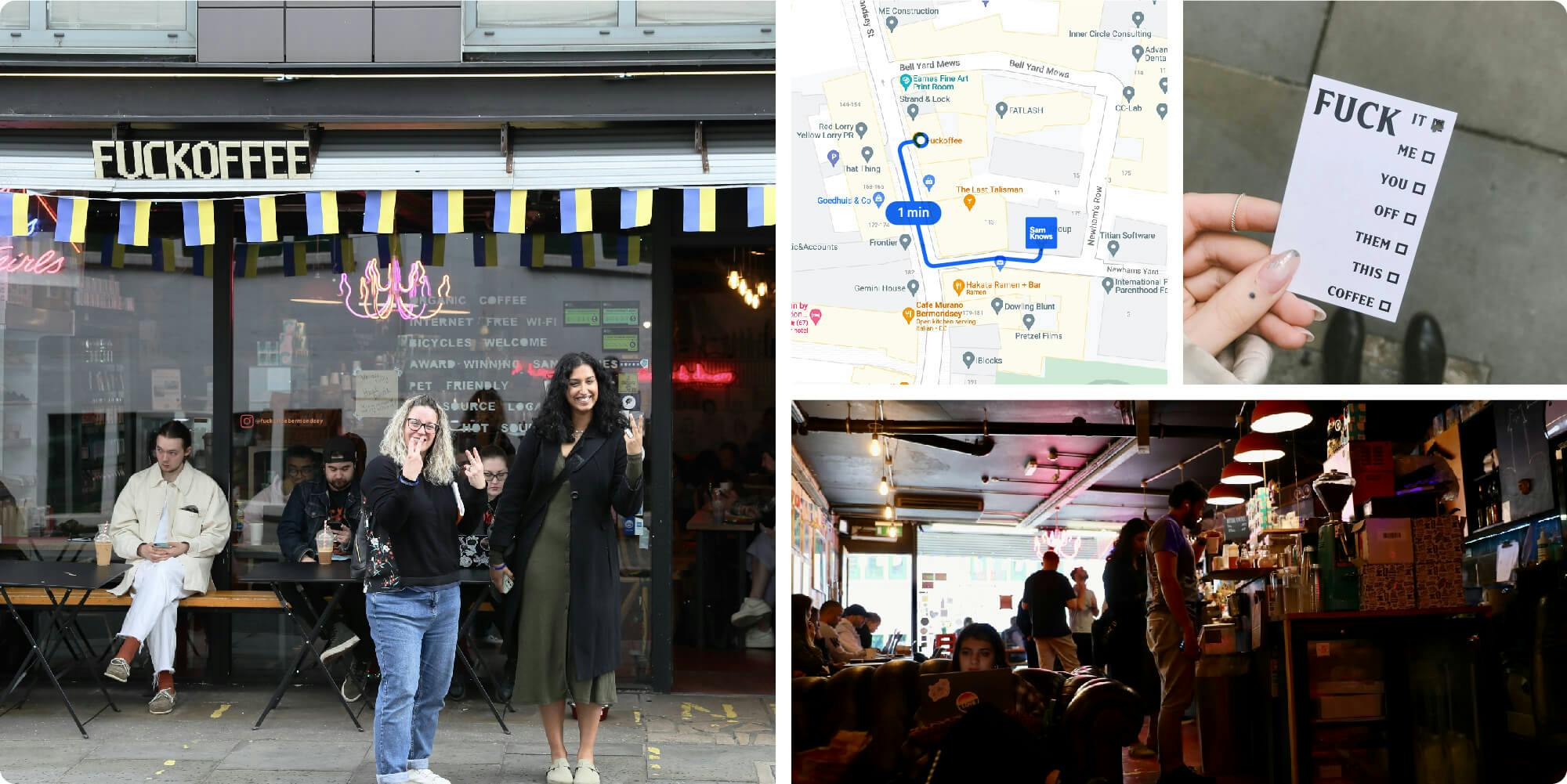 Time to clear your head and take in the culture
Our head's can get filled with work and it's important to declutter your mind and decongest. Bermondsey Street has plenty on hand to help you do just that.  Take time and focus away from the day to day to immerse yourself in something totally different. From a Fashion & Textile Museum to the White Cube Gallery (showcasing contemporary art), from local parks to a church, and a glass blowing shop to boot.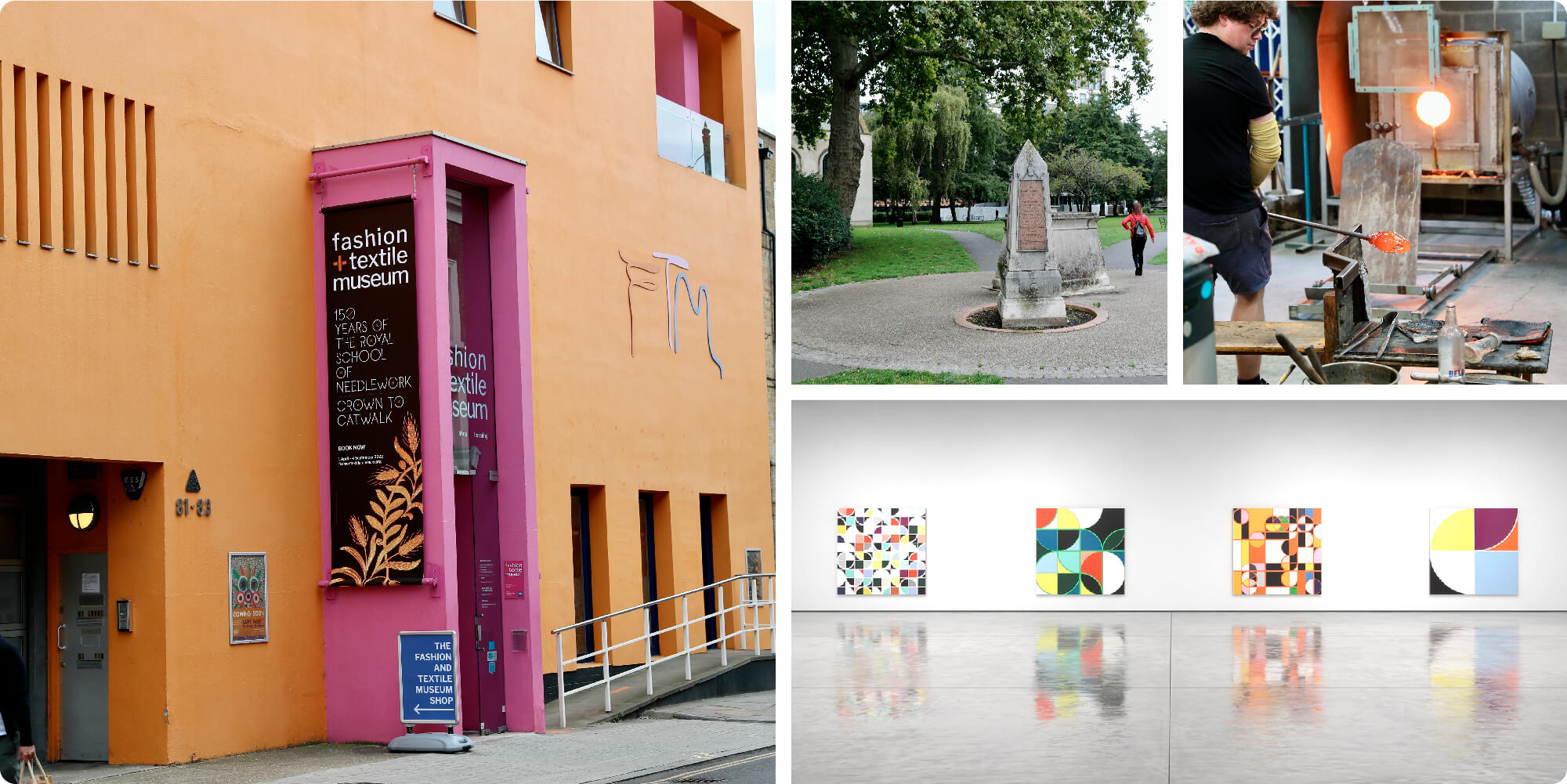 All together
We vetted three places that are large enough to fit all the Sammies. 
After so much time working remotely we can't wait to get together in person. 
The local 
The Woolpack is a regular pub but with a large covered outsized area. We also spotted that there are plenty of sockets scattered throughout with free and fast Wi-Fi, so should we need to present or log in we can do. Sitting outside you might feel like you're in the country, with plenty of birds serenading you, making it a very pleasant place experience.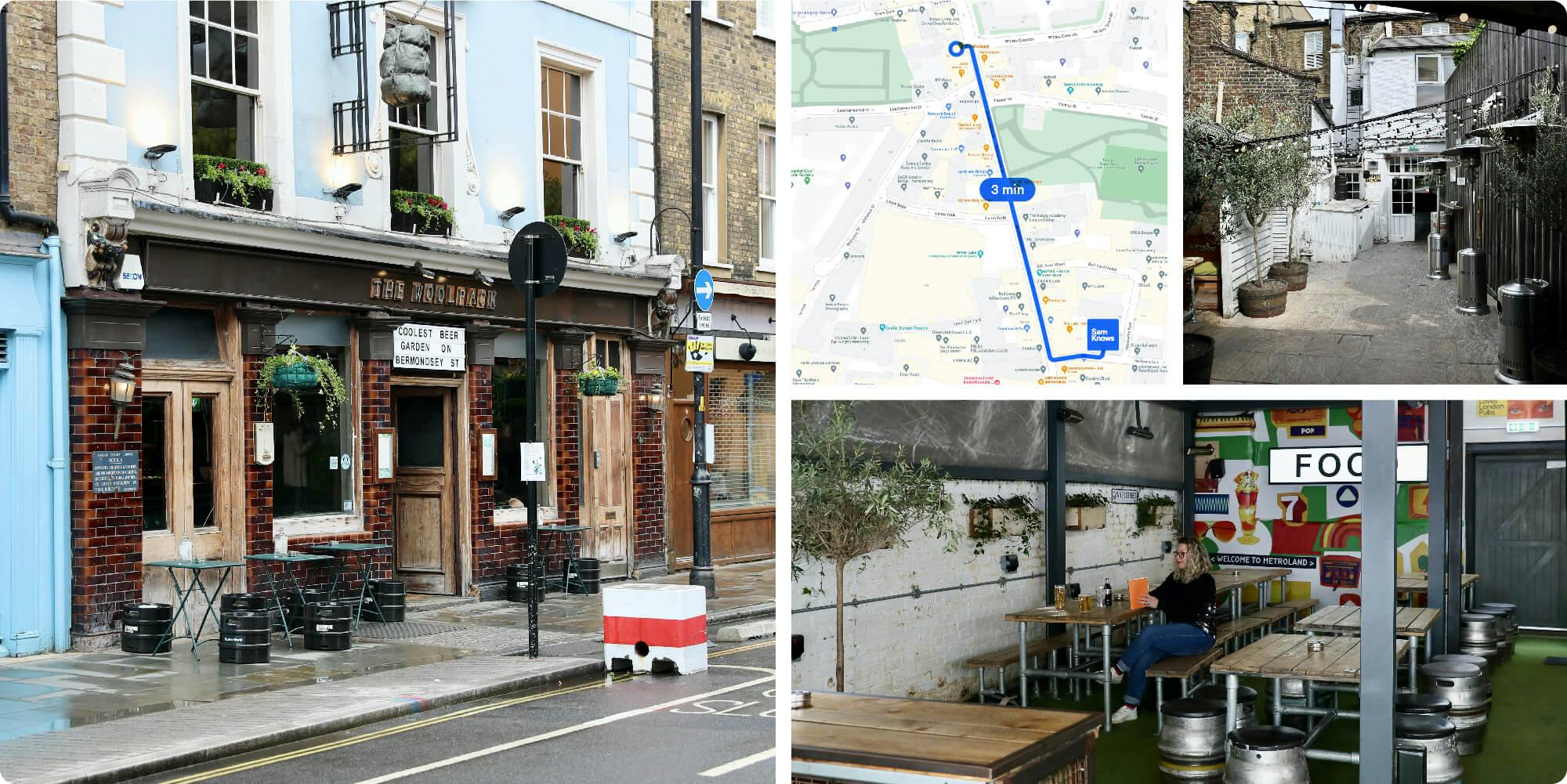 The occasional
Tanner & Co has a large interior with sophisticated decor. It's more cocktails than beers although they do hand out free popcorn. We think this might be more suitable for a birthday or special occasion rather than a team get together.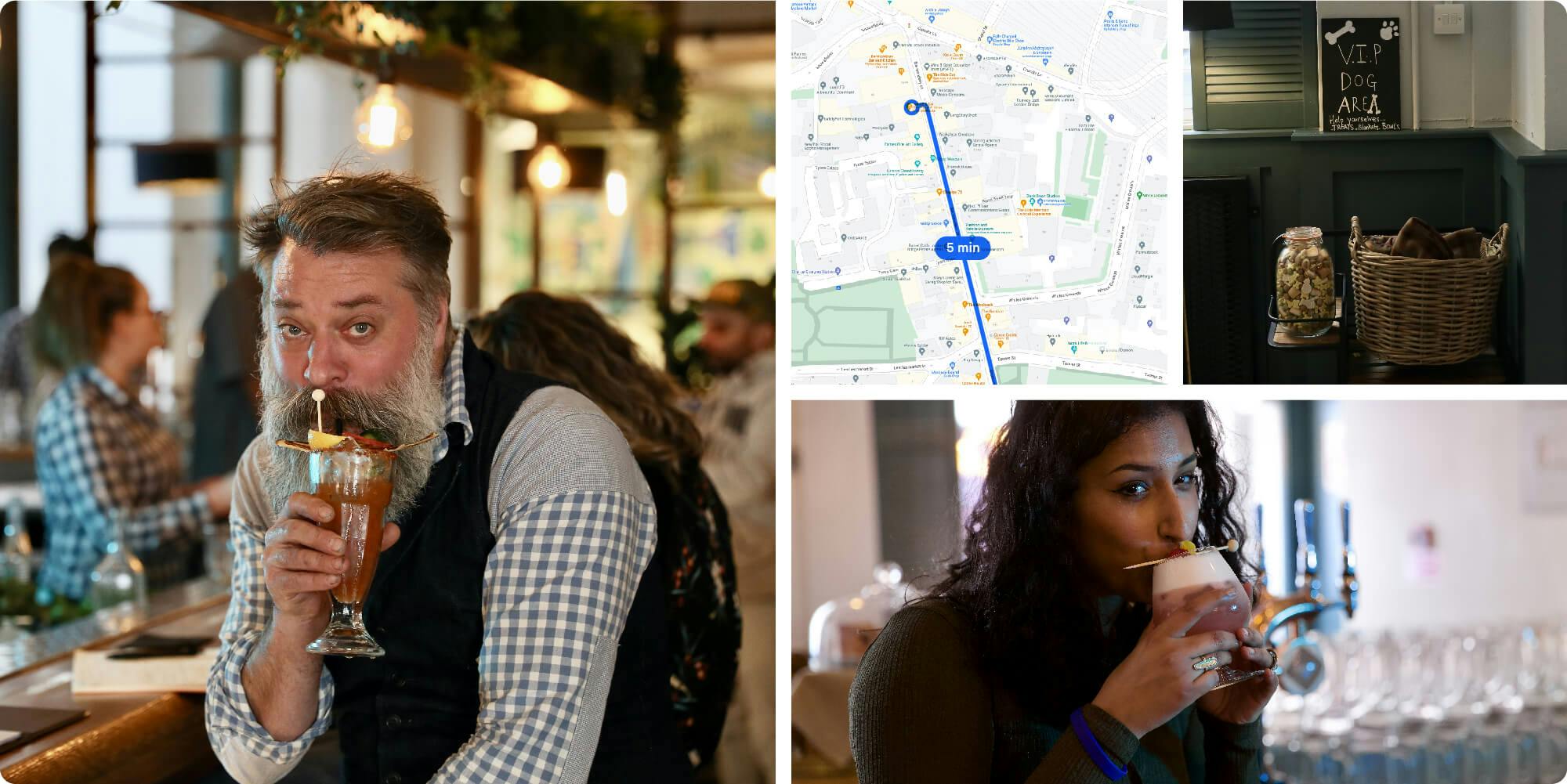 Yes, that's a rasher bacon on top of Cookie's bloody mary… 
The extremely large
The Bermondsey Bar & Kitchen is full of friendly and helpful staff, but its large exterior and interior makes it a bit too vast and impersonal. And the free Wi-Fi didn't work. While we won't hold this against the place, we think we have plenty of other options to go to before coming back here.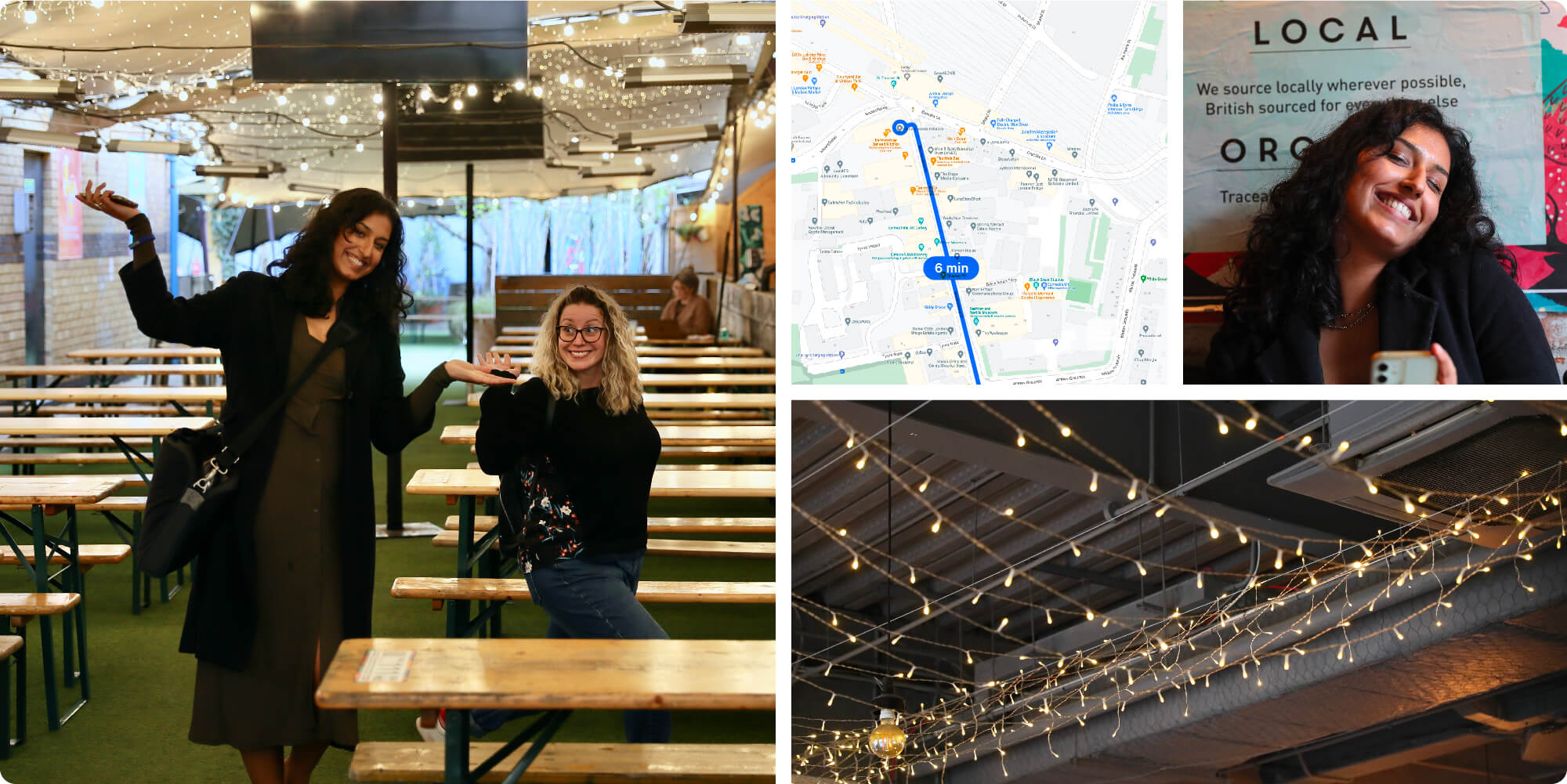 The trip home
The local Londis is conveniently located on Bermondsey Street and is stocked rather well, so anything you need to pick up on the way home, you can. Whether that be the usual pint of milk or loaf of bread, a bottle of wine, or some tennis balls for the dog walk when you get home. All of which were well placed for easy access by the door. And if you're feeling lucky, you can buy some lottery tickets.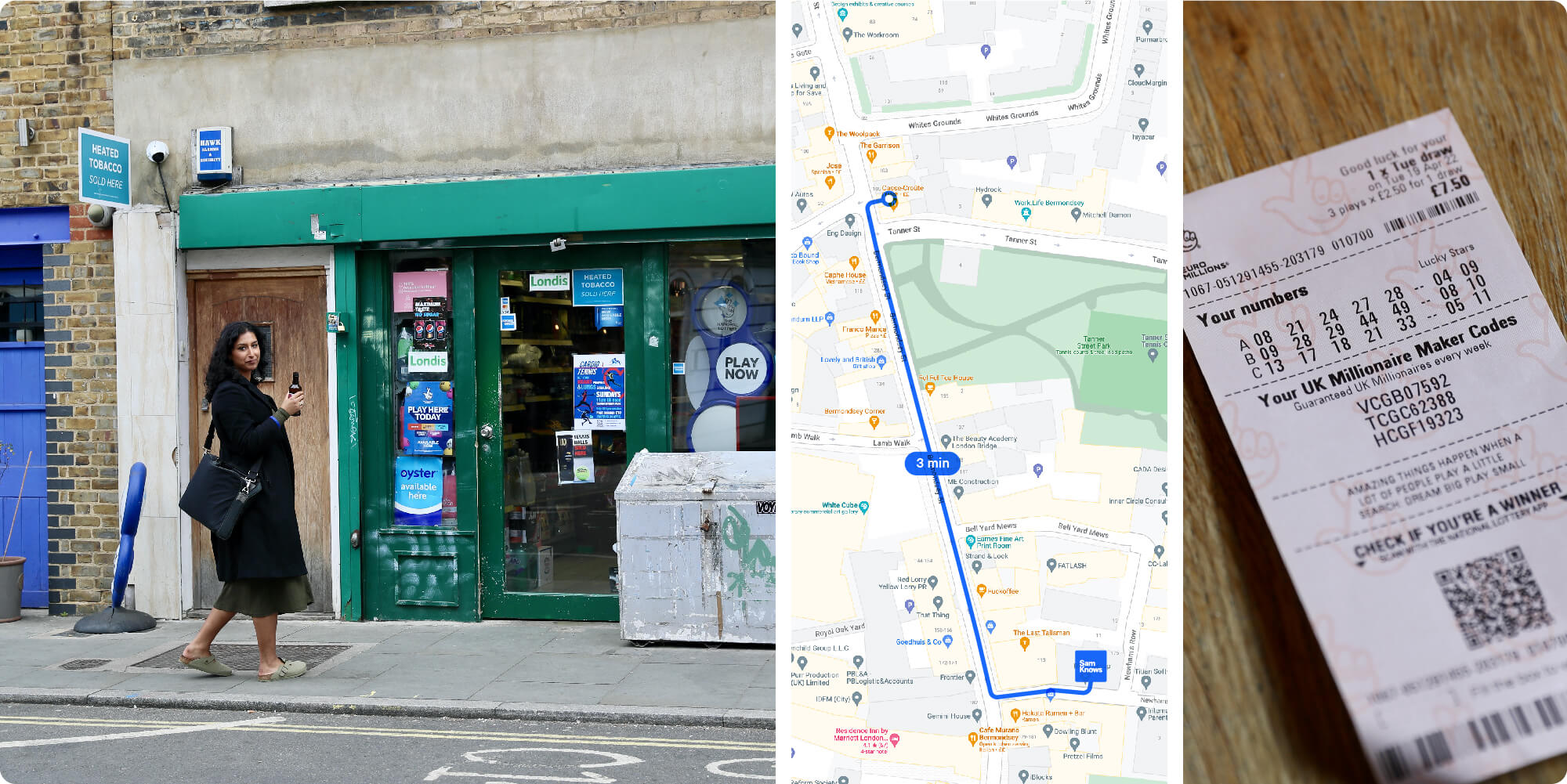 Get planning
With so much on offer, we are sure you'll soon be planning your visit to the office.
The 3rd floor is now ready to welcome you on Tuesdays, Wednesdays and Thursdays and the 4th floor will be ready from June. Look forward to seeing you soon.
Find us at:
1 Newham's Row
London
SE1 3UZ