Q. What does SamKnows do?
Neil (COO):
We set out to build something big and to solve complex problems. Building a global company is hard work, but we have managed to scale SamKnows very quickly, without compromise. So we now work across 6 continents and measure internet performance from over 25 million homes worldwide, growing fast. I am immensely proud of what we have achieved at SamKnows and exceptionally grateful to everyone who has helped us along the way and the many that help us everyday. We will continue to build quality products that people love to use and work hard to keep solving complex problems!
Cookie (Head of Creative):
We collect scientifically accurate internet performance data that can be pooled together into very large datasets and used to tell interesting stories. How our clients use that data varies from client to client, but I'd say the common theme is the story of making the internet better. No one wants to hear a story about making the internet worse.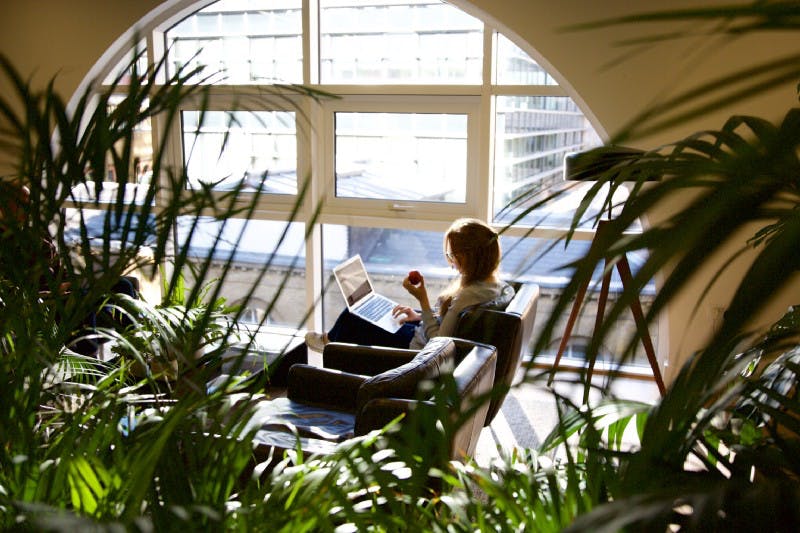 Q. What do you enjoy most about SamKnows?
Jamie (Senior Systems Administrator):
A level-headed approach to tech, a young, enthusiastic, and welcoming team, and constant success!
Callum (Lead Developer):
I really enjoy the challenges presented by figuring out how to visualise a huge amount of data in a useful way, and having the ability to influence which problems to solve and how to solve them.
Cookie (Head of Creative):
I also find solving complex problems the most interesting part of my role. That, and doing something that feels like it's helping to make the world a better place — well, at least a place with better internet.
Matt (Lead Software Engineer):
Our most exciting challenges stem from the sheer volume of data we're analysing on a daily basis, in real-time. Providing performant, accurate data on such a flexible analytics platform means that we have to constantly adapt our methodologies for both data ingestion and delivery. It's challenging, but interesting, and I really like that.
Stuart (Senior Software Engineer):
As Matt says, in the Backend team, we face many interesting challenges that are unique to SamKnows. I like dealing with vast amounts of data and making sense of it, while also producing valuable features and information for our clients. I'm always learning new things, and enjoy working collaboratively and closely as a team to produce reliable, high-quality features, and sharing our knowledge with each other.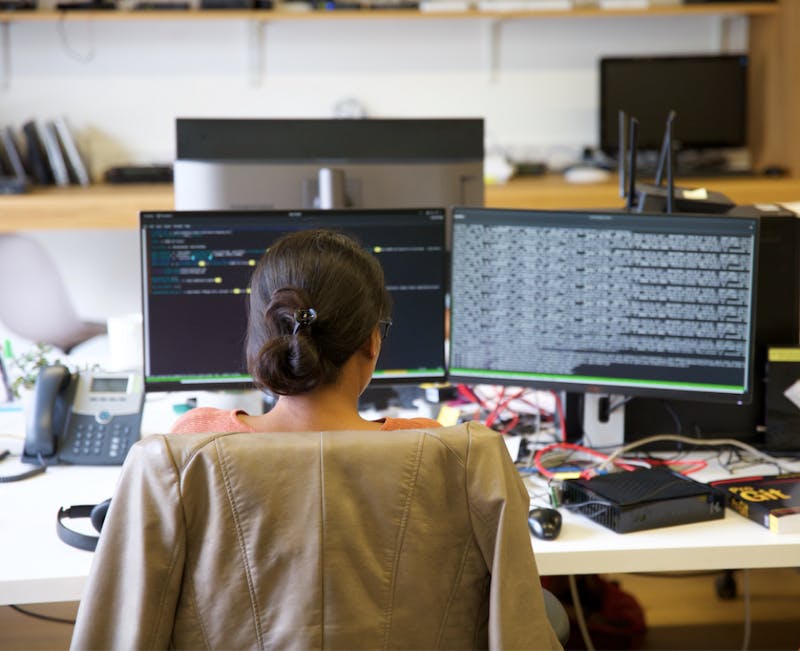 James (iOS Software Engineer):
Working on the mobile team at SamKnows is also an interesting one. We have several core products that we're continually improving and so can be working on fun UIKit animations one day and then debugging the propriety tests on a mobile device the next. This variety, combined with flexibility and trust for getting work done, are the stand-out aspects of being a part of the SamKnows mobile team.
Michael (Senior Software Engineer):
I like working on such a large and varied range of interesting technical problems every day. I also enjoy working with people who are not necessarily developers and engineers, but who love problem solving and are able to fluently express their solutions through code, using a range of technologies that they're highly specialised in.
Alessio (Senior DevOps Engineer):
I agree with Michael, we have strong and experienced technical teams for iOS, Android, frontend, backend, tests and metrics, and sysadmin. Equally, our project management, finance, customer support, and creative teams drive the company forwards. We're a high-performing, ambitious group of people that take what we do very seriously.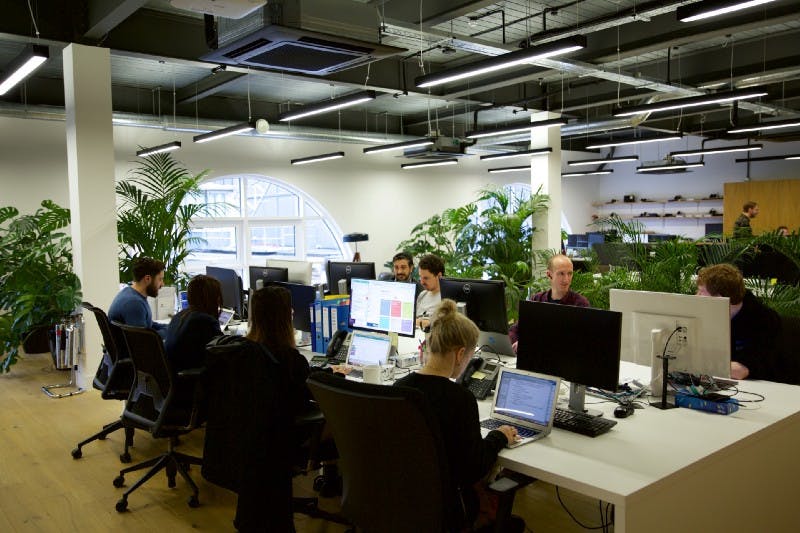 Louis (Project Manager, Government team):
The parts of my job I enjoy the most are the opportunities to fly to different and interesting parts of the world, as well as meeting and working with a great variety of people to solve specific problems. I work day-to-day with people across several continents, and the differences in cultures, challenges, and goals is something I find fascinating. There's an opportunity to shape your role depending on what you're interested in, and I get to try a huge variety of things to see what works best for me.
Roxanne (Government Team Lead):
One of the things I enjoy about my job is how much I get to learn. I don't come from a technical background and I love having clever people in the room whose brains I can pick about why things work the way they do. The variety of things I get to do also means I can try my hand at almost anything, from contributing towards marketing campaigns to designing project websites, or reviewing contracts. SamKnows is really good at giving people with talent and determination the ability to succeed. If you're hardworking with lots of ambition there's no better place to be!
Saja (Project Manager, ISP team):
The two things that I like the most about SamKnows is a) how multicultural it is, and b) how much the executives invest in their employees. I'm Jordanian and have never felt out of place. You'll find a lot of different nationalities here too from Australia, New Zealand, France, Lebanon, Egypt, America, India, Brazil, Venezuela, Ethiopia, Spain, Italy, Poland, and the UK, which gives the office an interesting and comfortable vibe. If you work hard and demonstrate your dedication and aptitude, SamKnows will invest in you and make you feel like you're working for your own company and future. The doors are always open to courses that will help you improve in your current role, or excel in new roles further along the line.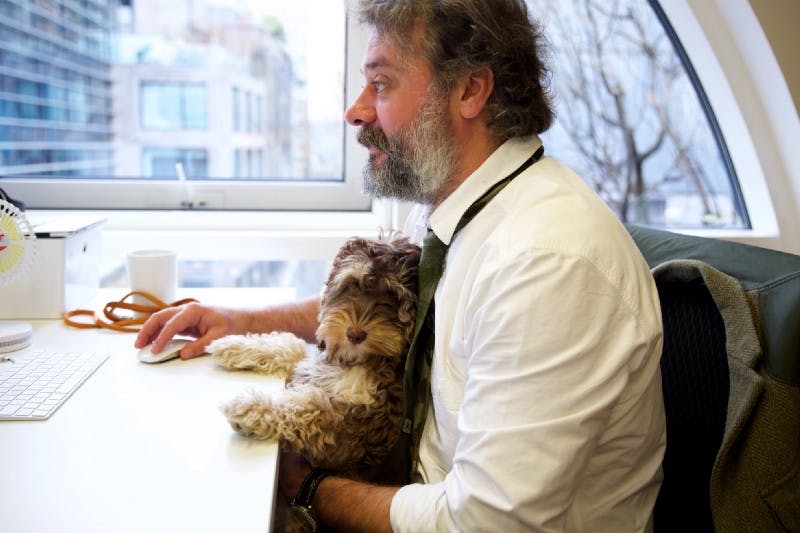 Q. What makes you feel valued?
Steffie (Embedded Communications Engineer):
Working at SamKnows is a joy as we get to learn new things everyday while working with a great team. The training budget allocated to each individual at SamKnows is extremely generous, and makes me feel valued and excited by the opportunities available. The diverse nature of the projects we're involved in only adds to that.
Swanny (Senior Community Manager):
Exactly that — if there's a course you're keen to attend, a conference you'd like to go to, SamKnows supports you. If you want to read a book that would help you with your job, SamKnows will buy it for you and you can borrow it as much as you like. Our library is well stocked.
Ari (Software Engineer):
I've only been working at SamKnows for two months and I already feel totally integrated into the team. All my colleagues are always eager to explain things and to challenge decisions which have helped me understand a lot about how different projects work. There are still many parts of the codebase I need to become more familiar with, but their instant collaboration has made my on-boarding process shorter and my time at the office more valuable from the start. They're always willing to listen and have made me feel comfortable to give feedback and suggestions in a positive and constructive way.
Reuben (Operations Manager):
For me, it's working for a company that makes a genuine difference in the world.
Rahul (Senior Embedded Communications Engineer):
I feel the same way. As a company, we believe access to good internet is a basic human right. The greater the disparity in internet performance between regions and members of society, the greater the divide in basic services such as education, healthcare, and communication.
Max (Senior iOS Developer):
I love knowing that I've contributed to something that helps maintain a quality internet connection. I also value the way that SamKnows looks out for you if something happens in your personal life. Whether it's booking a doctor's appointment, or taking compassionate leave to look after a relative, the management here understands that life happens outside of the office, and that's great.
Reuben (Operations Manager):
Another highlight for me this year was supporting Mind, a mental health charity. Last Christmas we held a poll, elected Mind as our chosen charity, and donated money to renovate their Haringey facilities— I worked closely with all parties to ensure their completion. I think it's great that we're a small company but we can still give back to our community in a big way.
Q. What are the career prospects like?
Lucy (Head of Sales):
Your career progression is supported here. We have several people whose skill sets have accelerated dramatically since they joined SamKnows, and some who have even excelled from a graduate job to running their own projects, team, or being an executive, within the space of five years. Personally, I'm constantly learning, and being challenged. Everyone works so hard to push the company forward, and we all care, which I love.
Charlotte (Content Marketing):
There's plenty of room to learn and gain experience, as well as to try your hand at new things. I joined SamKnows as a Project Manager, and enjoyed travelling and working on high-profile projects with ISPs and regulators worldwide. When I expressed my interest in copywriting, SamKnows supported my transition to the Creative team. I've been very happy working in both teams, and am grateful for the support and opportunities available to me.
Q. What's the office vibe?
Matt (Lead Software Engineer):
Relaxed but serious, efficient, and productive. An interesting mix.
Poppy (Senior Legal Counsel):
It's a fast-paced, exciting, creative environment — the company is continuously evolving and developing its products, so I need to be on my toes to make sure that those new products are properly protected contractually so that we can monetise our ideas. I also really like the office culture: it's meritocratic, laid-back and friendly.
Ahmed (Community Manager):
We wear relatively casual clothes (no suits unless we're going to a meeting) and you can listen to music if that helps you focus. The kitchen has a long table so that we can eat lunch together.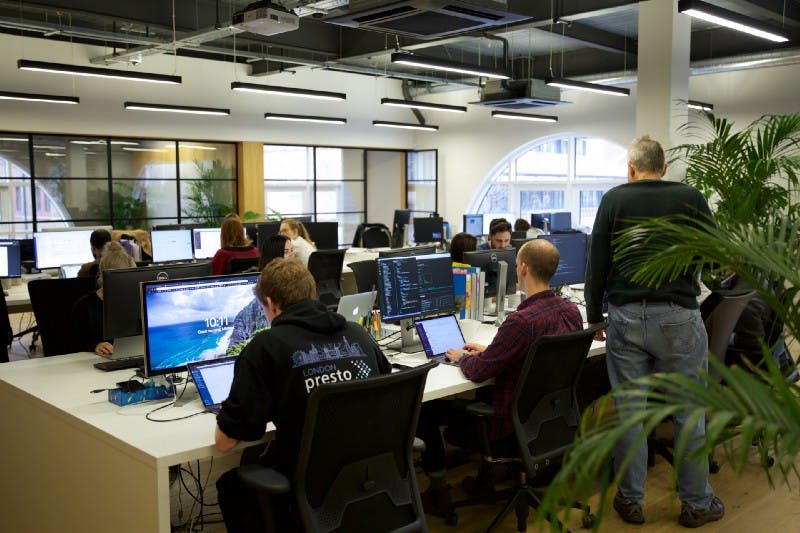 Q. What's the management structure like?
Reuben (Operations Manager):
The organisational structure of SamKnows is deliberately flat so that it's more inclusive and encourages everyone to have a voice about the products and / or company direction. Whether it's working collaboratively across teams on client projects, or generating ideas for the products we're working on, we all have an equal say.
David (Financial Controller):
To add to that, we have two formal reviews a year, which means we can focus on our personal career progression and give feedback about how we feel things are going. We also check in much more regularly and more informally than that. We gather together as an entire company for 'SamKnows Snaps' once a week to present new features, products, processes, and updates so that everyone is in the know. Everyone cares and contributes to the direction of what we do.
Leo (Project Manager, Government team):
Another huge benefit is that we work closely with the executive team, including CEO Alex Salter, COO Neil Campbell, and Founder and CTO Sam Crawford — all of whom have been here since the company's start in 2008. This means that you can pitch new ideas and have a direct impact on the growth of the company.
Q. Where do you work?
Charlotte (Content Marketing):
Our beautiful London Bridge office has large half-moon windows that stretch from floor to ceiling, a well-equipped kitchen with more fridges than people, and a passion for plants! It's bright and airy. I really like working here.
Amale (Project Manager, Government team):
At lunchtime, I like to walk along the river and see St Paul's, and others pop into the Tate Modern from time-to-time, which is just around the corner.
Jason (Business Development Lead, North America):
That's also true of our office in Washington DC, which is a modern, spacious, shared-use office with a communal atmosphere and a great view. And coffee.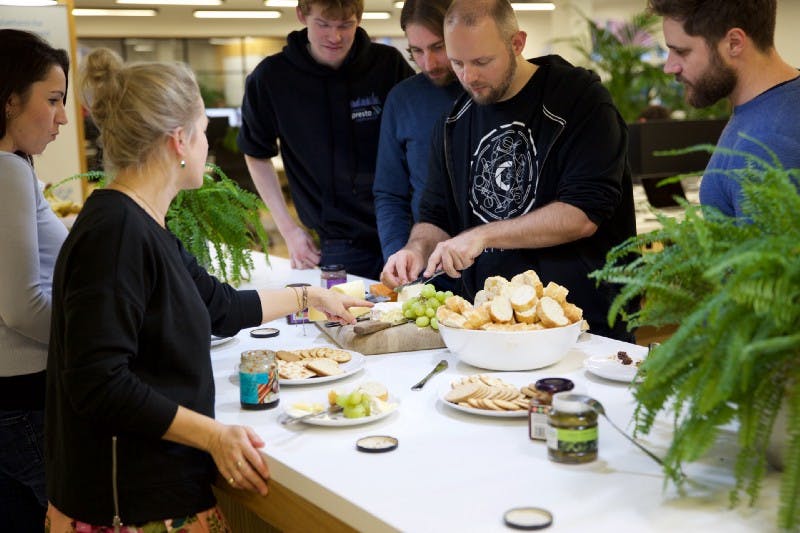 Q. What do you do for fun?
Sam (Founder & CTO):
We're serious about what we do but we have fun too. Reuben strives to make our parties as simple as possible so that nothing could go awry. But whether it's little Go-boats down the canal dressed as Vikings and Pirates, white-water rafting where we nearly lost Alex, taking a pub quiz, getting way too competitive in an escape room, or just enjoying Fat Friday and SamKnows Snaps at the end of the week, we enjoy chilling out as a team too.
Aleksandra (Finance Manager):
I also love the SamKnows Running Club. Anyone can join at whatever level of fitness, it's pretty informal but the group camaraderie helps me stay focused on my fitness goals. Even Alex, our CEO, joins us! But we leave the ultra-marathons to Sam. We're not going to run up Everest, or complete over 100 miles in one go, any time soon.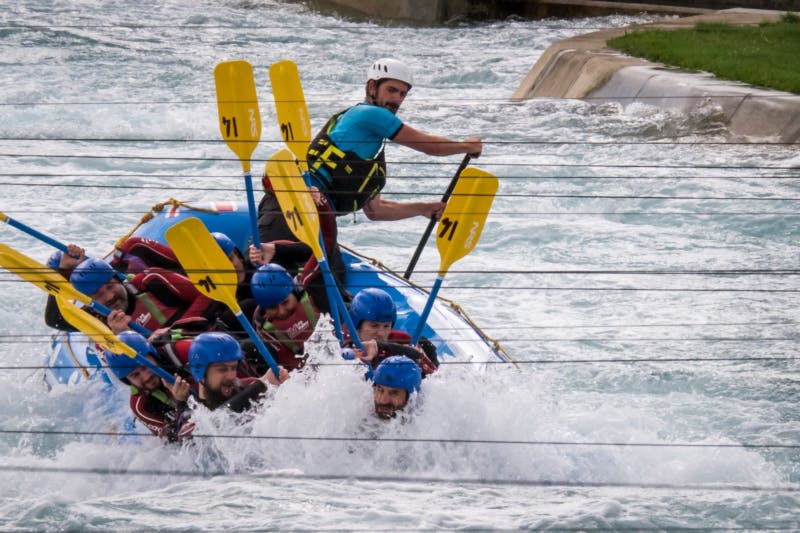 Q. Why should I work at SamKnows?
Sam (Founder & CTO):
Why work at SamKnows? For me, it's because there's a lot of interesting technical problems to solve! That might mean scaling our backend to handle tens of millions of devices reporting measurement results to us continuously. Or coming up with a way to representatively measure a new video streaming service that takes into account their CDN platform. Or working with ISPs to solve complex issues in their network before they become customer-affecting. The list goes on, and changes every day! If you are a problem solver, it's a great environment to work in.
Steffie (Embedded Communications Engineer):
SamKnows is a successful and exciting company that's growing very quickly. You'll feel positive when you join us because we're consistently working towards a better future, whether it's that of the internet, the company, or your career. We want to create products people love. A proactive nature will get you far.
Alex (CEO):
We measure internet performance and in doing so positively contribute to society. We solve commonplace problems that are shared by many and build products that people love to use. We are a small team, extremely dedicated, hardworking and 100% independent. SamKnows is unique in many ways, but what truly sets us apart is how much we care. There are many things that we still need to work on, but we work to improve every day, together, as a team.
Apply for one of our open vacancies here, and we'll be in touch.