The problem with existing network performance monitoring tools
When it comes to network performance monitoring, we've found FaultFinder sees the world differently. ISPs tell us themselves! But what exactly makes FaultFinder so exceptional?
When ISPs use existing network performance monitoring tools, they're usually looking at the performance of individual pieces of network equipment in the ISPs core network. There are a good few things unaccounted for with this approach:
Faults that impact customer experience don't always originate within the ISPs network.
Many small faults that may go undetected can cumulatively add up to be a major problem for customers if they aren't addressed.
The health of individual bits of equipment is not the same as the interplay of all of these components working together that forms user experience.
Setting up monitoring tools on individual pieces of equipment is time consuming and difficult/expensive to maintain.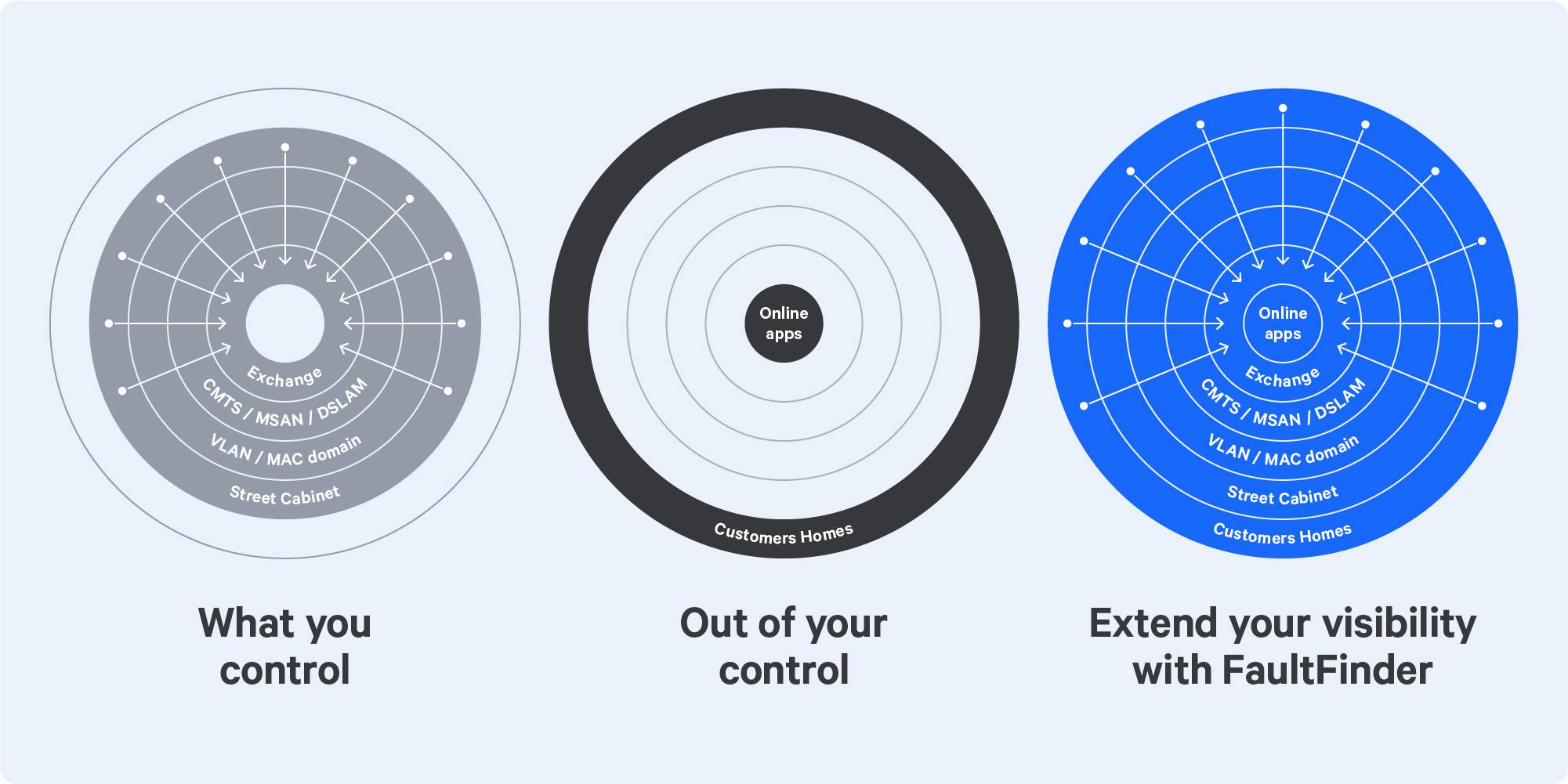 FaultFinder helps ISPs see total customer experience
SamKnows turns network performance on its head
Our solution to ensure customers get reliable fault-free internet experience is to measure network performance from the point-of-view of your customer rather than the point-of-view of your network equipment – by using our Router Agent embedded in your customers CPE. This approach has many benefits: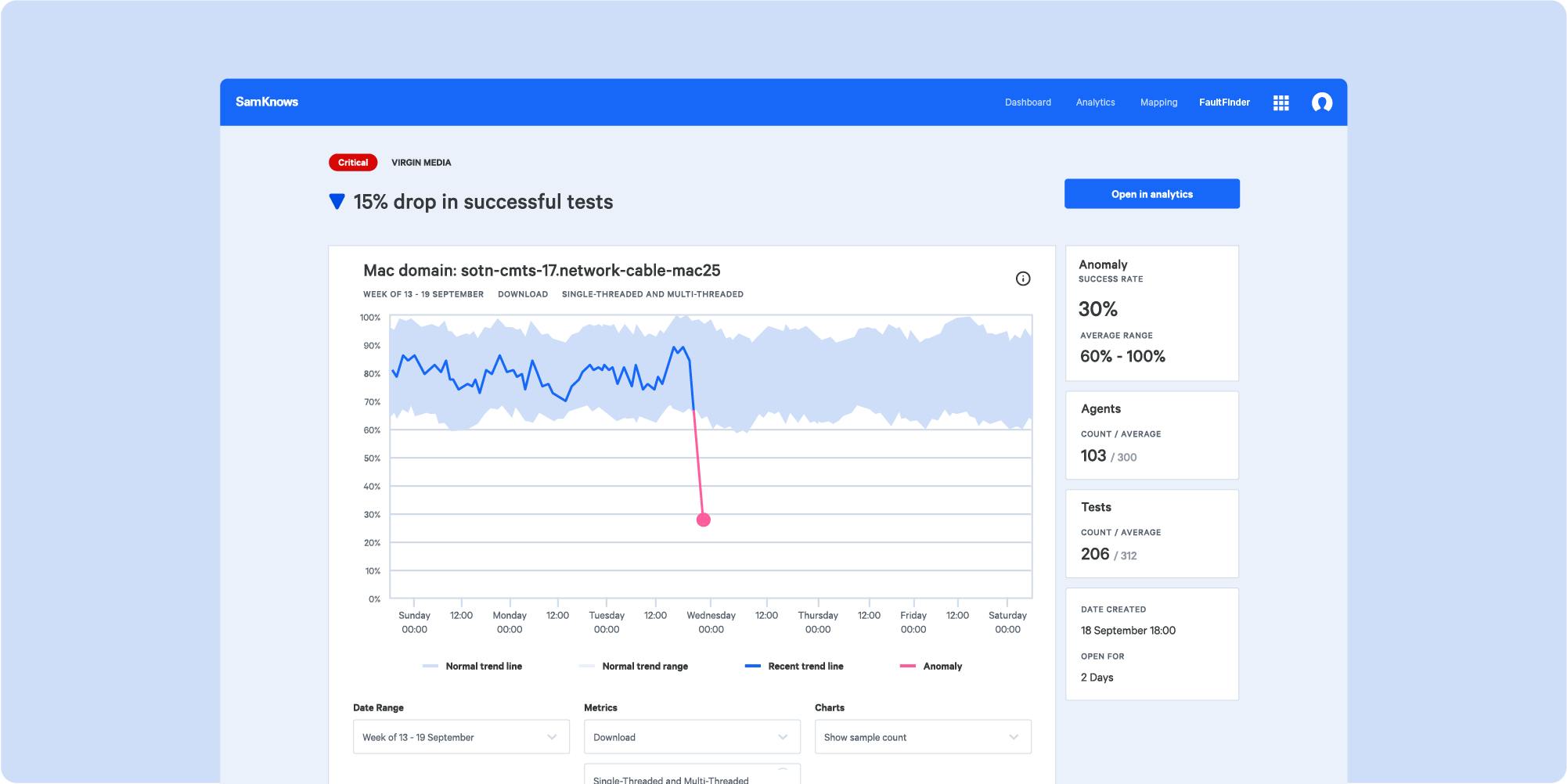 FaultFinder anomaly chart
Self-learning
The beauty of FaultFinder is that it's plug and play. No setup required, it adapts automatically to changes to your infrastructure and you can set up scheduled maintenance windows to avoid false anomalies.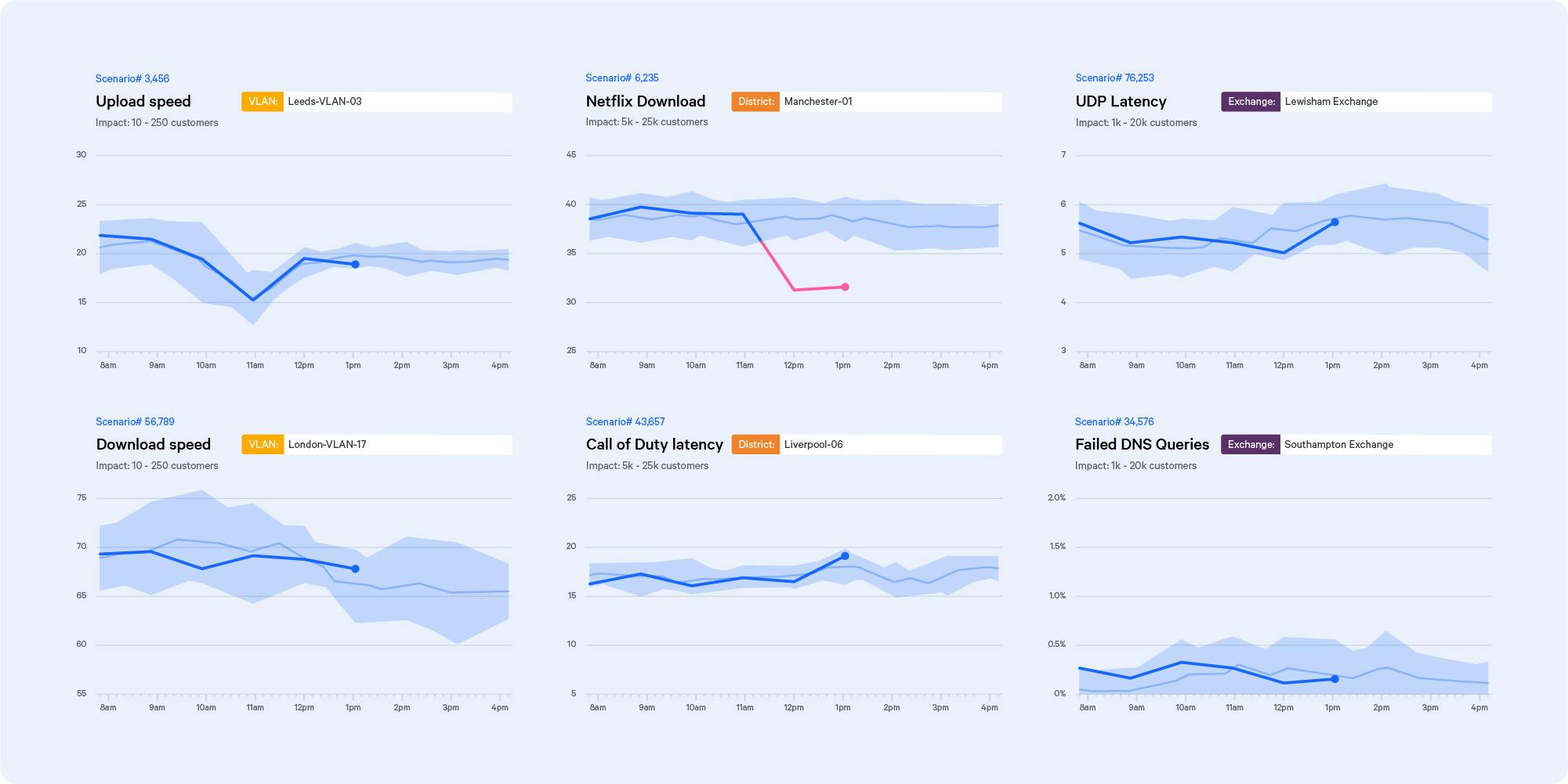 Examples scenarios that FaultFinder can monitor
End-to-end performance
FaultFinder is looking at end-to-end performance data so you can see the real impact on your customers. Once you've added Street cabinet ID, Vslam ID/Mac Domain, local exchange/hubsite, router model, firmware version etc. we can trace the root-cause of a fault down to a specific piece of equipment and estimate how many customers are affected.
Find faults outside your own network
Major websites and services go down from time to time, like the recent Facebook outage. When a customer's internet experience is interrupted, the first thing they do is call the care team. You need to be aware of any problems that could affect your customer experience so that you can brief your care agents to provide fast and accurate information.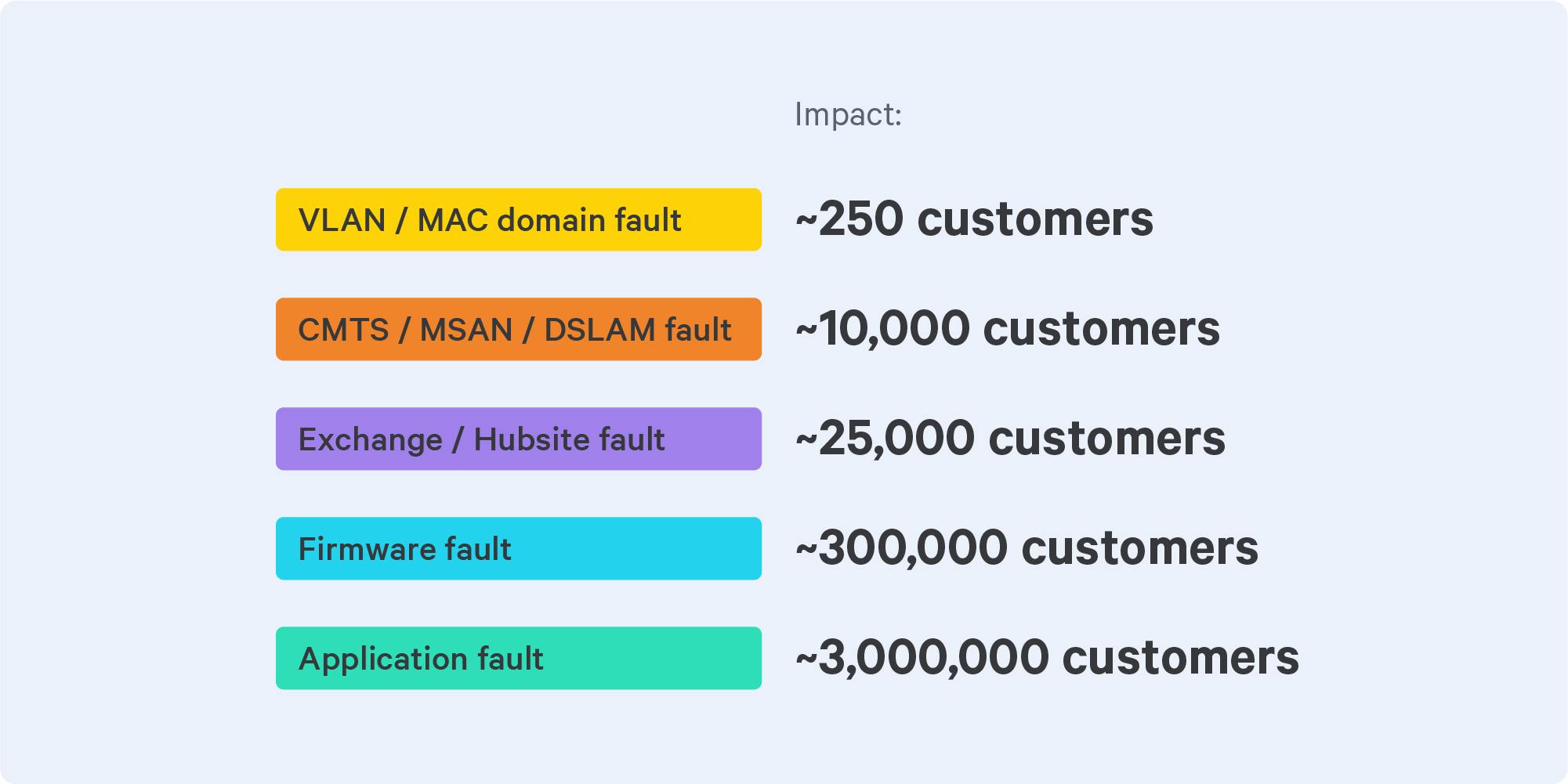 The root cause of the fault help determine the impact
Fault impact
Network faults have a knock on effect, FaultFinder can show you how many households are affected, how much it's affecting your customers' experience. This crucial contextual information will help you prioritize the most urgent faults to fix. You can cut through the noise and focus your resources on the most impactful work.
Instant alerts
FaultFinder analyses a live stream of data allowing you to be notified of a problem instantly. When a fault is detected it will generate an alert and appear in your FaultFinder inbox.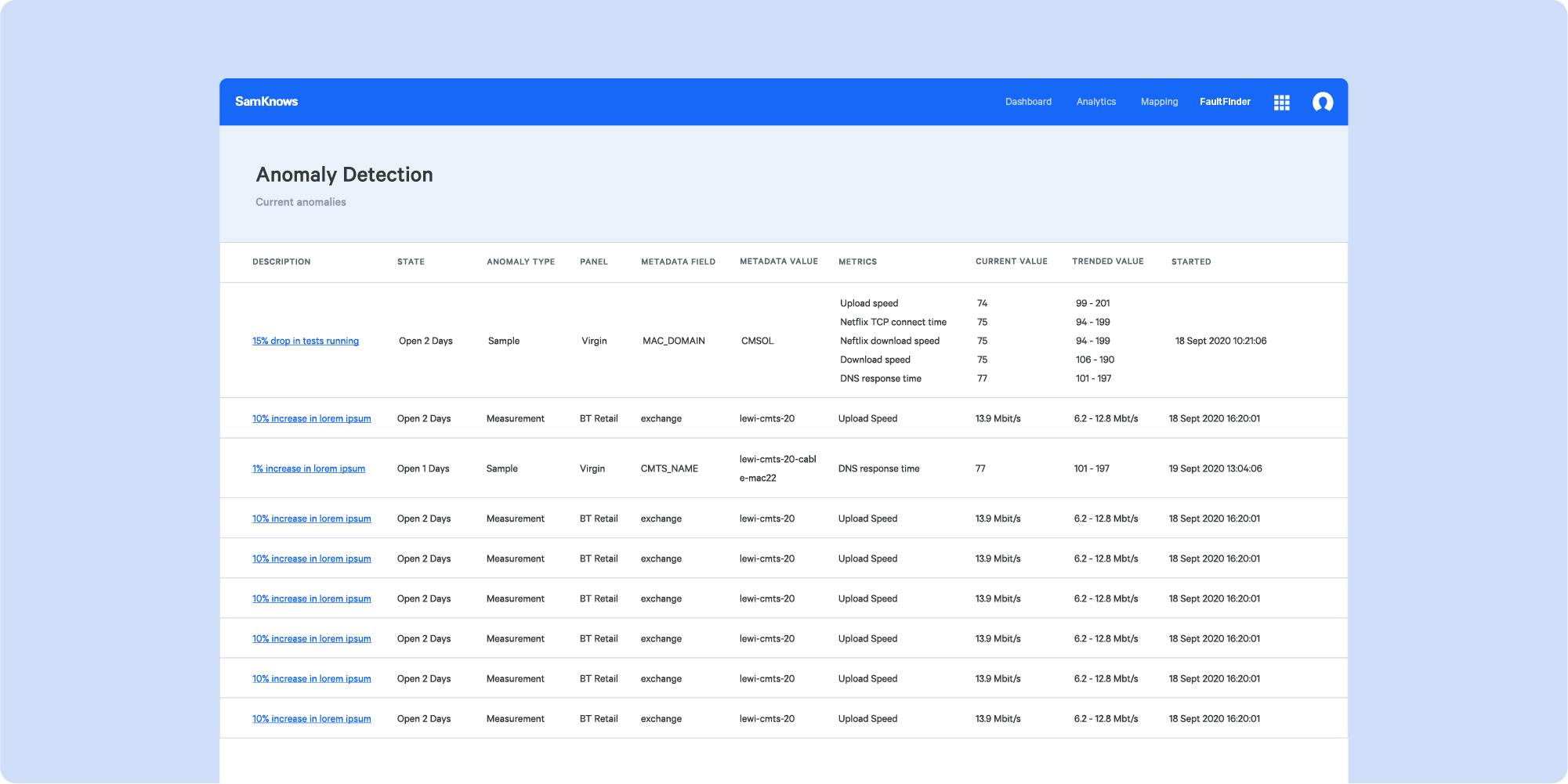 FaultFinder anomaly inbox
Activate FaultFinder today
Save time setting up network performance alerts
Discover faults before customers start complaining
Trace faults back to the root cause
Understand the impact of faults on customer experience